Rich Wilson
Making the most of this year's Edinburgh Fringe involves a bit more forward-planning than usual, as your favourite act may just be up for a few shows, rather than the whole thing. Take Rich Wilson, who's doing a work-in-progress from the 23rd-29th, at the Gilded Balloon. How in-progress will that work be?
"While it's WIP, it's not going to be an hour of brand new never-said-out-loud stuff," says Wilson. "It's a lot of things I've been working through over the last eighteen months; I'm really looking forward to sharing what I've got and letting the Fringe audiences do their vital bit of helping me bring it on to be even better."
You wouldn't be surprised if he uses that Fringe week to grab a few guests for his acclaimed podcast, too. Away from the stage, Wilson has been hunkering down to talk about men's mental health, and beyond.
"With the Insane in the Men Brain podcast, I learn something new from every guest I have on," he says, "and over the last year have expanded it to Fem Brain and Them Brain, to include even more people. It's a real joy to record, and all my guests have been so honest and open. We have had some really incredible moments, covering everything from coming out stories to the alchemy of food."
So, which episodes should newbies start with?
"They're all brilliant even if I do say so myself, and it's not just restricted to comedians - we'll talk to anyone who has a good story to tell. For anyone just discovering the podcast I'd say maybe start with James Acaster or Jenny Ryan from The Chase, or there were some really interesting ones with Heston Blumenthal and Dr Dean Burnett."
It's a rich mix indeed. Now let's take Wilson back to where it all began.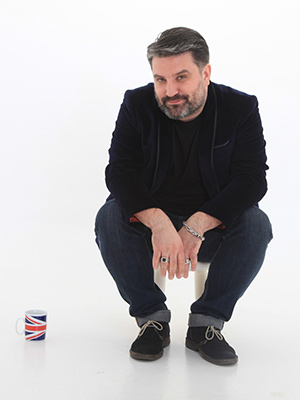 First gig?
It was at The Bullingdon, now known as The Glee, on Cowley Road in Oxford in October 2004. I'd been told by a friend and fellow comedian two months previously that I'd be doing a five minute spot at this gig that he booked and I wasn't allowed to back out, so I crapped my pants until the day of the gig.
Of the five minutes I think I managed about two and a half, didn't exactly die on my arse so then became the "resident open spot" and was there every month. A horrifying, but at the same time exhilarating experience. I was also on with Jeff Innocent and 'the worst pop group in Europe' Die Clatterschenkenfietermaus (Lee Fenwick and Jason Cook) who were ace!
Favourite show, ever?
I've been lucky enough to have had some incredible gigs and performed with some absolute comedy legends but my favourite gig was the second show of my 2019 Edinburgh run. The show had quite an epic ending and I only had two people in, from Lincoln (Hi Lucy, if you're reading this) and I would've loved to have been at the back of the room seeing all the lights flashing with the two audience members just sat there silhouetted wondering what the hell was going on.
I also did a short run at Soho Theatre in May, that had been rescheduled from just before the pandemic. I was so lucky to have a sell-out audience in, and they were shows that in the deepest, darkest bits of lockdown when I was working in a t-shirt shop to make ends meet (shout out to SOS Clothing boys, for keeping me in work) I didn't dream would happen; it was unreal to be there, back on stage.
It's hard for comics to know how much pandemic is too much to talk about as everyone tries to get back to normal, and I'll definitely cover off some of the highs and lows in the Fringe show, but it'll be fun, I promise.
Worst gig?
The most horrendous gig was one in Bristol in 2009 I think, when a big guy was sat with his back to me and I asked if he'd like to turn round to get a better view of the show so he turned to his mate and said "tell him to fuck off or I'll punch him in the head." I took the hint and moved swiftly on.
Which one person influenced your comedy life most significantly?
I'd say my friend who gave me that first gig, comedian Paul 'Silky' White, would be the most influential, quickly followed by Rob Rouse who was the first comedian to tell me that I had it in me to become a comedian.
And who's the most disagreeable person you've come across in the business?
The most disagreeable people in comedy are those comedians that get out of your car after you've driven them to a gig and back again and don't offer any petrol money. Those people are despicable and should be made to walk to every gig.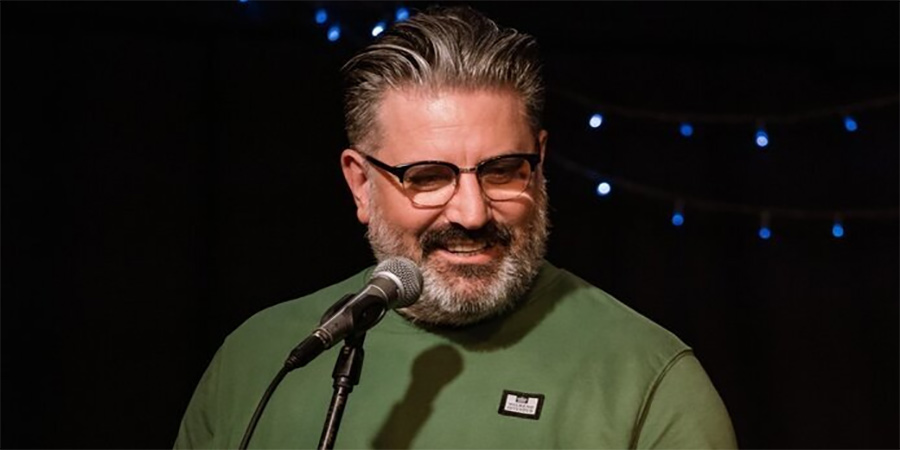 Is there one routine/gag you loved, that audiences inexplicably didn't?
I don't know about one particular routine but I've had whole sets that audiences haven't enjoyed and let me tell you that when those times happen, and they happen to all comedians, 20 minutes can feel like 40 years!
How were your lockdowns, generally and creatively?
The first lockdown was actually quite creatively fertile. I made videos, did online gigs, did DJ sets and all manner of things to keep myself active. Some of the experiments paid off into things that I'll keep doing, for example I've got a radio show now, Tuned Up Time Machine, on Islington FM, which is basically an extension of the lockdown Facebook DJ sets - me talking bollocks and playing tunes.
The second lockdown was more themed towards getting stoned, watching Schitt's Creek and movies, eating pizza and putting on 90 stone in weight. Two very different experiences.
Any reviews, heckles or post-gig reactions stick in the mind?
"Rich Wilson is packing in the jokes and trouser department" which was the opening sentence of a five star review we got for The Big Show which was a compilation show I was MCing at the New Zealand comedy festival in Auckland. My proudest moment and yes I am bragging.
How do you feel about where your career is at, right now?
I think it peaked with that review.