Raymond and Mr Timpkins
What a wonderful community of characters the comedy circuit welcomes in. At one end you've got the tubthumping soapbox types using that platform to raise issues and rail against society's injustices. And at the other there's the Raymond and Mr Timpkins Revue, doing something completely different.
The prop-rocking duo have been daffing about together on stage for a good few decades now, garnering a devoted fanbase, which might suddenly grow significantly soon. Yes, this could be a big summer for the quietly influential circuit stalwarts, and we're particularly interested in two similarly-named but differently-sized festivals they're playing soon: Bedfringe and Edfringe.
Bedfringe is Bedford's own fringe festival, and Raymond and Mr T will be performing at the Best of Castle Comedy night on July 22nd, also featuring Lucy Porter and Marcel Lucont. So what can unsuspecting Bedfordonians expect? "It will be a high tempo blur," they tell us, "of velvet, sandals-with-socks and musical clips supported by props and signs with words on."
Lovely. Then, in August the dynamic duo will finally, and perhaps surprisingly, make their Edinburgh Fringe debuts, which they tell us more about below. Crikey. So let's crack on with that.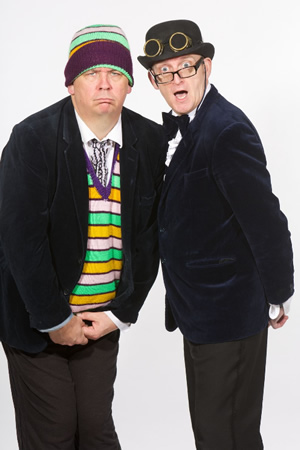 First gig?
It was way back in the early nineties. We started performing to cover the judging pause in a Battle of the Bands competition. The act then was a guitar / stylophone duo where we would play a succession of popular, contemporary tunes, often quite badly whilst dressed pretty much as we are today.
We were the only act in the heats, but for the final we performed at the Portsmouth Guildhall on a bill with Jo Brand and inexplicably, athletes Kriss Akabusi and Roger Black. I think Trevor & Simon were also there though that may have been another year? Was a long time ago!
For the heats, it was largely friends and families of the bands but for the final there were hundreds. Quite nerve racking for such an inexperienced act though we had performed as a band for a few years before.
Favourite show, ever?
We performed recently as support for Jason Manford. It was a big room and the audience were lovely. You don't expect much when working as support act so it was doubly nice to get a good reaction. Jason is a lovely generous fella and is very normal still despite his success.
Worst gig?
Early on, we played a gig in London, which was known as a bit of a bugger to play. We were getting nothing from a cross-armed audience when one of the punters shouted out "make the fat one do something funny."
The fat one then clambered halfway back through the audience (it wasn't really all that far) and got out his willy to show the man. That wasn't funny either apparently so we left. It was a long, long drive home to Portsmouth as we discussed our options.
What made you decide to do the Fringe this year - and what stopped you before?
The lovely Brett Vincent offered to take us up: he's very experienced and a great promoter so it would have been rude not to. We have previously not gone because it has always seemed to be largely a way of separating hard-up acts from their hard-earned. It's seen as an industry showcase but a lot of the industry are based in London where the majority of the acts ply their trade every weekend. We just didn't want to lend our support or give our money to such a cockeyed arrangement.
Who's the most disagreeable person you've come across in the business?
It's surprising how many lovely people there are in the business. There are very few cocks. In the old days, there was a lot of cocaine sloshing about the circuit and behaviour was often more bizarre.
Many tantrums were witnessed in those days but now everyone is ambitious and fighting fit and it is much less dramatic. We have had some acts that have copied/based their act on ours which has caused some friction but it has always been resolved. Agents are often an odd breed but they employ us so won't be shitting in our own bed by naming them.
Is there one routine/gag you loved, that audiences inexplicably didn't?
So many. If we laugh a lot whilst writing a gag it most probably won't work. Some of our biggest, most reliable hitters though have been material that has been sitting around for a while that gets chucked in largely to get rid of it. [Legendary gag] Lidl by Lidl is one of those.
What's your best travel tip, for gigging comics?
Waze! Waze! Waze! Come on everybody. We've all got smart phones. Use Waze and trust it. It has saved us hours from sitting in traffic jams. Acts that turn up late are never using Waze and believe me, I always ask.
The most memorable post-gig reaction or review of your, er, revue?
We had one gig in Nottingham Jongleurs where one half of the audience were on their feet cheering and the other half were baying for us to get off. Mind you that was while we were performing and perhaps says more about Nottingham than about us?
We don't get reviewed very often. Never had a really bad one. We also have never invited reviews so this is part of the Edinburgh Festival we're not really looking forward to. There is no qualification for being a reviewer and a poor review can really harm your run whether it's fair or not.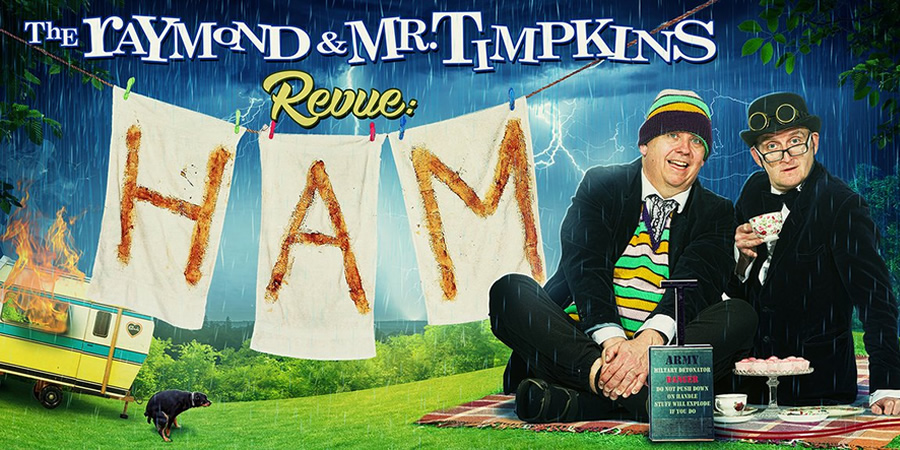 How do you feel about where your career is at, right now?
We are taking a departure from our club circuit safety zone to the unknown waters of festival comedy. We've never done an hour show before and we don't like being away from home for much longer than a couple of weeks so we are really entering an unknown realm. If the comedy club circuit had remained as buoyant as it was when we started then I suspect we would never have got to the point of writing an hour but unfortunately, it seems to be contracting so our hand is being forced. It is quite exciting though.