Matt Parker
Prepare to be mildly baffled! This week's First Gig Worst Gig correspondent is Matt Parker, master of one of the English language's most intimidating words: maths. He's a lecturer and a comedian - sometimes it's hard to tell the difference these days - who's currently on tour as one third (maths!) of cerebral trio Festival of the Spoken Nerd.
"It felt hard to out-do our previous show Just for Graphs, in terms of the title," says Parker, "but You Can't Polish a Nerd gives it a good shot! The DVD recording of Just for Graphs will be out soon, which is very exciting."
So, where else has comedy maths taken him?
"I just got back from a tour of Australia and New Zealand with Robin Ince. It was a science and comedy show - classic Ince - and so it was the first time I've toured with my wife, who is an astrophysicist. It all went well both on and off the stage, including celebrating our 1,000-day wedding anniversary in Melbourne. Whole-year anniversaries are too easy keep track of."
That's exactly the sort of number-loving behaviour that freaks us regular-brained people out, but it's proven popular. He has the numbers to prove it.
"My YouTube channel Stand-up Maths recently passed pi-hundred-thousand subscribers [no, us neither - ed] which was quite the celebration. With [popular maths site] Numberphile's ridiculous two million subs my videos have just crawled past 64 million views: 64,105,050 specifically - I wrote a computer programme which downloads the view counts from YouTube and adds them all together."
Enough: let's plunge into his previous shows.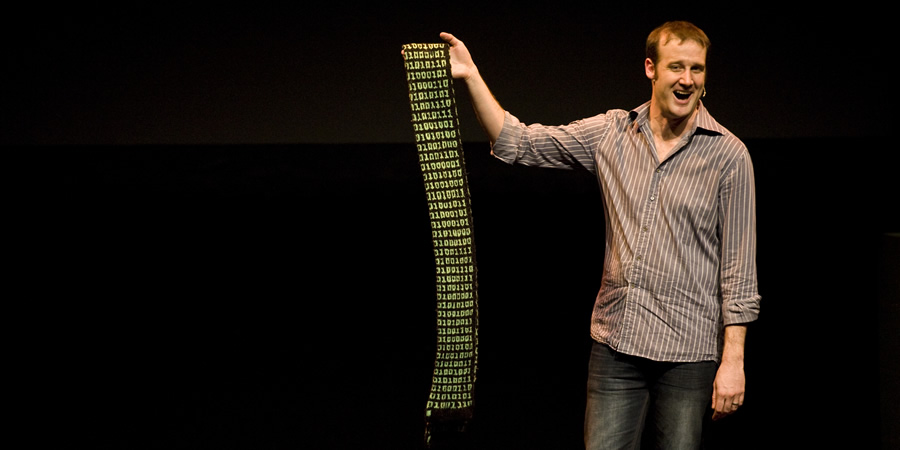 First gig?
I took a course in stand-up comedy in 2009 as a way to see if I was any good at it. After a few lessons, a few of us on the course thought we'd see how hard a real audience was. So we all signed-up for an open-mic night. Only I showed up. But I went through with it anyway!
It was in the room above the Queens Head pub in Piccadilly Circus with an audience of maybe 20 people and probably as many acts. I went on last, but not in a good 'headliner' kind of way: it was more of a 'see if there's enough time for me' situation. I had three minutes of stage time but that was enough to get me hooked.
Favourite show, ever?
I was the first person to use an overhead projector at the Hammersmith Apollo since Pink Floyd. It's hard to top that. Although, they were using it for lighting effects. I was doing math.
Worst gig?
I was booked as one of a classic three-acts-plus-compere gig at a rugby club in Boston, Lincolnshire. I think I was the middle spot. The room had all the lighting and atmosphere of a badly organised wedding. The jukebox would turn on randomly during the show. I think the gig had been organised by the locals to prove they were funnier than comedians.
To be honest, we knew it would be a long night when we arrived in the car park and saw the posters titled 'Comedy Night: Free Hotdog'. When the free hotdog gets bigger billing than any of the acts you know what kind of show it will be. And the performers didn't even get free hotdogs.
Thankfully, we always play the Performing Arts Centre in Lincoln when on a Spoken Nerd tour and the audience are guaranteed to be lovely. So no hard feelings, Lincolnshire.
Do any Spoken Nerd shows stick out as being particularly memorable?
We get the occasional group booking who have misunderstood the show as something which makes fun of nerds. I'll never forget the hen do in the front row of a show in Colchester watching me do a routine about spreadsheets. They were waiting for knob gags but it was just spreadsheets all the way down.
Who's the most disagreeable person you've come across in the business?
I've been very lucky to be obviously super-niche maths-plus-comedy and so only really work with similarly niche promoters who like what I do. Even when I first started work on the comedy circuit I had the luck of largely only working with nice people.
I come across more disagreeable people through my work as maths expert in the media. There is one production company I absolutely refuse to work with because more than once they have 'hired' several maths experts and then cancelled all but one of us the week before filming.
Thankfully the maths community is small enough, and friendly enough, that we all talk to each other and could work out what was happening.
Is there one routine/gag you loved, that audiences inexplicably didn't?
I had a routine about the definition of Graham's Number in my 2013 solo show Number Ninja which even the most generous audience did not do more than tolerate. In hindsight it was probably because that section of the show was devoid of jokes to make room for a lot of digits. It's a big number.
Comedy shows are often quite lecture-like nowadays. How different are your maths lectures to comedy gigs?
It hinges on the audience. For a comedy show I'm going to get some super-nerds of course, but also normal humans who are just there for a good night out. So I cannot go too long without a joke. Nor can I assume any background knowledge in the audience. So while I will still talk about some interesting maths concepts, it's only in very general terms.
For a maths lecture, even a popular-maths public lecture, I can assume everyone there wants to hear about maths which means I can go into much more detail.
Your most memorable review, heckle or post-gig reaction?
I did a comedy show at the Cheltenham Science Festival a few years ago. A friend of mine was outside the venue as people were leaving and heard someone complain to their friend: "It could have used a bit more maths and one or two fewer jokes."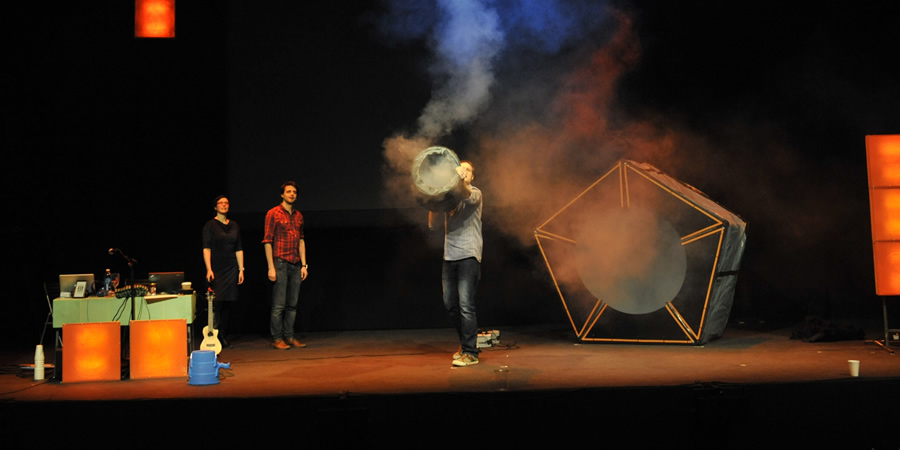 How do you feel about where your career is at, right now?
I'm very pleased with how it's all going. Within comedy I feel like I'm working across all possible scales, like some kind of fractal. Between doing live stand-up, making YouTube videos and writing books I have everything covered.
Combined with doing educational maths events for teenagers and working in the maths department at Queen Mary University of London I have enough different things going on to keep me completely occupied. It can get a bit overwhelming sometimes but I'd miss any one aspect of my career if I had to give it up.