Kelly Convey
One of the most rapidly-rising new comics on the circuit, Kelly Convey has a couple of notable gigs coming up over the next few weeks: a big benefit show in London called Joke For Scope, and the first ever edition of a new Essex night: Pints. And, knowing Convey, probably another 200 gigs, too. Since starting stand-up early in 2016 "my life has completely changed," she admits. "It's been a complete whirlwind."
Indeed, and a self-made whirlwind, as it were. Convey reckons she's done over 400 shows since March last year, having "started out on the open mic scene," she says, "gigging pretty much every night. Gigging so much paid off as I was in the final or semi-finals of every competition I entered - I never won any of them."
No matter, as she's been snapped up by a big-time agent now, so the career should continue fame-wards. As for the immediate future, Joke For Scope is at Up The Creek in Greenwich on Nov 20th, headlined by Adam Hills, and also featuring Dane Baptiste, Rosie Jones and Steve Day.
And on Monday 23rd she'll be going east-coast, in Southend, at Pints. It's a new night run by Pope Lonergan and Michael Wheeler, with the launch also featuring the very fine Rob Auton and Richard Sandling - and it's free. Which also sounds excellent, if you're out that way. Details of both shows are below.
Now let's take one of our shorter rides back in time, to Spring last year.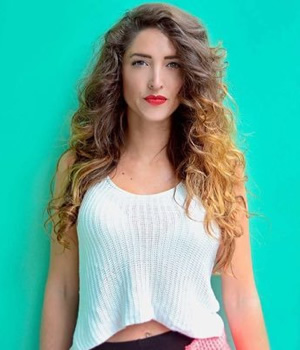 First gig?
Mine was at Comedy Virgins at The Cavendish Arms in Stockwell, March 2016. I was on the bill with approximately 2,000 other newbie comedians all doing a short five-minute set - we were there for three days. I had 10 friends in the audience, all on the front row - I was worried that we'd all die from shame if I was rubbish.
I felt like Eminem, knees weak, palms were sweaty, luckily I hadn't had any of my mum's spaghetti. It surprisingly went really well - regardless of half the audience being my friends or that my jokes were questionable at best - it felt amazing. I'd never been on a stage before but as soon as I did my first gig, everything just clicked into place and I knew this was my new home.
Favourite show, ever?
So many to choose from but I'd definitely say the Waverley charity gig at the Edinburgh Playhouse at 2017's Fringe. It was the perfect gig: sold-out audience of 3,000 in a stunning three-tiered theatre and sharing the bill with some of the best comedians in the country.
I'll be honest and say I was petrified before I walked out as this was my biggest gig so far but as soon as I got that first laugh, it was the most euphoric feeling in the world - hearing that many people laugh back at you is inexplicable.
Worst gig?
Right when I started out, maybe three gigs in, I got horrendously drunk before the gig - I went up there slurring, forgot my material and rambled on like an idiot for five minutes. The next morning I hated myself, it's painful even now to remember. It was a good thing though as it made me realise that I either respected comedy or didn't do it at all. I have never got drunk before a gig since that day. With every bad gig, there is a lesson to be learned.
The weirdest live experience?
A Christmas gig last year in Exeter - a woman was so drunk she fell off her chair and pulled the tablecloth and everyone's drinks and food with her. I had to step over her to get to the mic. The bouncers came over to remove her and then her husband wasn't having any of it and a mini fight broke out.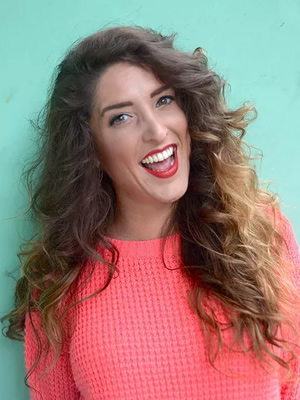 Who's the most disagreeable person you've come across in the business?
I think it's pretty tough to find a disagreeable person - everyone is pretty humble and grounded. It's a very humbling industry, one that you're never far away from being brought down a peg or two. Of course, you get the odd person who wants to ruin your day but I've been fortunate enough to swerve them.
Is there one routine/gag you loved, that audiences inexplicably didn't?
I've had a few gags that at first they don't get enough (or anything!) but I know the base idea is there, just my delivery or structure needs improving. I think if something doesn't work, there's a reason why and a way of fixing it so that audiences get where you're coming from. I find this a lot with material that works really well written down but when said aloud doesn't have the same gravity - puns for example.
What's your best insider travel tip, for gigging comics?
Oh my god, learn how to drive! Driving is so, so beneficial in this industry - be mobile and be prepared to live the life a lorry driver! Also, don't be late to a car share and always have a wee before you leave.
The most memorable review, heckle or post-gig reaction?
I once had a guy - who I'm pretty sure was married to his sister - tell me that he thought I was good for a woman, but he doesn't like seeing a pretty young lady (he was definitely younger than me) like myself swearing, 'it's not very attractive'. He then proceeded to tell me a very racist 'joke' that I was "welcome to use."
How do you feel about where your career is at, right now?
I couldn't be happier. This time last year, I would have never dreamt to be where I am now, which makes me so excited to find out where I'll be in a year's time. Comedy is all about developing and honing your craft over time - I still have a long way to go but, year on year, I can see this turning into something magical.