Kathryn Mather
When you're in the relatively early stages of a stand-up comedy career - and that's anything within the first 15 or 20 years, many grizzly old stagers would suggest - it pays to really throw yourself at it. That's clearly Kathryn Mather's policy. The Rochdalian comic is racking up the road miles and branching out into novel new areas, some of which involve light engineering.
"I'll be doing a bit of tour support for Kiri Pritchard-McLean this year which is really exciting," says Mather, who is also "trying to get people interested in the ten-part series I made called How to Build a Half-Sized TARDIS for Children."
It's a proper welded-together TARDIS too, although probably can't actually travel through time and space, sadly, as that'd be really handy for gigs. Still, the shows are going swimmingly, here, there and everywhere.
FGWG caught Mather's excellent set in an old maltings building in Ware back in January (at the thoroughly enjoyable Comedy Works night, in an evocative converted beer-factory called Southern Maltings). Then last month she came third in the Leicester Comedy Festival's Comedian of the Year competition, and could no doubt craft a bronze medal to celebrate that profile-boosting achievement, if she wished. It all helps keeps the wolf from the door.
"I also host a podcast called Zero Hours," she says, "where I speak to comedians about the jobs they've done (both good and bad) and we discuss terrible jobs from the past for some perspective (because I'm a bit of a history nerd)."
Which is good, because - TARDIS or no TARDIS - we're about to hurtle back in time.
First gig?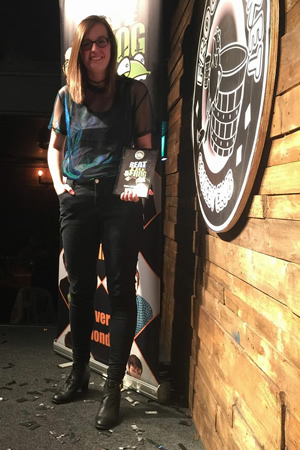 It was at the Corner Shop in Shoreditch in the basement. I chain-smoked all day in the run up to it (I wasn't even a smoker). My two flatmates came to see me and it went absolutely fine. I watched the video back for the first time recently and you could hear the people in the bar upstairs louder than you could hear me. But I didn't die on my arse, so I was absolutely delighted and it was just enough to keep me going at it.
Favourite show, ever?
Doing a warm-up spot at the Frog and Bucket before the Beat the Frog competition. My family had come to watch and it went really well, everything landed - it was the first time I felt like I was a 'proper' comedian and not just playing at it.
Worst gig?
Probably at Leicester Festival 2018 - I was doing a three-hander called Third Wheel. It was not only the worst gig we'd done as a group, but also the worst we'd each done individually. To be fair, we had a fantastic turnout audience wise, just a couple of things happened early doors that threw us and we didn't really recover.
It's really awful sitting at the back of a room watching your friends perform to absolute silence, knowing that you have to go up there next. I genuinely considered just slipping out of the back, but the narcissist in me thought I might be able to win the room back. Of course I couldn't, I'd decided to write 20 mins on a government report of the grounding of a ship in Cleveleys in 2008 for God's sake!
As I was up there, a group of people on the front row were flicking through the festival brochure to see what they could leave our show to go and see instead. It really made a mockery of my performance of She's Like the Wind by Patrick Swayze, which we ended the show on.
Dying at someone else's gig is bad enough, but dying when you've arranged it all is so much worse because it's all your fault. We went out for a drink afterwards - I ended up crying in a nightclub toilet and my mate's wife took me home to go to sleep. It was pretty cool at their house, they had pet chickens.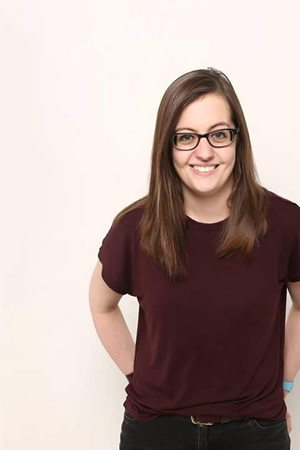 The weirdest live experience?
Comedy is one of the few jobs where I can say nothing especially weird has happened to me (yet), though I did get booed by about 100 people for telling a story about going to the doctors when I was performing in the comedy tent at a music festival. I was thrilled to have made so many people feel such an extreme of emotion, it was great. I did manage to win them back by the end of my set and all was well.
Who's the most disagreeable person you've come across in the business?
I met a man at a gig who cornered acts (usually in or by the toilets) to tell them that comedians love to be heckled. When the acts tried to suggest that maybe that wasn't the case, he just kept saying he was "absolutely baffled". I think this was probably the case for him in many areas of his life.
Is there one routine/gag you loved, that audiences inexplicably didn't?
I used to do one about being born in a mental hospital (it was turned in to one a few years after I was born there, but I used creative licence). People never seemed to get on board, but I really liked it and performed it for way longer than I should have done.
What's your best travel tip for those without a half-sized TARDIS?
Have a car! Otherwise, get a railcard, and book trains well in advance. Try split-ticketing on trains, or lower yourself to the Megabus. Be prepared to spend hours and hours hanging around in random places waiting for the gig to start. I now know where the Wetherspoons is in every major city because of this. Or, just befriend someone with a car.
The most memorable review, heckle or post-gig reaction?
My weirdest heckle was fairly recently, from an old man who was the only person sat on the front row (in the middle, obvs) and he shouted "You have lovely skin!" He just wouldn't let it go, he was like "No, really, you should do adverts!" I thought he was going to follow me home and try and make lampshades out of my skin or something.
My favourite post-gig comment was after a split-bill show I did called Funny Side of the Moon in Margate with my friend Hassan Dervish, we were thanking people for coming as they left and an old man goes "well, it's better than watching any old shit on the TV". I really felt like I'd achieved something.
How do you feel about where your career is at, right now?
I'm very happy with how things are going currently - I only ever went into comedy as a hobby, so to be in a position where people are willing to pay me to do it is incredible.