JoJo Bellini
We are on the cusp of what would ordinarily be the holiday season, minds wandering to, say, a cool bellini somewhere exotic. So with that in mind we go live to JoJo Bellini, who's currently hunkering down in New Zealand due to you-know-what.
For the uninitiated, JoJo is "a cabaret diva who brings both sass and silliness to everything I do," the diva divulges: and for a good taste of that, she's now bringing her stuff to the naughtiness-encouraged OnlyFans network.
Bellini is super-keen "because it allows me the freedom to get saucy and hilarious with a whole new audience. I'm offering a bit of comedy burlesque, AMA sessions (Ask Me Anything) plus anything the fans request. I'll keep filming fun stuff and if I think it's up to standard then I'll post it for everyone to enjoy."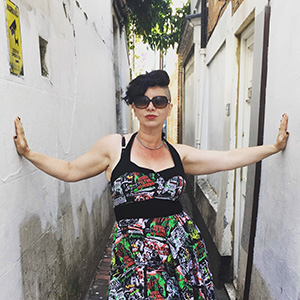 Lockdown can be bewildering, so "it's wonderful to be able to be creative and bring some joy and happiness into people's lives," she says. "It's also a good way to keep the creative juices flowing. I'm able to develop new routines and have fun while away from those I love, and have a body of work to work with that can be turned into a live performance later on."
We look forward to it. Meanwhile let's look back at the live ups and downs - and be prepared, she builds to a proper heart-punch late on here. Absolute pro.
First gig?
It was at a night in Perth called Shapiro Tuesdays. I believe around eight years ago. I was enthusiastic and definitely not funny.
Favourite show, ever?
Performing at The Late Night Lock In Cabaret in Edinburgh, to a hot, sweaty, very drunk crowd of revellers.
Worst gig?
When I almost got glassed by a Glaswegian woman, because I dared to ask her to be quiet during my performance (so many medicinal Proseccos were required, post-gig)
Which one person influenced your comedy life most significantly?
I would have to say my friend Sameena Zehra. She has helped me so much as my director and friend. She always knows where to help find the 'funny'.
And who's the most disagreeable person you've come across in the business?
Mostly cis-het [cisgender and heterosexual] men in skinny jeans.
Is there one routine/gag/bit you loved, that audiences inexplicably didn't?
My Malcolm In The Middle joke. Worst groaner ever! I love it!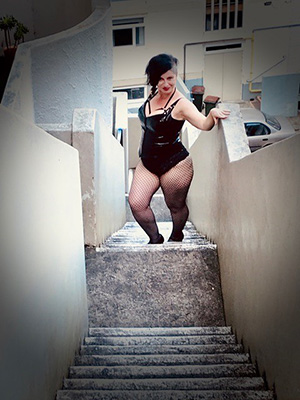 How is lockdown going for you - any unexpected creative upsides?
The best thing about lockdown so far has been the chocolate... I mean the creative process! Oh, who am I kidding. Definitely the chocolate. I am enjoying wearing very little clothing and lip-syncing to bad 80s tracks. That has kept me sane.
Are there particular reviews, heckles or post-gig reactions that stick in the mind?
A few years ago in Edinburgh I performed my female spy show to an audience of just one lady. At the end she started crying and I was very confused, so I went and sat down next to her.
She explained that her and her husband had seen all my shows since I started performing at Edinburgh Fringe and that he had died suddenly from a heart attack earlier in the year, so she was honouring his memory by going to all the shows they had bought tickets to see together in Edinburgh.
She cried, I cried. That day will stay with me forever.
How do you feel about where your career is at, right now?
I believe it is an open book of opportunity. Live gigs are non-existent, yes. There is always something though. I have been cooking up a storm this lockdown. Maybe a kink-filled cookbook is on the cards.