Johnny White Really-Really
Lunch is great isn't it? So much groovier than the stuffy overblown pressure-cooker of dinner. But lunches haven't been the same since lockdown, another great communal experience gone kaput; particularly working ones. Take heart, though, as a little flavour of daytime dining is about to flow into your ears, if you let it.
Lunchwatch is an interactive podcast from Johnny White Really-Really, in which the gastronomic comic makes proper lunchtimes live again. Listeners send evidence of what they're eating - just a picture; not, like, a finger - and Really-Really and friends do the rating-rating, every Monday. Right?
"It's hard to know how it began," says Really-Really. "Actually it isn't, I just started writing before I'd begun to think about it."
"It started with my friend Charles, just a text-based conversation. Then I had the brainwave to unleash it onto Facebook. For a few years it was the only thing in my life I enjoyed doing, and I enjoyed it reliably and for the entire time of doing it. Not many things you can say that about in this awful world..."
He's not wrong.
"The podcast works at the intersection of punditry, showing-off - from me or you - and a person's regard for the beauty of nature. [Lunchwatch co-conspirator] Canetti's involvement is fairly suspicious, and the less said about it the better!"
Right then, back to North-East London, nearer dinnertime.
First gig?
It was in 2013 in that pub on Balls Pond Road which I think is called the Prince Charles. James Acaster and Fin Taylor and Nat Metcalfe were the other people on the bill. Wasn't many people there I don't think. I was actually OK. My second gig was a lot worse, and they hung in that valley for several seasons, I can tell you.
Favourite show, ever?
Quite enjoyed doing the Mach showcase in 2017. I didn't know it was so big and had turned up In The Dreamstate as it were (bit drunk). Was amazing to walk out into this, what looked like, infinite darkness. That doesn't sound so good but it was! You'll just have to take my written word for it.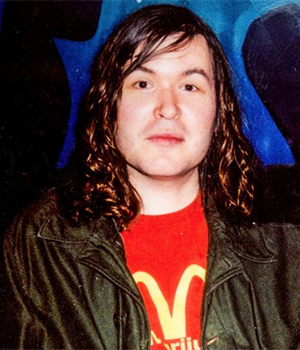 Worst gig?
Hmmm. I used to run an open mic night at which I was reliably the worst act. There are too many to think about, really.
Which one person influenced your comedy life most significantly?
Well. It was John Robins who started me doing comedy. He tricked me by inviting me to the gig, and then along the way telling me he'd said [to the promoter] I was going to do five minutes. A lovely prank for which I will be forever grateful!
And who's the most disagreeable person you've come across in the business?
Al Roberts from Sheeps. I once encountered him on the high street, and I asked what he was doing, and he just handed me a piece of paper that had "malevolence" written on it in red ink and walked away.
Is there one routine/gag you loved, that audiences inexplicably didn't?
Oh yeah, there actually is - I quite like saying "don't you think Winalot is a funny name?" Not really material, but either way no-one seems to agree with me. But it is! Winalot! Win, a lot! Get it going in your mind!
How has lockdown affected the way comedians lunch? Fewer working lunches?
I would say that comedians probably have been some of the least affected people lunch-wise by the lockdown. Although I don't have any pressing professional concerns that require working lunches so I would be the wrong person to ask - about this, and a huge variety of other issues!
Are there particular reviews, heckles or post-gig reactions that stick in the mind?
A middle-aged stag do from Leeds fell asleep (well two of them did) at a gig once. They were actually nice guys though, but that's quite a damning heckle. It's certainly faint praise.
How do you feel about where your career is at, right now?
I have never imagined myself having a career. And, regardless of if I do or not now, I can't imagine it to this day! But everything is better now I'm doing the podcast.