John Cooper
And so to Manchester, where the man behind Danny Pensive has gone expansive, with his pens. Or pencils. Or digital illustration tablet thing - however he draws stuff, anyway.
You may know Pensive as the character John Cooper has inhabited for a good few years and a good few Edinburgh shows, but this new project is Cooper shrugging off Danny's comfy coat and going autobiographical, in this most self-reflective of years.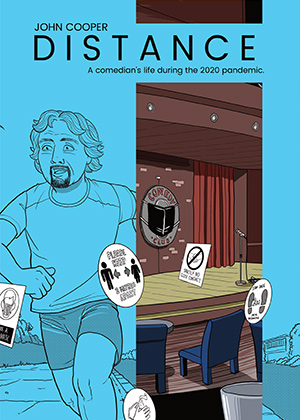 "Back in March when the world went weird and dark and all the comedy clubs closed, I started drawing a comic strip called Distance," he explains. "It was something to provide a little bit of light relief and the odd visual gag, and it's helped give me a voice while there are no gigs."
Distance has gone the distance, and the collected strips have now evolved into a graphic novel, of sorts; more jogging-and-bread than Walking Dead.
"There aren't any zombies in it (yet), it's just the real-life day-to-day of washing my hands, wearing a mask and avoiding the news. It's been popular enough to get funded on Kickstarter, so it's now in print. So that's nice."
The book itself is nice too. Check it out on Kickstarter - while we head over to the North East, and a suitably glamorous debut.
First gig?
Unofficially my first gig was the Batchelors Cup-a-Soup Comedy Challenge. That was a real thing. Yates's Wine Lodge in Sunderland. It was a free gig in a pub where the locals barely knew or cared about what was getting in the way of their talking and drinking time.
I was nervous and not very good, but I remember the buzz afterwards was amazing. On my second gig I said to myself 'I want to comedy forever'.
Favourite show, ever?
West Yorkshire Playhouse around 2012 (now Leeds Playhouse). On tour support, around 600 folks. They had this wonderful tunnel to walk through onto the stage, like at a footy stadium. I was on form, and the audience were too. Magical.
Worst gig?
Early days gig in Houghton-le-Spring near Durham. A fight broke out while I was on stage. The gig kept going and so did the fight, which continued into the next act, who just commentated on what was happening. Good times.
Which one person influenced your comedy life most significantly?
I guess I'd have to say my first agent, Lee at Gag Reflex. He saw my potential and signed me up at the launch of Gag Reflex, which was the first real comedy agency in the North. That's when I started taking it more seriously.
And who's the most disagreeable person you've come across in the business?
Myself. I'm terrible.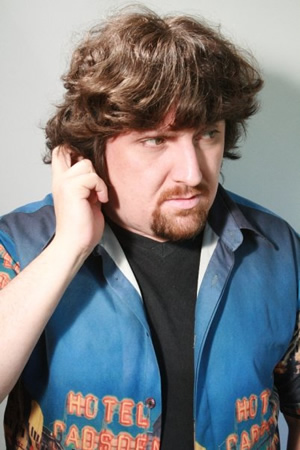 Is there one routine/gag you loved, that audiences inexplicably didn't?
In my time I've had some gags that were just far too obscure. The last one was a 'gag' about drone racing, trying to verbally explain small jockeys riding on bees... yeah. Doing a character acts helps get away with that. Sometimes.
Is there scope to do something else with your strip; a live show, an animation...?
I'm mulling over the idea of doing Distance Live, a comedy storytelling show to take to festivals, but who knows when that might happen in the future. The strip itself will keep going as long as it needs to, that world is still weird right now.
Do particular reviews, heckles or post-gig reactions stick in the mind?
Best heckle I've ever had is "Can you start that one again", from a guy who'd been to the loo. Then there was the time a nice lady came backstage to give me some advice on my set. I had to stay in character the whole time, as she thought Danny Pensive was real, which is probably the best compliment I could get.
How do you feel about where your career is at, right now?
Right now I 'have a career' - I'm lucky to have my improv gang too, Comedysportz. There's an element of Schrödinger's comedian in my head: how can I be a comedian when there are no gigs? I'm quite resilient.