Gavin Webster
A North-East institution for a good few decades now, Gavin Webster is kind of comedy's equivalent of the Angel of the North, although he's been standing around making people happy for about five years longer.
The enduringly impressive comic has just returned from the Edinburgh Fringe - with the splendidly-titled show I Am Stand-Up Comedy - and is about to embark on a seismic event, a whole quarter of a century into his performing career:
"The show is called Gavin Webster World Tour and it's my first proper tour," says the Blaydon-born comic. "The venues are a mish mash of village halls, town halls, music venues, art centres, comedy clubs and theatres."
He's getting about. Webster has also ventured onto our screens at various junctures over the years, from voicing Viz's Sid the Sexist in a Channel 4 Blap, to popping up in Ken Loach's acclaimed movie I, Daniel Blake in 2016. And now he takes the First Gig, Worst Gig challenge.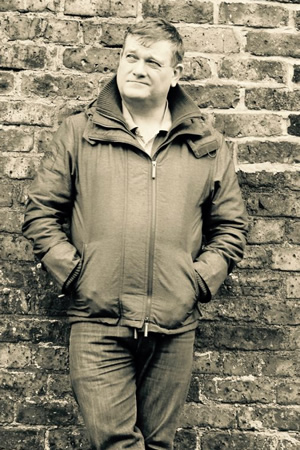 First gig?
My first ever solo gig was at a pub in Gateshead in the February of 1993 - can't remember the exact date - called The Barley Mow. The place was full to be fair, and the acts were Eric Scarboro (compere), Steffen Peddie, Ross Noble and Tony Mendoza. I was the open spot. It's not there now. It's been pulled down.
Favourite show, ever?
Tough one. One time I was compere at The Hyena Cafe when Johnny Vegas did a weekend there before he was really big. We encored together with American Pie by Don McLean.
Worst Gig?
Hatfield in Hertfordshire in 1998. A snooker club.
The weirdest live experience?
I once compered a show at Leeds Music Festival through the night, a Thursday night before the festival had properly started. They were all 'spesh' acts. One woman did the splits onto some broken glass and that was the act.
The best one though was an American bloke who had an act called Spanky Bottom Shakespeare where he had young women over his knee and was spanking them while saying 'now is the winter of our discontent.'
Who's the most disagreeable person you've come across in the business?
Many promoters, some agents and a couple of reviewers. I've met some, what seem like good blokes but I've since found out the way they've behaved with people, particularly women, and then changed my opinion. There's some bullies out there as well but a lot of it is passive subtle bullying. God I'm depressing myself here!
Is there one routine/gag you loved, that audiences inexplicably didn't?
There's been many down the years. Trouble is I can't remember them because if it doesn't work I always bin it.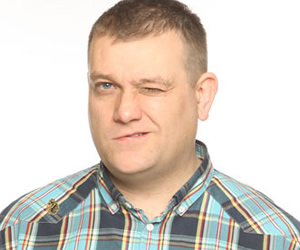 What's your best insider travel tip, for gigging comics?
Get out the car, stretch and bend and then get back in again every 50 miles or so. Always have a quarter bottle of whisky in your glove compartment. It's as important as blankets if you're stuck. Never ask kids for directions.
The most memorable review, heckle or post-gig reaction?
A kid with a rah-rah home counties accent came up to me after a gig and said "why do all the idiots in your stories have an accent like mine?" He was offended that I denoted 'his people' as stupid and shallow. It made me feel quite proud to be honest.
How do you feel about where your career is at, right now?
Things are okay. At the age I am and the length of time I've done it I'm never going to be fashionable or the new thing. I'm still making a living doing it and still writing new shows every year. I could just do with building a bigger following out there in the provinces. Hence the tour.