Fatiha El-Ghorri
People often mock comedians for their perceived personality flaws - it's usually the comedians who mock themselves, in truth - but some seriously good people tread the boards in this business. Every night there are at least a few comedy benefit gigs going on in our nation's capital, and beyond, and they highlight all sorts of interesting issues.
Indeed, a whole benefit tour is going on right now, in collaboration with a multi-campaign body called Penny Appeal. Kicking off this week, the Super Muslim Comedy Tour is taking a talented team of comics around the country, with the likes of Kae Kurd, Prince Abdi and - flying in from the States - Azeem Muhammad popping up on numerous dates. Rocking every show, meanwhile, is Hackney's own Fatiha El-Ghorri.
"I'm really excited about Penny Appeal's Super Muslim Comedy Tour, as I'm going to be working with some comics who I've never worked with before, so I am looking forward to meeting them," she says. "I'm also super excited and happy to support the cause: the proceeds are going to the Forgotten Children campaign, which aims to get children off the streets of Senegal and into safe environments."
It's a good reason for a raucous evening. Now, let's get back to El-Ghorri's gig history.
First gig?
Oh my God! My first gig! I completed a comedy course called Comedy Novices which is run by a comic and actor called Bentley Browning. The course was 12 weeks long and after the course we got to perform to a real-life audience. I remember being really nervous to the point where I was shaking but as soon as I started getting the laughs I started to become calm and I started to enjoy myself.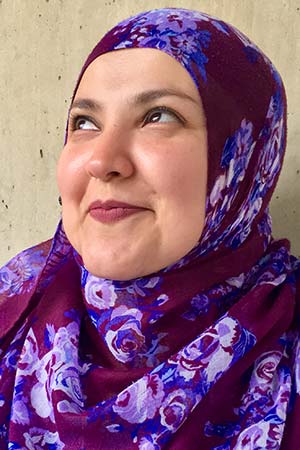 Favourite show, ever?
I did a charity gig called 'Laugh in the Face of Hate' where all proceeds went to a victim support charity of the tragic terror attack in New Zealand. It was organised by Tez Ilyas and Jarred Christmas. It was a beautiful evening where lots of people from different backgrounds, faiths, ethnicities and beliefs all came together to show solidarity with the victims of New Zealand.
Also, the event was held at the Hackney Empire, which is a theatre that I grew up visiting (I'm from Hackney too) and watching performances there, so to actually be on that stage was an incredible achievement for me.
Worst gig?
Ha, ha, ha! I was at a gig and I was doing tried and tested material but the audience were just not having it! They didn't laugh at all!
It was so bad that I had to start laughing at my own jokes! I was supposed to be doing 10 minutes of material but I ended up only doing six and a half minutes because it was going so bad...
Which one person influenced your comedy life most significantly?
Ummm, there isn't anyone really. I guess I'm influenced by my experiences, the people around me, what I see, what I feel, the situations I live and the interactions I have with people.
And who's the most disagreeable person you've come across in the business?
What?! Ha, ha, ha! You trying to get me cancelled or something! Next question!
Is there one routine/gag you loved, that audiences inexplicably didn't?
Yes! I do a joke about Arabs and their pronunciation of certain words. I love the joke but it rarely gets a laugh, but I still do it because it makes me laugh and I love it!
Do you have any good touring tips, for gigging comics?
Lots of water, sleep as much as possible between the gigs, try to eat as much fruit as possible, be kind to yourself, be kind to your fellow comics - and be super kind to the organisers as they work a lot harder during the tour than we do!
Are there particular reviews, heckles or post-gig reactions that stick in the mind?
Sometimes people (mainly men) come up to me after a gig and try to offer me 'joke' advice (yawn and eye roll) but mostly people are complimentary and kind. I feel that art is subjective so people are not always going to like you, or what you do, which is fine, but there is no need to be hateful or abusive, which sometimes can happen.
How do you feel about where your career is at, right now?
Alhamdulillah - I'm just doing my thing. Working hard and remaining humble. I don't know what the future holds, I'm just doing my thing and enjoying myself.