Are you wondering how to suitably celebrate International Women's Day? Well if you're anywhere near Walthamstow, East London tonight (Thursday), the good people at Red Imp Comedy are offering a feel-good option.
They've gathered a phalanx of rather good female comics - Carly Smallman, Caroline Mabey, Wendy Wason, Pam Ford, Rachel Fairburn, and this week's FGWG guest, Debra-Jane Appelby - for a good cause: SafeHands for Mothers, which does fine work for women in seriously dodgy situations. More info here: www.safehands.org.
And a bit more info about Red Imp before we move on. The East-end institution - or more specifically its much-admired matriarch Susan Murray - was recently named one of the area's Cultural Stars, having helped Waltham Forest become London's first London Borough of Culture, next year (do also check out fellow Cultural Star @FarahIshaq, whose installation celebrating 100 years of women's right-to-vote launches this week, at National Trust property Eastbury Manor). Fine work.
Right - back to the night, and Appelby, a previous winner of both the Leicester Mercury Comedian of the Year award and the Funny Women final, which is good going. You may also be aware of the podcast she hosts with Kate McCabe, Strong Female Leads: "Super proud of it," she says. But does Appelby feel so fondly about her stand-up history? Let's find out.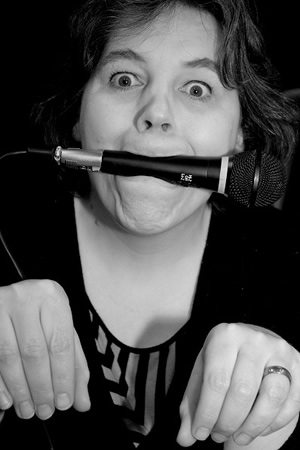 First gig?
It was after the comedy course I did: lovely and friendly, only about 50 friends and family of all the students there. The next (first real) one was more of a wake- up call.
The most inspiring gig you've ever seen by a female comic?
I'm inspired by all of them. There's so much more variety in my opinion. Seeing the success Sarah Millican has had as a straight up comedian on TV gives hope to us all. Quite often funny women are steered into sketch and acting by TV, as that's seen as more acceptable.
Worst gig?
An early one to medical students didn't end well. And I did a festival this year which ran long, so I went on as the headliners hit the main stage. I said hello and the tent emptied.
The weirdest live experience?
The NHS 60-year anniversary - to 6000 people in Trafalgar Square.
Who's the most disagreeable person you've come across in the business?
Just the usual misogynists and old-schoolers, but most people in the game have their hearts in it.
Is there one routine/gag you loved, that audiences inexplicably didn't?
Not one that lasted long in the set. I have a couple that kill every time, yet I have no idea why. They don't make sense even to me!
What's your best travel tip for gigging comics?
Prep. Leave super early, get where you are going and if you're hours early grab a movie. Cineworld Unlimited pass, ba-bay!
The most memorable review, heckle or post-gig reaction?
I like that more women are coming up to say how they enjoyed it after a gig, and less of them are saying "I don't normally like women but you were great". I think they're getting used to us and it's less intimidating for them. Female audience members are harder on the ladies than you'd think.
How do you feel about where your career is at, right now?
Eight years ago it was just a hobby that turned into a job because I got made redundant. That I can improve and do new things each year is all I can ask for. So far so good.