Andrew Bird
Ah, Bedfordshire. It's the crux of an old expression that became a Vera Lynn song - Up the Wooden Hill to Bedfordshire - which is of course a sweet way of saying GET UPSTAIRS, WE'RE SICK OF YOU.
The county town also provided the name of a famous London comedy pub, The Bedford, which helped today's First Gig, Worst Gig guest get stage-ready, as he mentions below. And Bedfordshire now also boasts the extremely well-regarded Castle Comedy nights, in Bedford, Milton Keynes, and Biggleswade, where that talented stand-up will be playing on Monday night (alongside Ivo Graham, Spring Day, and host Paul Revill).
Now you may well be thinking, 'that name sounds familiar: what else has Andrew Bird done, pre-Biggleswade?' We'll tell you: he's written for many a big TV show, supported some even huger comedians at mighty arenas, and was even one of the select few comics to perform at Banksy's infamous theme park. And what's Andrew up to right now?
"I'm just trying to be a better comedian and a funnier human being," he says. "Oh, and I'm looking to tour again, autumn 2020."
Now, let's fly Bird back a few years.
First gig?
It was a student talent night at a college my friend went to. She made me do it and physically pushed me on stage. It was drama students doing extracts from Shakespeare and young children playing a trumpet. Then I went on and started talking about condoms and drinking till you're sick.
Favourite show, ever?
I worked behind the bar in the Bedford pub, where Banana Cabaret is. An act couldn't get there, I was really new but they had no one else. I had a good gig - then went back to work behind the bar.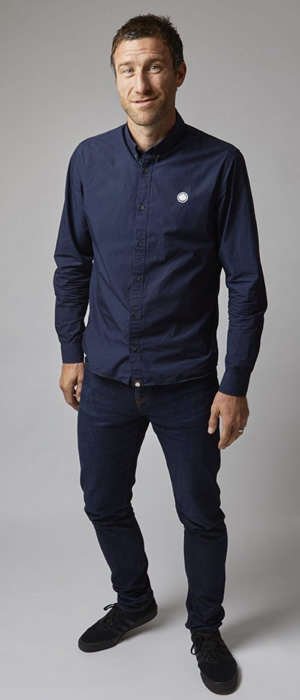 Worst gig?
I did one at the Christmas just gone. You'd think you'd have had your worst gig already at this point.
It was all Christmas work's dos. The first act on was really aggressive. The compere refused to bring me in till they stopped talking. I went on, was getting nothing. Someone shouted "I'm waiting for a joke" I said "I'm waiting for an audience." They all booed. 200 people booed.
People ask 'have you ever been booed?' I always said that doesn't happen. Turns out it does.
I told them they're leaving before me: I'd done six minutes and had to do 30. Tables of people were leaving. At one point I heard myself say "this time last month I was supporting Michael McIntyre at Wembley. Now I'm dying to you pricks in Birmingham."
They played music to get me off, and I was escorted off the premises by security.
Which one person influenced your comedy life most significantly?
My uncle Johnny was the first adult I heard consciously trying to be funny, and he was. He made me want to be a funny person.
And who's the most disagreeable person you've come across in the business?
[Names a notable comedy industry chap whose initials are famously fragrant]. A deplorable cunt. You asked.
Is there one routine/gag you loved, that audiences inexplicably didn't?
You just cannot do jokes about the Royal Family. Anytime I try people either love them, or just don't care enough to laugh.
Do you have any good travel tips, for gigging comics?
Load up the podcasts. Research the free parking. Make a note of it. Clean t-shirt for the journey home.
Are there particular reviews, heckles or post-gig reactions that stick in the mind?
No - thanks to some electric shock treatment.
My friend was at a bad gig once. He rang me the next day and said, "they listened." That was all he had.
How do you feel about where your career is at, right now?
I should be better than I am at this point, and I'm working hard to get better.
But then I have gigged with some of the best comedians on the planet. And travelled the world. And housed a wife and two children, and three chickens, purely from the thoughts that I've had.