For comedians, choosing a suitable category to list their show in isn't as a simple as it sounds.
Given that it's regularly - and let's face it, wrongly - cited as one of the bravest professions, comedians don't tend to enjoy explaining what they do when not in 'work' mode; or so we often hear. People's reactions to learning someone is a comedian invariably involve either them then telling a completely inappropriate joke ("you can use that!") or asking to be told a gag, which involves the comic then having to explain to this increasingly incredulous stranger that actually their stuff is more an innovative mix of carefully-observed characters and a groundbreaking narrative structure rather than traditional punchlines, at which point they get called something unpleasant as the member of public storms off.
So you can understand why a lot of acts don't really call themselves comedians at all, if they can help it. Not that there's any stigma about the profession, in the UK at least, but the way live comedy increasingly works here has encouraged our more creatively ambitious acts to explore new territories. So much so that sometimes the term 'comedy' just isn't quite adequate anymore.
This is most obviously apparent at the Edinburgh Fringe, where the culture of themed long-form shows really began. Sometimes you'll flick through the pages of the big, physical Fringe Guide's vast comedy section and be disappointed to notice a favourite act not there, only to realise that they've chosen to be in the 'theatre' bit instead. Those genre slots aren't so separate online - actually searching for slots online will take you to a different type of site - but calling your show 'theatre' is still a statement, and a risk. You might suddenly find yourself off your regular audience's radar.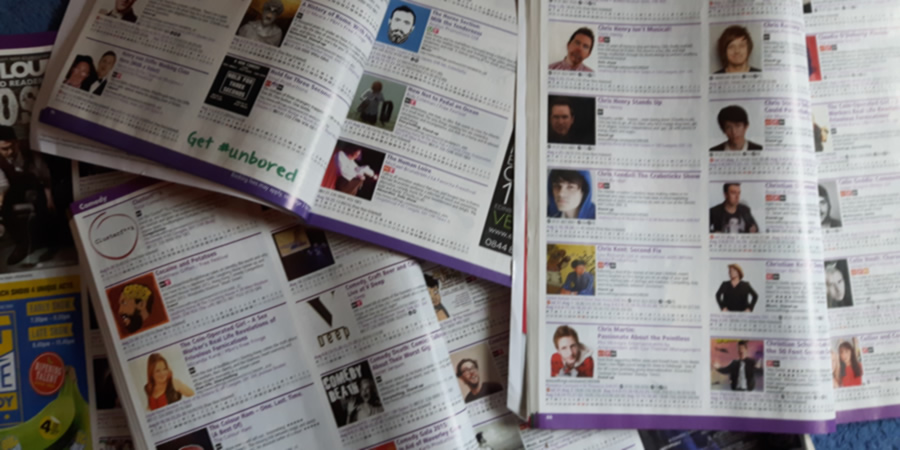 It's interesting in recent years to see US acts stretch the stand-up format too, as the Netflix special becomes an increasingly important benchmark. Those creative jumps tend to involve the framing of the show though: a novel intro, outro and perhaps some quirky cutaways, rather than much messing with the material itself. Which is ironic, in a way. A famous cliché about US stand-ups a few years back suggested that many were only doing it as a means to an end, to get acting roles; the phrase 'seven minutes to sitcom' emerged for a certain type of club set, a bite-sized, best-of chunk of material aimed squarely at TV bigwigs in the audience, who might just give them a sitcom loosely based on it.
That stereotype is clearly unfair on a lot of dedicated stand-ups, but it's true that many comics do start out as aspiring actors first, then start hitting the open mic stages when the auditions aren't forthcoming. And some never really go back, as live comedy offers such creative freedom, in comparison to the ego-damaging desperation of hoping some director or producer will shoehorn you into their creative vision.
In truth, like everything, a healthy balance is probably the key to comedic happiness: go forth and explore new artistic avenues, but keep those crowd-pleasing stand-up skills ticking over too. You never know when you might be called upon to help save the world at some vital benefit gig, and it won't be easy finding a tight 20 in your challenging hour-long monologue about a Scandinavian philosopher, or whatever. Even Shakespeare stuck the odd joke in occasionally.