The many-gifted New Zealander is recording his new special at Galway's Vodafone Comedy Carnival - and making literature for little'uns.
Perhaps it's the post-Frodo effect, but New Zealanders are really nailing the cultural zeitgeist right now: think Lorde topping the US album chart; Rose Matafeo winning Edinburgh 2018; a resurgent Flight of the Conchords and their myriad solo projects; Thor:Ragnarok director/actor Taika Waititi; Deadpool 2 superteen Julian Dennison...
And then there's Rhys Darby, star of big screen, smaller screens, lovely theatres and an increasingly varied array of bookshelves. You may still know him best as the Conchords' visionary manager Murray Hewitt (or the original BBC radio incarnation, Brian Nesbit), who also doubled up as New Zealand's deputy cultural attaché. But in fact - as Rhys reveals below - he's now more likely to be recognised for a cult Netflix sci-fi series, or one of his recent blockbuster movie roles.
Now Darby is trying out a couple of new things. His first children's book The Top Secret Undercover Notes of Buttons McGinty has just been released down under (the campaign for a UK release starts here). And the fine stand-up comic will record his new special at the Vodafone Comedy Carnival later this month, before the good people of Galway. Which should be top Kiwi/Irish craic.
So, let's start right there.
You're recording a special at the Vodafone Comedy Carnival - how did that come about?
I like to do 'out of the ordinary' things. I was presented with the opportunity of doing my show in Galway so I thought: "This is it! This is the extraordinary place I should film my next special - the fans will love it!"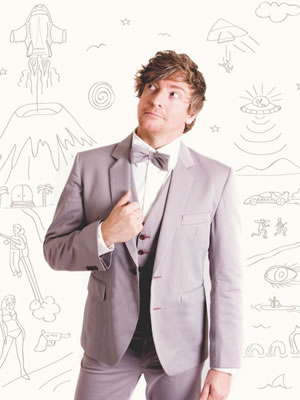 That show, Mystic Time Bird - will it make us take a long, hard look at our lifestyles? Or a short, soft look?
I've never really been into long, hard looks but yes, I think it will make you take stock of your life here on the planet. Hopefully it will put your mind at ease that we are not alone even when we're alone and that we live forever in one form or another.
Sorry, that was a touch too long and hard, wasn't it?
Will you get time to do stuff away from the festival gigs?
I really just want to soak up all that beautiful Galway has to offer while I'm there, and show my kids around the town. I love walking the streets of Galway.
Tell us about Buttons McGinty - have you always wanted to do a kids' story?
Yes, I have. I was never a great reader in my youth, so I wanted to create a book that kids who can't be bothered reading would read. There's lots of jokes, codes and cool pictures to help you piece together the story. It's essentially a kids' version of an Indiana Jones notebook but I've turned the silliness knob up a few notches.
With all the TV, film and stand-up, how did you actually find the time to write it? On flights?
Filming TV shows lends to you having a great amount of time doing nothing as you sit in your trailer. So I write and draw pictures. I guess I have trouble turning my creative mind off.
Actually, being on flights is the one time I don't do anything creative. I simply watch bad films and eat tiny food.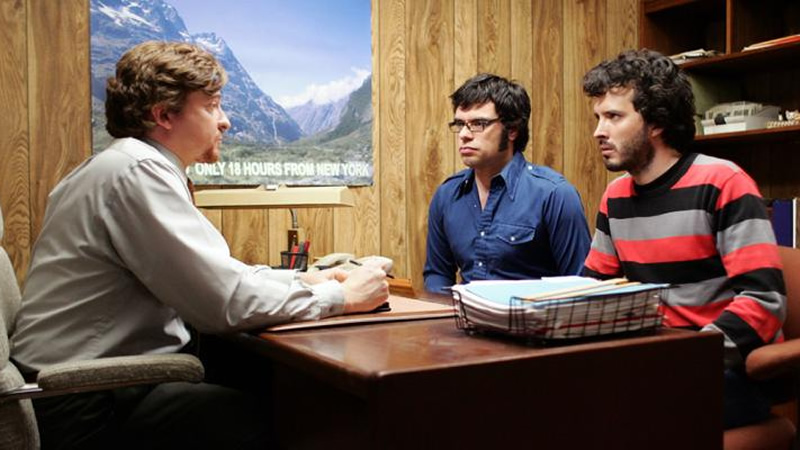 New Zealand is such a cultural powerhouse, I'm thinking Murray Hewitt would be all limos and learjets these days?
Murray had a touch of success with the Crazy Doggz band but then of course he returned to his farm in Taranki. Now with the Conchords back with their HBO special, I think Murray has returned to New York and is working in a travel centre, trying to arrange meetings with TV executives.
Which new - or undiscovered - Kiwi talents from should we look out for next?
Rose Matafeo is the next big thing. She won the comedy award at the Edinburgh Fringe Festival this year. I look forward to seeing what she does next!
I imagine you still hear Murray catchphrases every day, but do you get recognised more for other stuff in the States now?
It's all about Jumanji these days, and of course I'm the voice of Coran in Voltron: Legendary Defender on Netflix, which has a huge amount of fandom.
My better half bought a 'Band Meeting' tote bag at a Conchords show this summer. How much do we owe you in royalties, if you spot us in Galway?
You owe me $7.20 NZD.