Komedia Brighton: 25 Years
On May 1st 1994, the directors of Umbrella Theatre - Colin Granger, Marina Kobler and David Lavender - opened a new venue in Brighton called Komedia.
They modelled the former billiard hall they found on the cabaret theatres they had seen while touring in cities such as Copenhagen, Amsterdam and Berlin; small informal welcoming venues that offered people from all walks of life a place to enjoy comedy, cabaret, and music whilst having a meal and a drink. There were no venues like these in the UK in the early nineties and Colin, Marina, and David wanted Komedia to be the first.
From the very beginning, Komedia's cabaret theatre format was a huge success both with audiences and performers. The venue's first season featured up-and-coming talents like Graham Norton, Al Murray, Mel & Sue and Omid Djalili... not a bad start!
In 1998, Komedia were able to move to a new larger venue in the centre of Brighton, where they're still situated today. Krater Comedy Club - which has seen performances from hundred and hundreds of comedians - started in the basement in June 1999, whilst upstairs room hosted shows from acts such as Catherine Tate, Stewart Lee, Ross Noble, Harry Hill, The Mighty Boosh, Johnny Vegas, Dave Gorman, Flight Of The Conchords, Jimmy Carr, to name but a few.
Today, 25 years on, Colin, Marina and David are proud that with the help of the venue's loyal and talented staff and management team that Komedia continues to thrive. They say: "Our aim when we opened Komedia in May 1994 was to create an independent and self-supporting venue that offers a wide choice of live entertainment, good service, and welcomes people from all walks of life. 25 years later, we are proud that with the help of all our staff this aim has been achieved, and that Komedia will continue to have this vision at its heart - let the good times roll!"
Digging through Komedia's old brochures is fun. Here's some comedy-related clippings...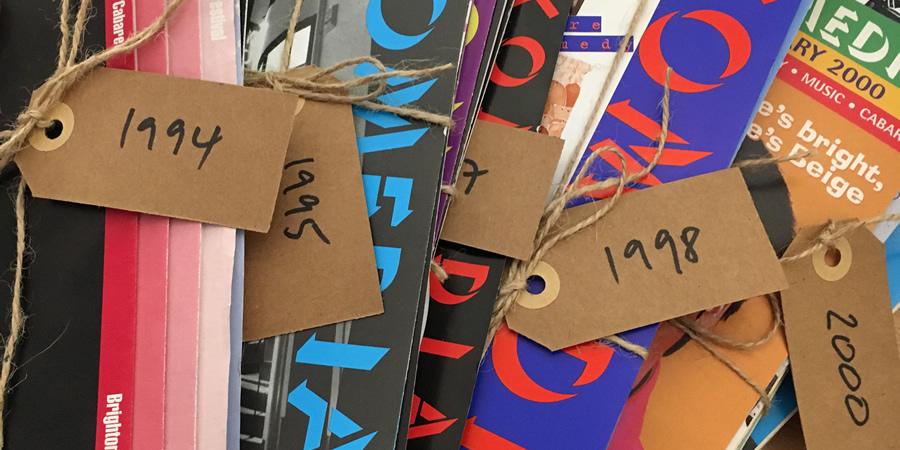 ---
A 1994 clipping. Melanie and Susan are now of course better known as Mel & Sue:

---
Parsons & Naylor back in 1996... Andy Parsons isn't bald!
---
The League Of Gentlemen in 1996, checking everyone in Brighton was still local: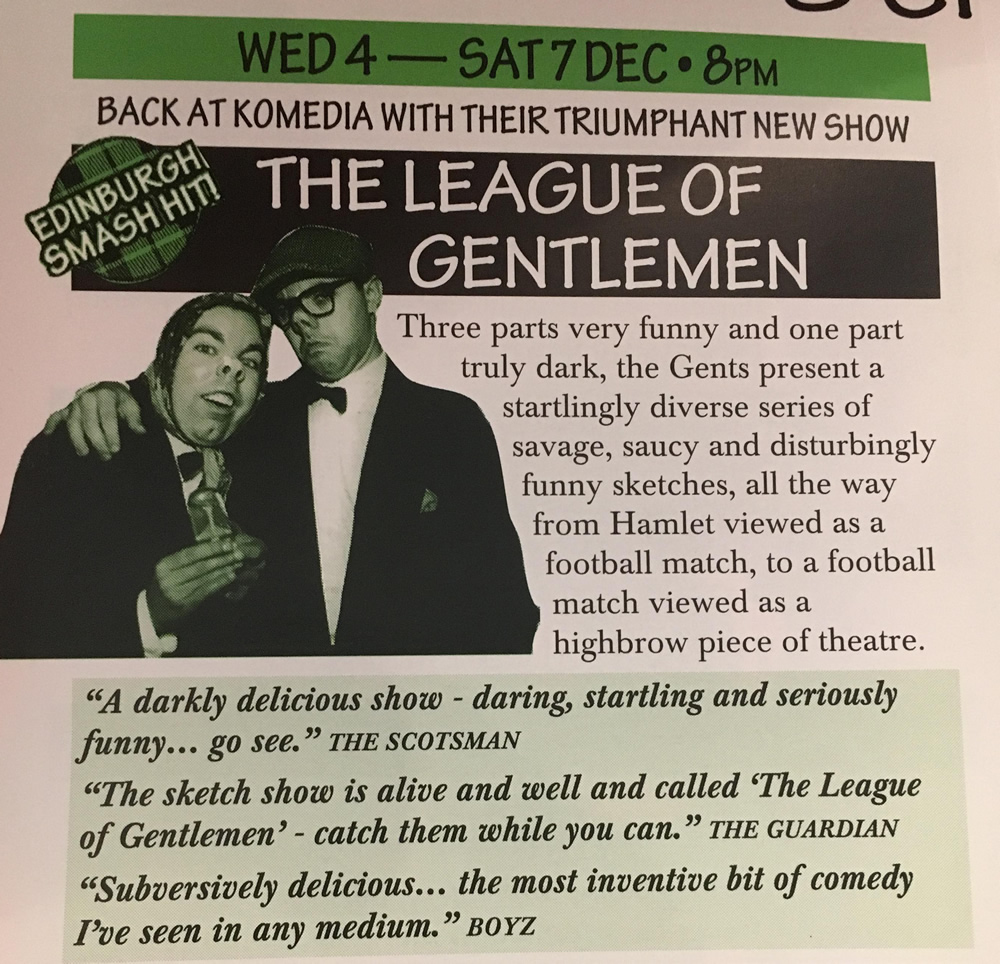 ---
Dave Gorman in 1997: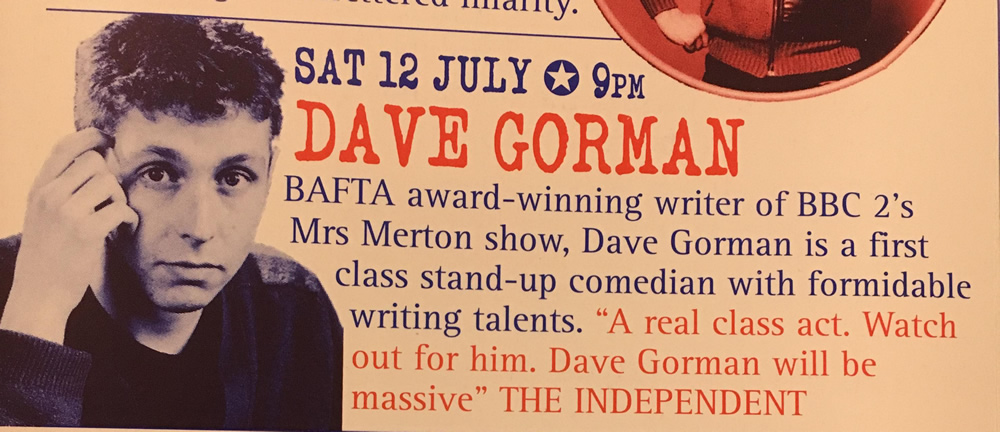 ---
This is how a pre-Little Britain Matt Lucas and David Walliams billed themselves in 1997: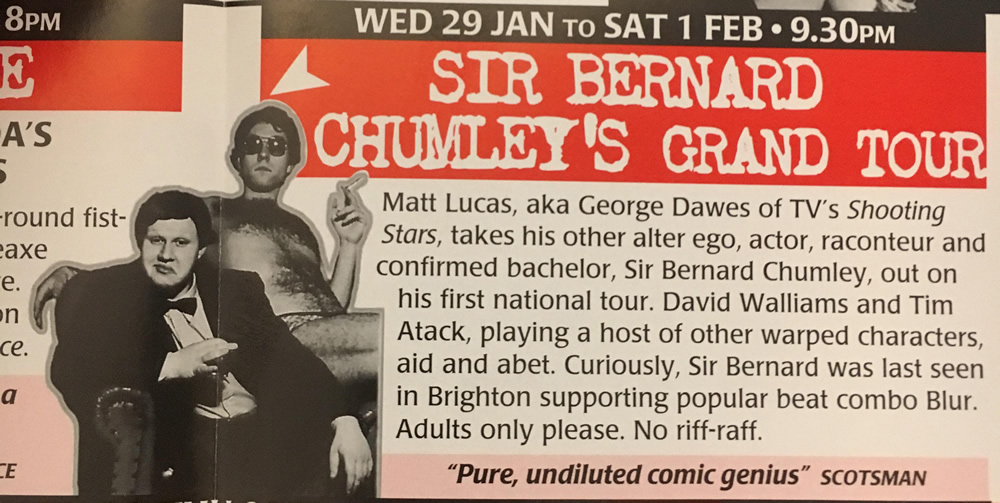 ---
Graham Norton in 1997. He perhaps has some bigger TV credits to mention now.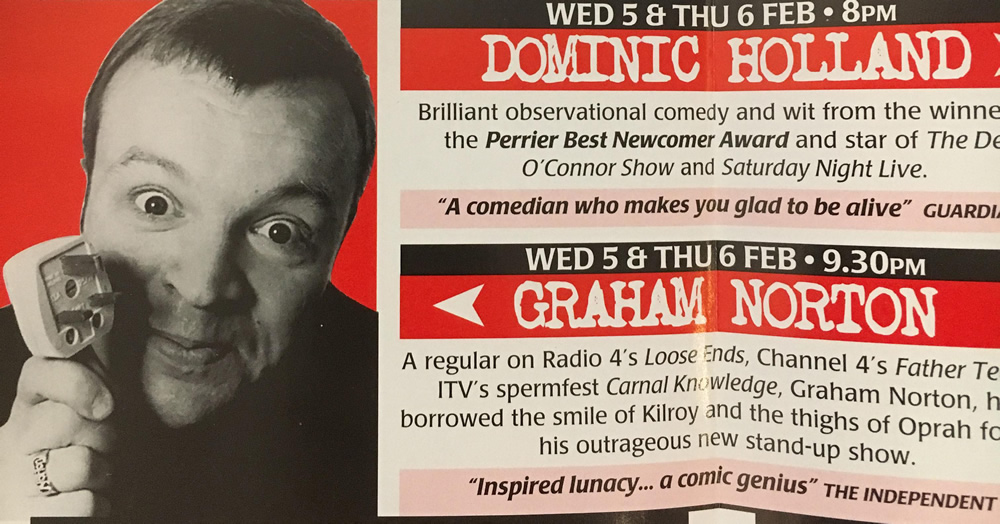 ---
The Mighty Boosh visited in 1998: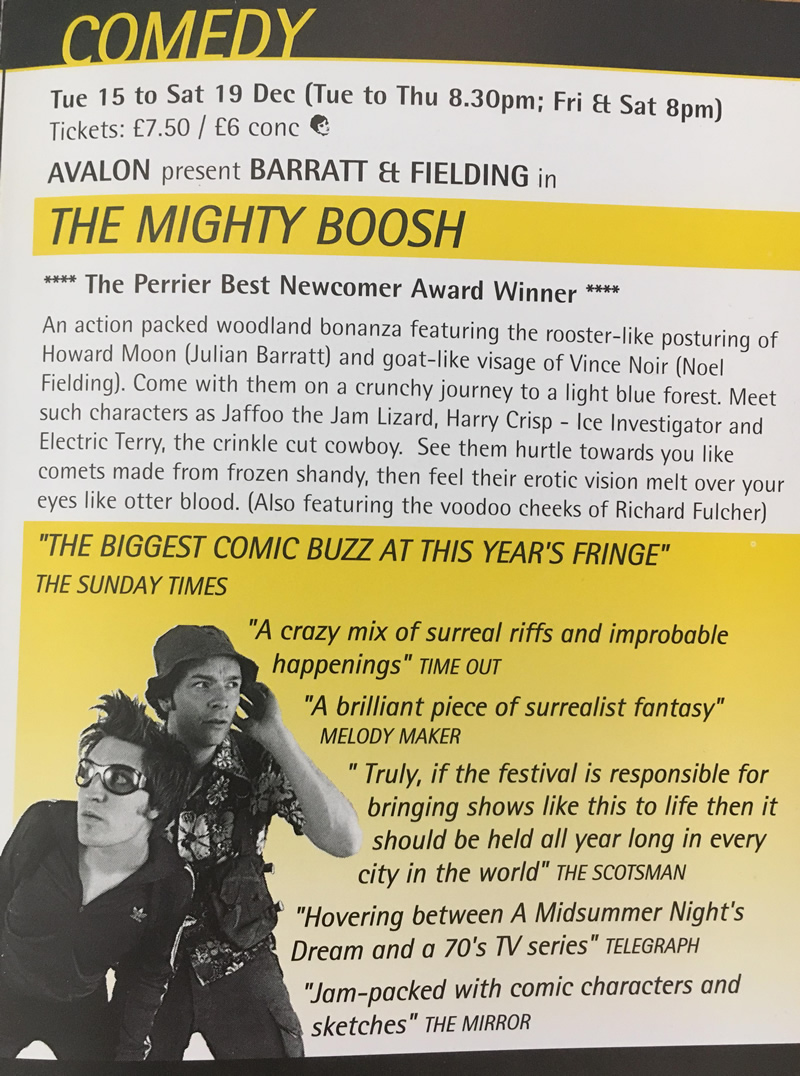 ---
Check out Lee Mack's look in this 1998 listing: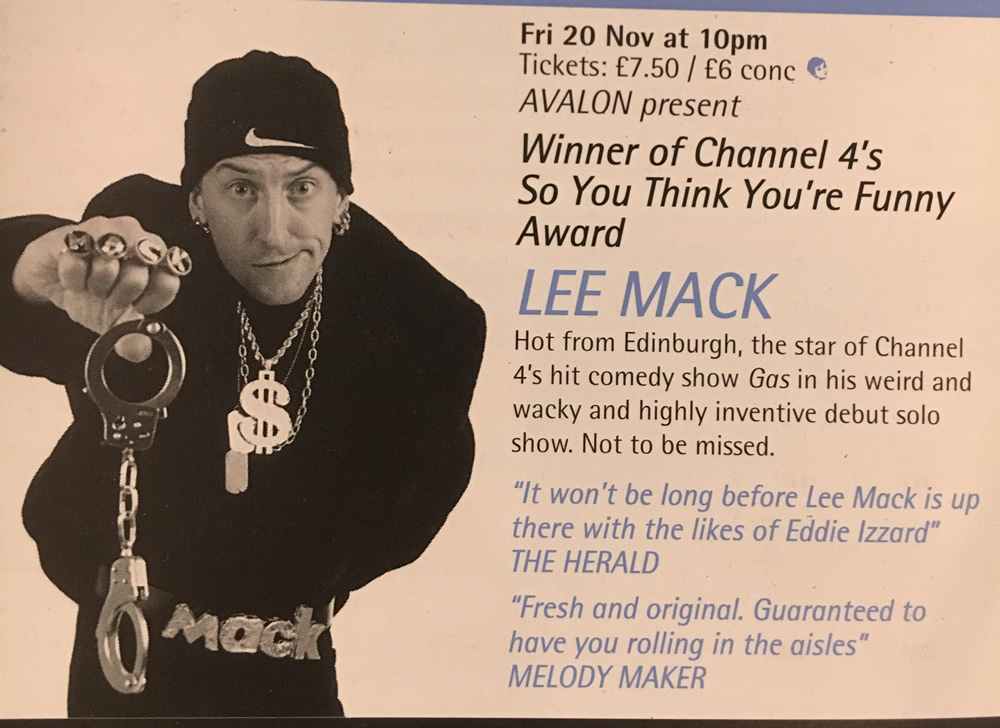 ---
Johnny Vegas brought his trademark anarchy in 1999: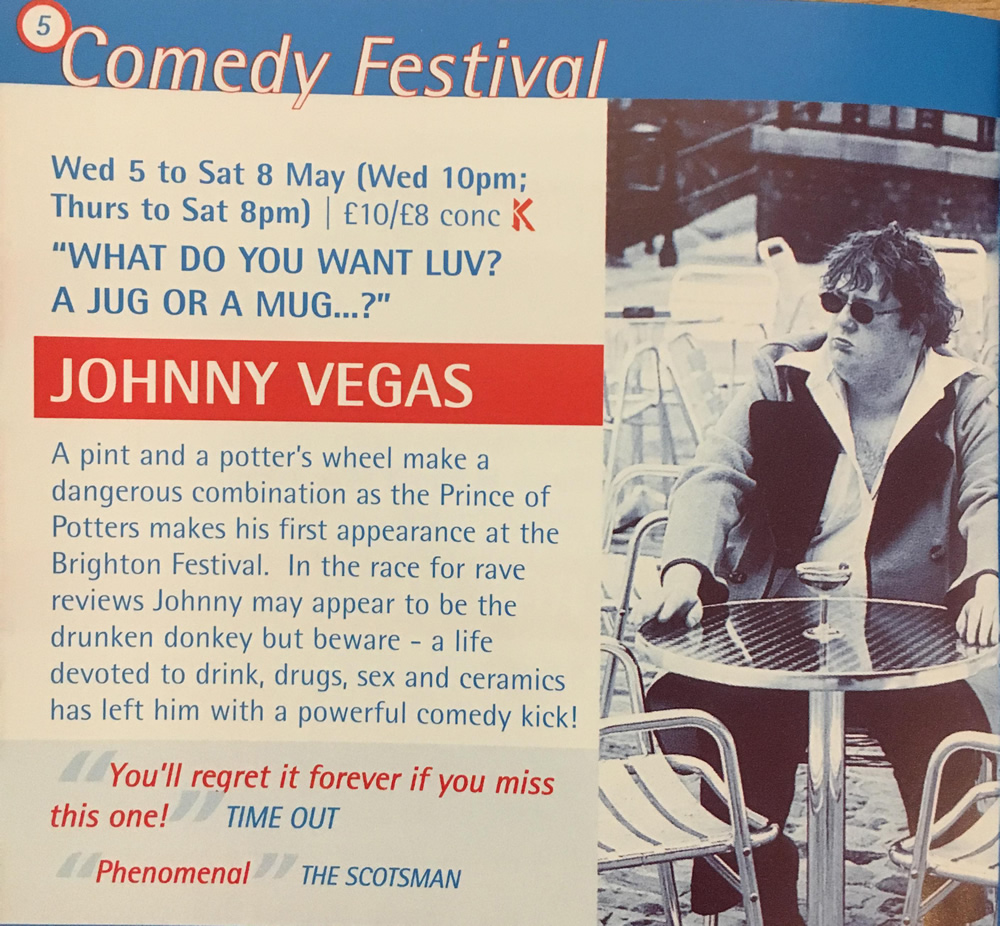 ---
A listing for Al Murray's 1998 show: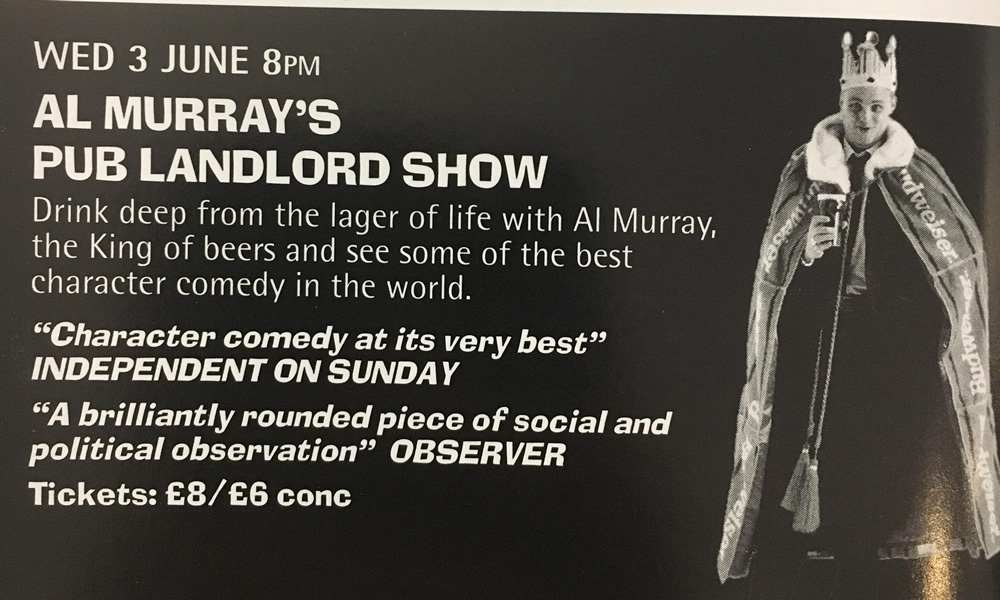 ---
Catherine Tate was amongst those on the bill on the 22nd January 2000. Also, Paul Foot with short hair: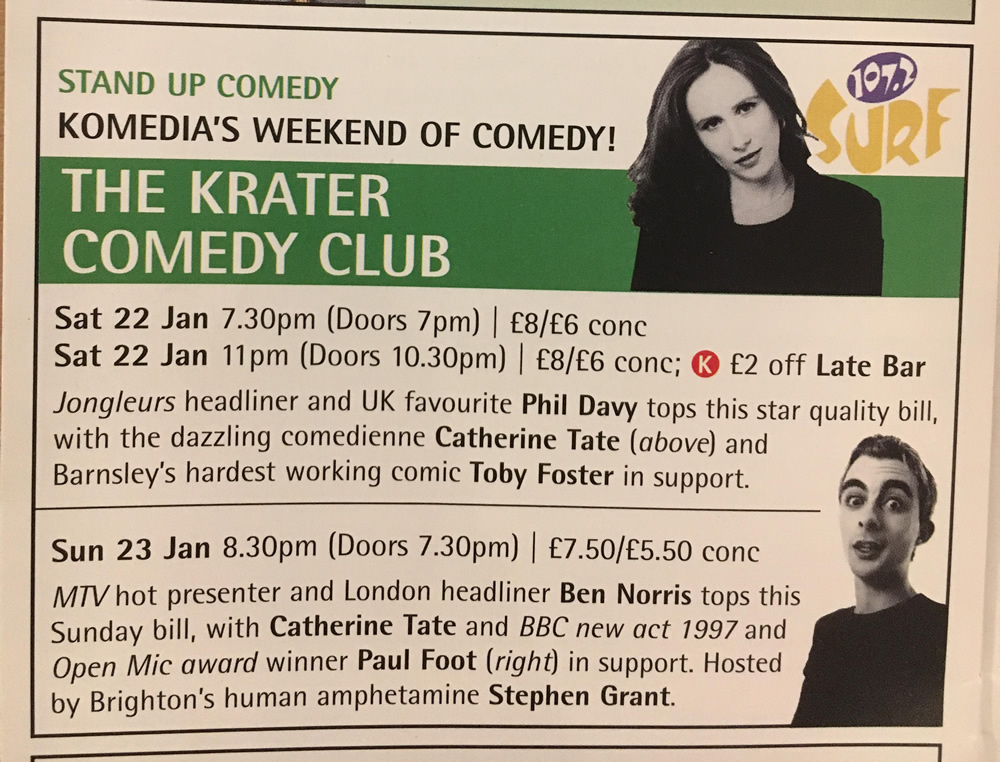 ---
Nina Conti was part of an Edinburgh preview at the venue in 2001:
---
A 2001 listing for Garth Marenghi. A couple of months later, Matt Holness and friends won the Perrier Award.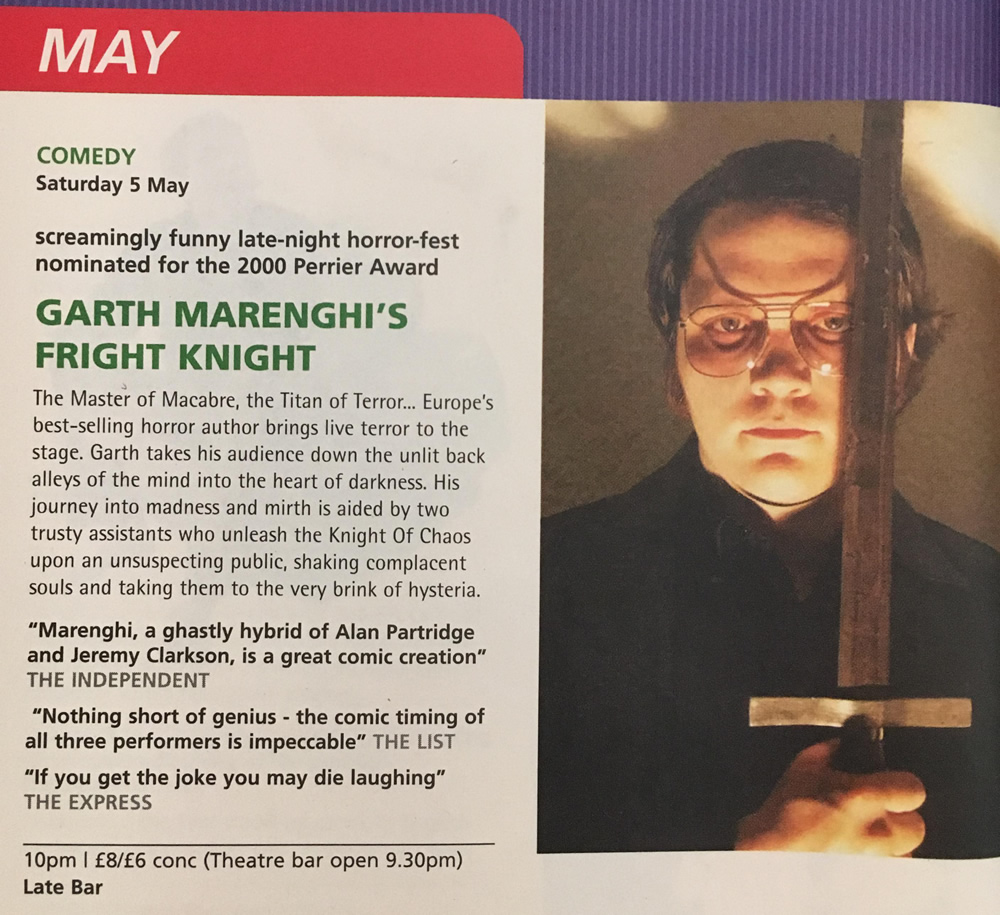 ---
It cost less than £10 to see Alan Carr in 2003: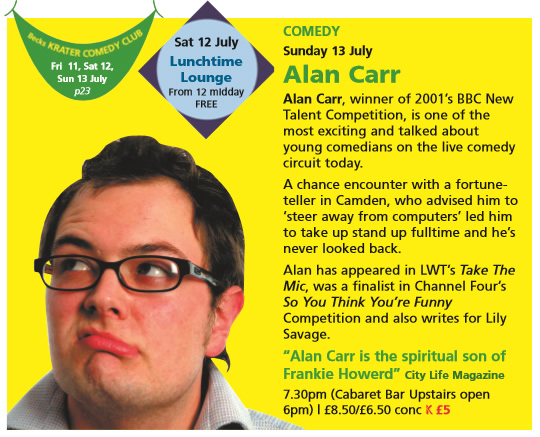 ---
Also visiting in 2003 was a pre-fame Micky Flanagan: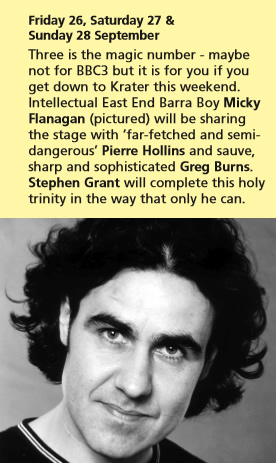 ---
Milton Jones was a Girl Guide in 2005: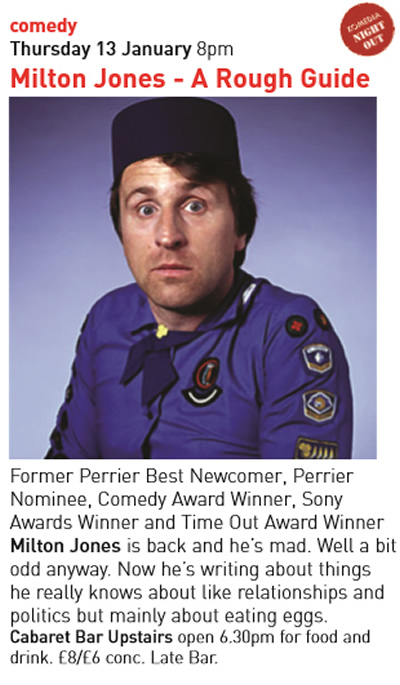 ---
And, to finish with, here's The Mighty Boosh again, this time helping to advertise the venue's air conditioning: