Women in comedy can't move these days for interview questions about what it's like to be a "female comedian". Female actors, directors, producers, casting directors are all constantly called upon to comment on #MeToo...
2018 feels like a year where everyone is calling out for change, and even a quick scan through this year's Edinburgh Fringe programme showed that these conversations are being brought to the forefront of the theatre and comedy that's being produced. And rightly so. But are these conversations that can happen in improv too?
Considering that it's an art form where the performers literally make up each show on the spot, shouldn't improv be able to change and adapt much more quickly than other forms of theatre or comedy? Want a show with more empowered female characters? Great, let's do that right now, no need for a long process of writing, casting and rehearsing to make change happen. Right?
Except that when it comes down to it, improv exposes people's internalised prejudices just as much, if not more so, than scripted work. A show that's been scripted and rehearsed has multiple opportunities to edit what it's saying; improvising can be much more revealing. Which, naturally, is one of the things that makes improv so exciting and magical, that anything can happen, but it also raises the risk of uncomfortable or inappropriate 'jokes', or an environment where women can feel like they don't have as much of a voice.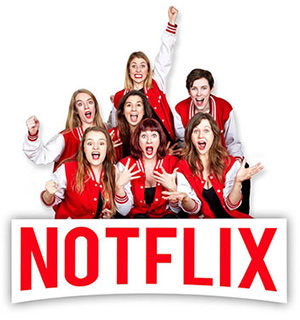 Of course, improv is more than just what happens on stage. Good improv is the result of training and building trust between you and your team, and just as with any form of performance, absolute magic can happen when you're part of a team who trust each other. But what about in the early days of a career, when you're taking classes and workshops with a bunch of (mostly male) strangers?
When the golden rule of improv is to always say 'yes' to any offer, consent can be a tricky area when working with people you don't know well. Your partner initiates a scene that makes you feel uncomfortable? "SAY YES." Your partner makes a scene sexual to get a laugh from the others in the workshop? "SAY YES, DON'T BE UNSUPPORTIVE." Pretty much every female improviser I know has an anecdote about struggling their way through a scene that made them feel uncomfortable, usually in the early days of their improv career.
But when female and non-binary improvisers become the majority on stage, you can feel a palpable change. Power dynamics start to shift when there are more female characters and more female-identified players. Both the improv shows I'm part of (Notflix: The Improvised Musical, and Impromptu Shakespeare) are shows where players can take on a character of any gender, and the freedom created by that is incredible, not just for the performers but for the audience too as a performer's gender no longer defines their onstage character. And on the rare occasion that the audience get to watch a show where there are no male improvisers on stage at all, it can become a very powerful statement.
I saw quite a few improv shows in Edinburgh this year that ended up being all-female due to the combination of players on the day, but there are hardly any improv groups where every single player is female or non-binary. Having worked with Notflix (an all-female improvised musical) since the early days of my own improv career, I can honestly say that there's a level of listening and support in an all-female rehearsal room that helps to create something truly amazing. And when listening and support are so key to creating brilliant improvised theatre... I think it's time to admit that this isn't just a man's game anymore.