Various comedy nights are taking place around the country in which dogs are invited into the room, and in some cases even on stage.
Bring Your Own Dog Comedy has been running at the Leicester Comedy Festival over the last couple of weekends. As the programme blurb explains: "Do you like comedy? Do you like dogs? Well have we got the show for you!! Bring your furry friend along to watch 4 great comedians. Pups also get a cupcake and doggy beer thrown in."
The shows, which are part of the Just The Tonic line-up at BrewDog, have been organised by Martin England. Talking about the gigs that have already taken place at the festival this month, he says: "We've been having a great time. The treats have been a big hit with the dogs and the dogs were a big hit with the comedians. It was great to have something different to a standard comedy night, and the unpredictability of the dogs made everything more enjoyable."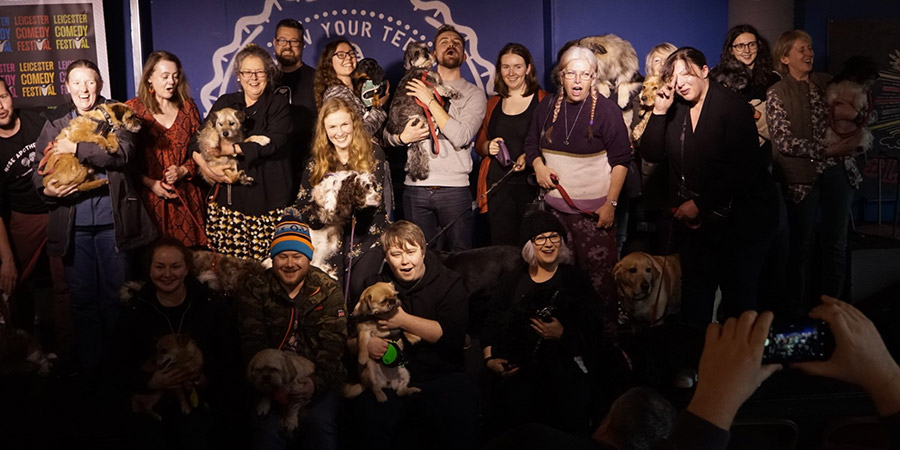 The final Bring Your Own Dog Comedy gig at this year's Leicester Festival will take place this Sunday (23rd February), with Jack Campbell introducing Sarah Johnson, Helen Bauer and Scott Bennett. If you're in Leicester, do head along, but - if not - look out for more Bring Your Own Dog nights elsewhere, as the format is likely to travel.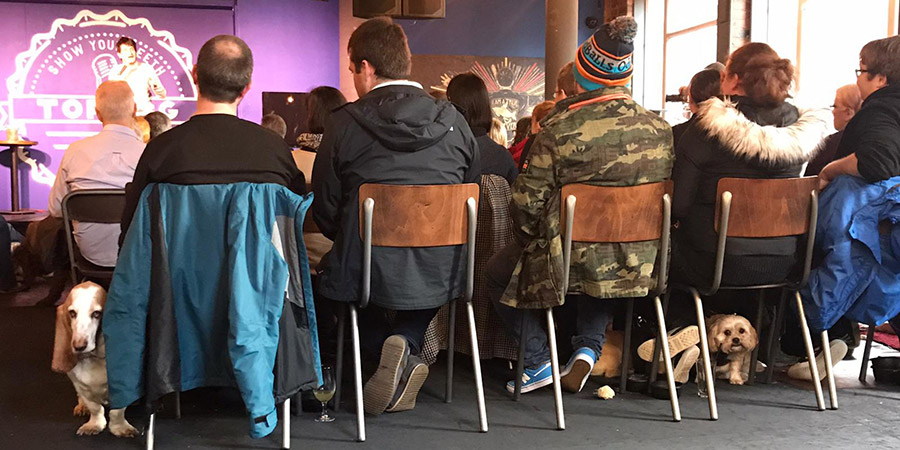 Bring Your Own Dog it's the only comedy gig which welcomes our furry friends into the audience. Comedian Simon Caine has been running three monthly comedy nights involving dogs under the title Barking Mad. There's a night at the Bloomsbury Theatre in London, another at the Three Sisters in Edinburgh, and a third at Drygate Glasgow.
At these gigs, as the club's YouTube channel and Instagram shows, the comedians often bring their dogs on stage.
Here's Tony Law with his friend Wolfie (this video contains adult language):
Next up for Barking Mad will be three shows at Glasgow Comedy Festival, with profits going to Dogs Trust Glasgow.
Talking to BCG, Simon Caine explains: "The aim is to run the cutest comedy club in the world. And I think we achieve that. From tennis ball giveaways for the best audience members, to Pawcesso on the bar (for fancy bitches)... we aim to give your dog the best night out (even though they have no idea what's going on)!"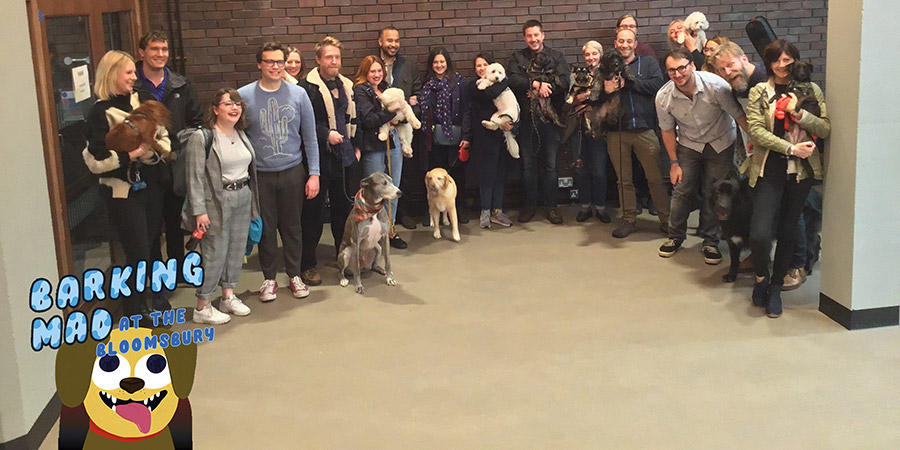 And where did the idea for Barking Mad come from? "I set up the night because I hate leaving my dog at home. I did a gig where someone was allowed to bring their pup to the show (not a guide dog or anything, just a dog) and it made the gig infinitely more exciting and fun. So I wondered how many other comedians don't want to leave their dogs at home..."
Cute and funny indeed.