David O'Doherty interview
One of coronavirus's unlikely silver linings is that it's forcing comedians to become more accomplished and freewheeling with technology. David O'Doherty, who once swore never to release a podcast, was anticipating performing at the Melbourne International Comedy Festival this spring, ahead of publishing his latest children's book. Instead, when lockdown came to Ireland, the Dublin-based musical comic and his parents retreated to their family cottage on Achill Island, off the mainland's west coast.
Once there, between sporadic bursts of cycling and scaring sheep, the Edinburgh Comedy Award-winner began releasing daily episodes of Isolating with David O'Doherty. Sharing his boredom and experience of playing piano with his jazz musician father, the podcast also reflected on how #BlackLivesMatter relates to asylum seekers in Ireland and sexual abuse in the comedy industry.
However, the 44-year-old had also hoped to release a comedy album this summer. And he wasn't about to let an international health crisis stop him.
So it was that on the spur of the moment on midnight, June 28th, with rather too much coffee inside him and an Atlantic storm whipping up outside, O'Doherty climbed into his rain-lashed car and recorded 10 tracks without stopping on his phone. He then went back inside the cottage, dashed off an album cover and uploaded David O'Doherty: Live In His Own Car During A Pandemic online. The entire process took four hours. With the sun rising, he went for a bike ride, eventually crashing into bed at 6am.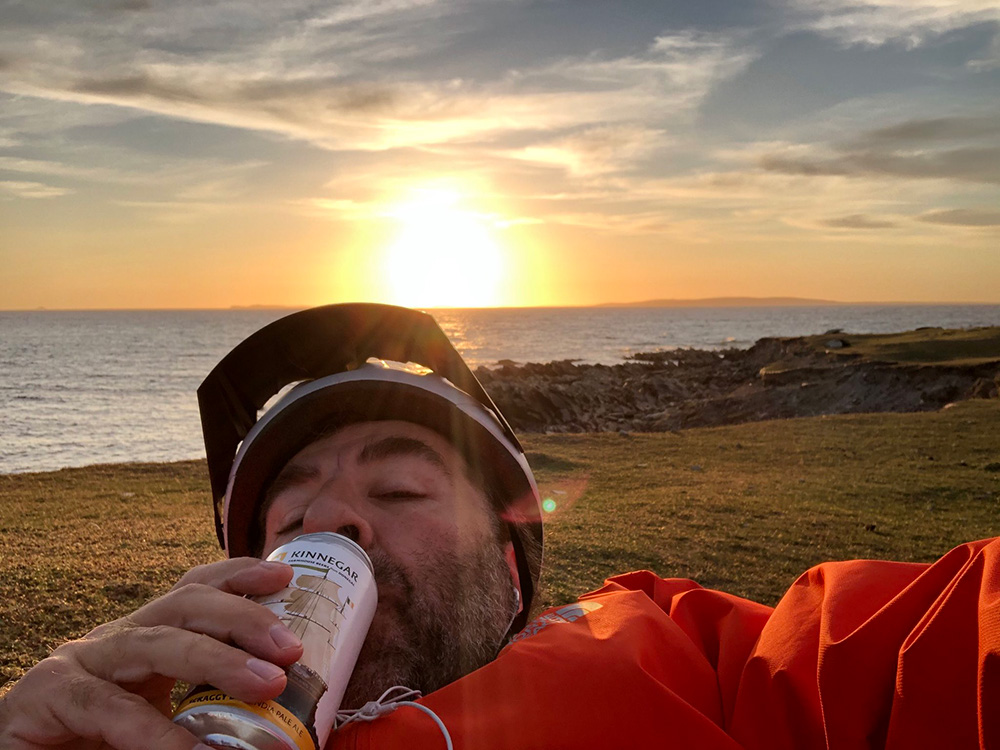 He chuckles at the memory three days later. "You're not really meant to say this but I don't really like specials, I never watch them. I much prefer the audio aspect.
"Because I hadn't recorded anything for three or four years, I had a hell of a lot of bits and songs. And some I thought I could do without an audience. The songs work fine on their own. And some of the rambly tales that are sort of anecdotal, I could veer in and out of them. It felt similar-ish to doing the podcast."
Walking on beaches, muttering material to himself, he'd been pondering the possibilities for a couple of weeks.
"Then there was this massive storm on Sunday night and I'd drunk caffeine too late in the day" he explains. "So I was like 'fuck it! Let's go out and record, maybe the sound will add to the vibe of it?' At the very least it's a lasting testimony to this incredibly strange time."
With the wind occasionally audible in the background, Live In His Own Car During A Pandemic self-consciously seizes the moment, as on its delirious opening howl I Just Want To Make You Feel Alive.
Elsewhere though, it's more thoughtful, such as when O'Doherty muses upon his Irish revolutionary great-grandmother Kitty, the can of worms opened by Brexit, and racism in Ireland.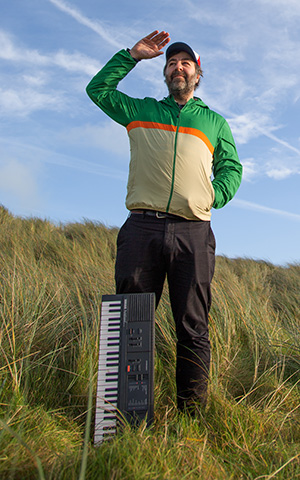 "What inspired that bit is what's happening in the world at the moment - I don't know what you're supposed to do with history" he explains. "So much of it is so complicated, so many awful atrocities and heroism.
"My great-grandfather, Seamus O'Doherty, was involved in the organisation of the 1916 [Easter] Rising and the War of Independence in 1919. They fought for this thing. But I'm sure there was a lot of strange ethnonationalism involved in all that.
"Because of the 100-year anniversary, I've been reading up on it a lot. Particularly at a time when populist parties are attempting to rewrite history and get nostalgic for a misremembered or never-happened past. It's interesting to go back and look at your own family history, to try and make sense of it."
Hello Eighteen-Year-Old Me is a lighter self-examination, with O'Doherty having an existential wobble about still making a living with a child's keyboard.
"Every comedian, on some level, thinks about being a different sort of comedian" he laughs. I'm sure really political comedians just wish they were really beautiful one-liner merchants. We all love Tim Vine.
"Occasionally when you play a venue, the tech box is at the back of the stalls with a glass front. And sometimes, the way the lights are you see yourself reflected back. I see a man in his forties playing a plastic keyboard that he got for his confirmation. It gives you a moment of: 'Ah shit. I wish I was John Oliver.'"
That said, "I've done a fair few shows with Flight of the Conchords when they're touring. And I'll be standing at the side of the stage when they're doing a song about falling in love with a seagull. And I'm like 'nah, this is as good as it gets, this is what I want to be doing as well'.
"So there is tension there. And for me, the most interesting stuff is trying to go too serious, trying to bite off more than I can chew, talking about something that seems too difficult to write a song about. The Night I Went Out Without My Mobile Phone, the song that finishes the record, is about going out without your phone. But it's also about changing Ireland, the underlying racism and the difficulty of change."
His ambivalence towards mobile technology and the internet is arguably the album's abiding preoccupation, with social media's portrayal of other people's more glamorous lives intensified by his remote isolation. Equally though, there wouldn't be an album without his phone.
"My journalist friend was telling me how, when reporting from war zones, journalists get shot trying to get to a studio" he explains. "Whereas now, with modern phones, the mike is so good you can just sit in a car with this studio-like, cushioned, reverb-less atmosphere. You put the phone on the steering wheel with the mike facing you, you don't need a posh microphone."
Still, Live In His Own Car could have been literally sunk before it was conceived. "I only realised how important my phone was when I was watching something on it in the bath, Michael Jordan I think, the phone was between the taps and it slowly eased off the edge and plopped in" he recalls. "And for a moment I looked down and saw fucking basketball being played underwater.
"Thankfully, a complete fluke, I reached in, grabbed it, shook it and it was absolutely fine. No bother. It must have been the instant before the water hit the circuits. But I'd been recording my podcast on it, keeping in touch with everyone I knew. So when it blooped into the water, with the difficulty of getting a new phone sent to an island, I knew everything would have ground to a halt. So I definitely appreciate the power of that technology."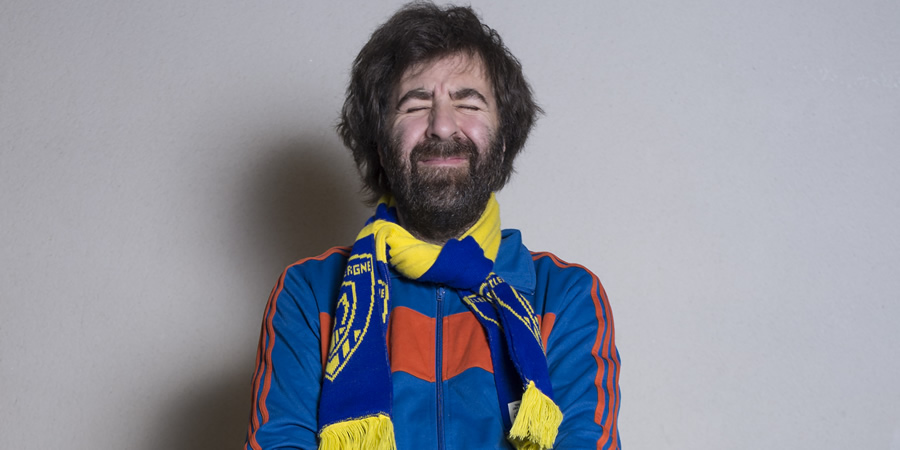 Social media has also proved an invaluable tool for sharing the current wave of #MeToo stories coming out about the UK and Irish comedy scenes, the misogyny and incidents of sexual abuse. O'Doherty maintains that the "whisper networks" of "be careful of that person, don't do that gig" absolutely need to exist.
"Because the law has failed" he states. "You get that line, 'why didn't the women report it?' Well, they did. But invariably the director of prosecutions turned down the case because it's notoriously tricky to litigate with the way the law exists at the moment.
"I was horrified because it's a small enough scene here in Ireland. But there are at least five people who've been involved in really fucking awful sexual assaults. While I've been off the scene for 10 years, touring on my own, these are still my colleagues, the perpetrators and the victims. It's awful to contemplate that revelation. I definitely look at my own career, particularly in the 2000s to the 2010s, where in Ireland anyway it was kind of a sausage factory until more girls came through.
"I guess I wasn't really aware of how it must have been to be starting comedy at the time when there were still articles in newspapers about 'Can women be funny?' and 'Is the psychology of women such that comedy is not one of their evolutionary needs?'. At the same time, all this shit is going on, sleazy dudes trying to make out with you, sending pictures of their dicks and all of that. It was definitely something that I should have been more aware of at the time.
"If you want to take any sort of positive from it - and it's hard to find one at the moment because people have been so hurt - it's that Irish comedy has had a purge. I can't imagine anyone is scared to speak out now if they want to. And more importantly, the actual perpetrators are now very scared. If the law can't deal with it, the one thing you have is that sleazy dudes are shitting their pants about what might come out. Which is a kind of protection. The difficulty in Ireland though is there are bookers who are implicated in it. So it's still complicated."
This destabilising year has flipped everybody's plans, not least O'Doherty's.
"I didn't think I'd be moving back in with my parents 20-something years after I moved out" he laments. "In terms of bringing underwear, I only planned for a month."
Publication of his latest children's book, The Summer I Robbed A Bank, set on Achill Island delightfully enough, has been pushed back to spring 2021. In the meantime, O'Doherty and his regular illustrator Chris Judge were commissioned to put Dr Noel, the nervous hero of their Danger Is Everywhere kids books, in a coronavirus public health campaign for Irish children. Which actually "was really reassuring" he explains. "At a time when I was worrying about protecting my parents, talking to doctors and department of health officials about [the correct protocols to follow] gave me some relief."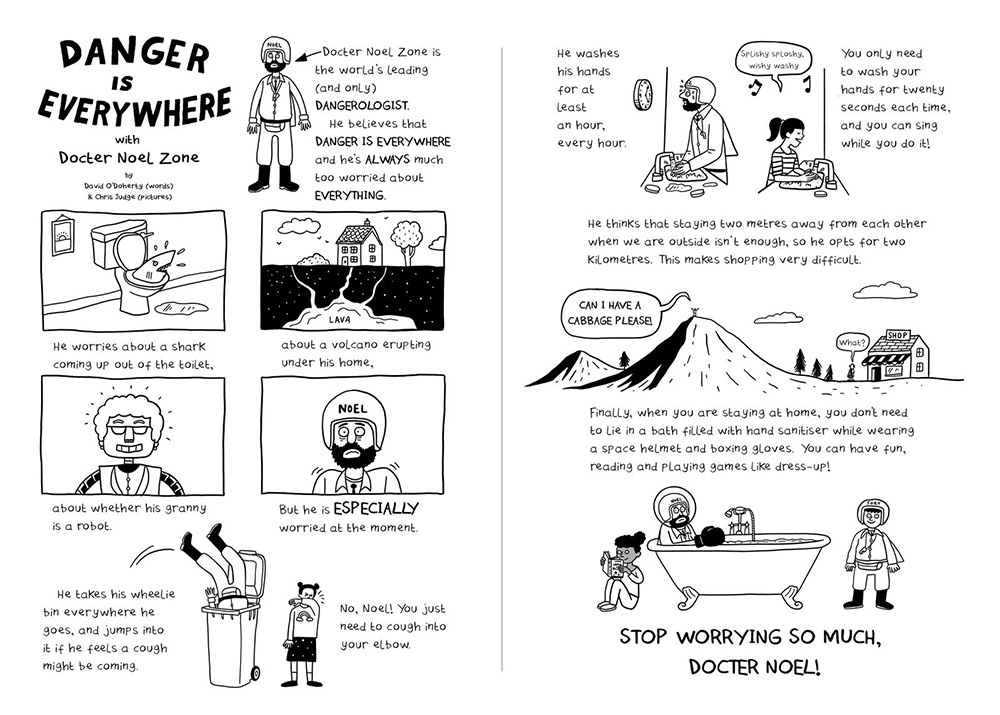 Although he hopes to take a break now, at least from podcasting, O'Doherty is already planning his next kid's book. And intriguingly, he suggests that his Antarctic explorer sitcom Stuck might yet get made for television.
Based on his 2011 Edinburgh Fringe show, Rory Sheridan's Tales of the Antarctic, itself loosely based on the historic exploits of Ernest Shackleton, a pilot was shot in 2017 for Sky starring O'Doherty, Jennifer Saunders, Joe Thomas and Dan Skinner.
Although it wasn't commissioned, "that's knocking around now and will continue" he says.
"It was a lot of fun to get it to the point [of a non-transmission pilot] anyway. It continues to exist in the world so who knows what will happen? I've also got a couple of other things I'm working on at the moment. But you know, all television is pretty much on hold just now."