Weddings. You'd think that everyone in the comedy community would absolutely hate the bloody things, given the effect they have on comedy gigs. Well, the effect that stag and hen parties have on comedy gigs anyway, which is roughly the same impact that a big, stupid goose has when it crashes into the engine of an aeroplane that seconds earlier was full of people who were smiley and excited before being plunged into turmoil. Exactly like that.
Also, best man speeches must be tricky for stand-ups, who are under pressure to be brilliant but generally prefer performing to total strangers. And if it's a normal human doing a speech at a comedian's wedding? Good luck with that.
The reason this has all come to mind is that yours truly is getting married soon, and due to a complicated arrangement with the best men - me asking them late, and promising that they wouldn't have to do speeches - they aren't doing speeches. But I am. And the last time I tried to be funny in public was a disastrous onstage death while doing a stand-up gig about football, a few years back, which still hasn't entirely healed.
So I've asked a couple of stand-ups for a bit of advice, and some general comedy truths about weddings. First up, it's my occasional gag-telling guru, Tiernan Douieb, who I meet this time at an apt café directly opposite Islington Town Hall, where you can watch all manner of different nuptials taking place. Tiernan got married last year: so how did his best man get on, performing to a roomful of comedians? Was he one too?
"No, and I did him the injustice of introducing him as the 'headline act', after we'd done our speeches, just to mess him up," grins the comic. "But he smashed it. Actually, I think comedians are more receptive, as we know how to be an audience."
And comedians know what it's like to die onstage, so are probably fairly empathetic? "Exactly. As long as you don't go on too long. But also it's not just about being funny. The hardest thing with these speeches is trying to put the heartfelt things in: that stuff isn't always easy to do."
So how about a comedian doing a best man speech for someone else? I put this to Paul Revill, a comic, compere and promoter I've gotten to know a bit recently via a random wedding connection: one of my best men met him at one. Is a best man speech tougher than a normal gig?
"There's more pressure on it because it's so personal," he says. "It's a one-shot deal to do a fitting tribute to the groom on the most special day of his life, in front of family and friends. If a comic dies on stage normally, they don't know the audience and there's always another gig."
Sometimes a comic at a wedding doesn't know anyone there at all, mind you. Just a cursory google throws up numerous 'book a comedian for your wedding!' sites, some of which seem to suggest that the biggest acts in the country will turn up at your rented hall in the middle of nowhere. Has Revill ever done one?
"I've been asked a couple of times. Both times I'd just done a show with a stag do in it, and had some banter with the groom: the next thing I'm being asked to do 45 minutes at the wedding. The things that make a great stag or hen do tend not to make a great wedding."
Douieb has a similar experience. "It's come up a few times after gigs where someone's said 'do you do weddings?' and my answer's always 'no.' Because they're such personal events, and also most of the congregation aren't there for you. Comedy is so much about 'you' but the wedding isn't, it's about two people getting married: you want to enjoy it, get drunk and eat, that's it."
"I also know people who've been booked to do the stag and hen do's and had a terrible time: they're trying to have a matey evening and you're there as an outsider."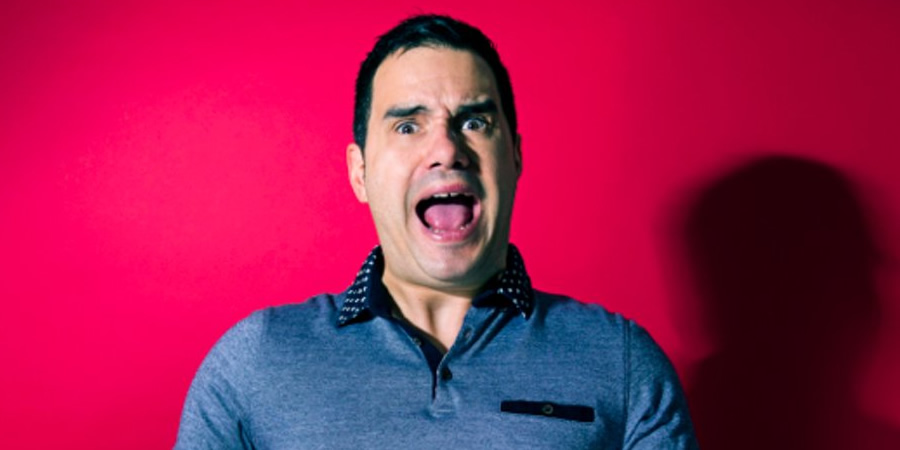 Tough crowd indeed. If you want to catch these two fine comics in more favourable surroundings, Revill will be doing his very good debut show (I've seen a work-in-progress) Revillations at the Brighton Fringe on 5-6 May and 3-4 June, then the Edinburgh Fringe in August. And Douieb will be back at EdFringe with the currently-being-written show Miserably Happy, before which you'd be well advised to download his popular weekly podcast Partly Political Broadcast, which also features music from top hip-hop producer The Last Skeptik, who just happens to be his brother, and so DJed at his wedding. Handy.
But, no, as good as both those comics are, I didn't ask them to perform at my do, given how awkward that sounds for everyone concerned. Instead, having interviewed a chap from a company called Liberty Games recently, I've decided to book some tiny footballers, attached to poles.
Which should be a bit more interactive, if anyone's still talking to me after the speech. Before it, it turns out that there's actually a very nice ale named after our local landmark, Hertford Castle, which should add some appropriate Dutch courage. Or would I be better off saving it for afterwards - what's the accepted wisdom, booze-wise?
Tiernan tends not to imbibe beforehand, "because comedy has taught me to be sharper than my audience," he says. "But it's a wedding, the audience will be on your side, so totally your call. Also depends on how well you know the speech. If you're in danger of forgetting it, maybe not!"
That's a point. Do those two experienced public speakers have any other tips, then?
"Stick to your lane," says Revill. "The speech should reflect your natural personality, so if you're always cracking jokes then make the speech funny. If you're a tech marvel then maybe go with a PowerPoint. If you're boring, keep it short."
Short sounds good. "And just try to enjoy yourself," Douieb concludes. Revill concurs. "People can tell when someone is enjoying themselves," he says, "and that enjoyment will spread."
We'll see. Watch this space.