Galway Festival report 2018
The back-end of October really is a grand time to be in Galway. During the BCG's four-day stay in this glorious west-of-Ireland city we witness a mighty multi-event carnival, a breath-taking parade, stand-up bus tours, comedy pub crawls and a bunch of boisterous late-night Karlnivals. What's a Karlnival? All will be revealed.
Two big events take over the narrow streets and lively squares during the week: we're here for the hugely enjoyable Vodafone Comedy Carnival, which peppers this fine city with comedians, from Hollywood stars at the big theatre to newcomers in a tent. And then there's Halloween, which you might think is achingly American but actually evolved from a Gaelic festival, Samhain, so they go suitably big on it in these parts. It's like a combined Comedy and Cobwebby Christmas.
The main Halloween event is the brilliantly creative Sunday evening Macnas Parade, with its huge-bonced marionettes, and there's a joke we could make here about comedy bigheads swanning around too. But this isn't that sort of week. Other festivals might be schmoozy and stressy; here the more laid-back Galway of life leads to much good-hearted revelry.
Outtakes, Earworms and Puffins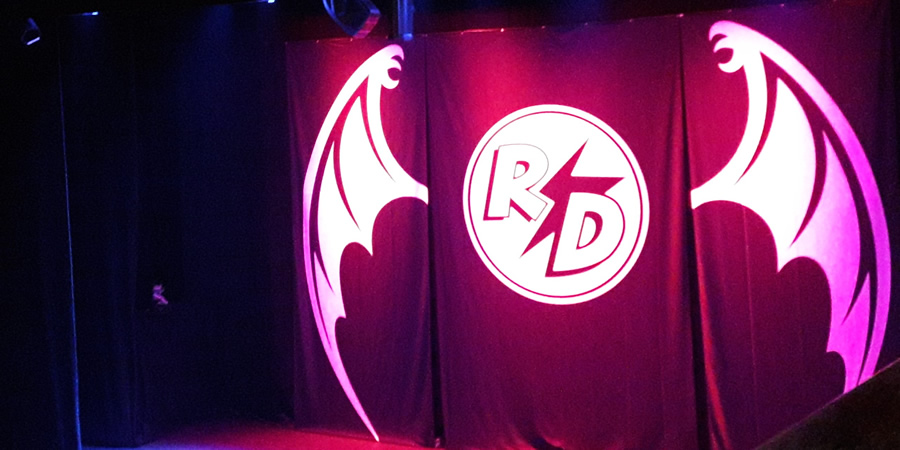 The chilled West Coast atmosphere is presumably why Rhys Darby - the Flight Of The Conchords, Voltron and Jumanji star - chose to film his new special not in the States, or back home in New Zealand, but in Galway's New Town Theatre. Everywhere you go around the city, performers and punters are propping up the bars together, and attending a taping like this gives us an interesting peek behind the scenes, too.
Darby has brought his own support act over, Jamie Bowen, who does a fine job juggling the jokes and pre-record logistics: think Hank Kingsley in The Larry Sanders Show, but with looks and talent. It works: Darby eventually gets a standing ovation and that recording is well worth catching when it reaches DVD, or wherever specials end up these days.
The show, Mystic Time Bird, is a typically quirky take on some heavy personal stuff that's happened to the likeable Kiwi recently, including some memorably awkward Hollywood experiences. It's a treat seeing Darby record his 'special features' afterwards too - mock outtakes from the show we've just seen. That done, he's planning to stick around for a few days sightseeing with the family.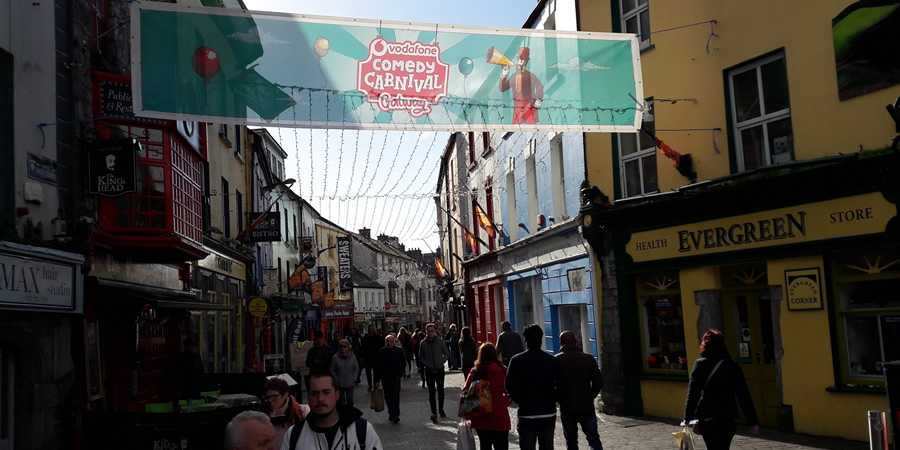 Come Friday afternoon and that fraternal comedic vibe is in full effect in the upstairs Ruby Room of the Kings Head's pub, on Galway's lively High Street - which leads onto the pleasingly self-explanatory Shop Street. It's a medieval watering hole with "800 years of living history" and a definite spooky feel. Or perhaps that's just the seasonal décor. Arriving at Halloween certainly gives you a novel introduction to a city.
It's a great comedy room, this, with a bar along one side where - this afternoon - compere Ian Coppinger's old improv mates line up to egg him on. The atmosphere's infectious, and Coppinger is in particularly droll form, making particular merriment with the two American punters who turn up in matching Midwest-issue check shirts. They take it well, even when headliner Phill Jupitus then does his bit about bewildered US tourists searching for puffins.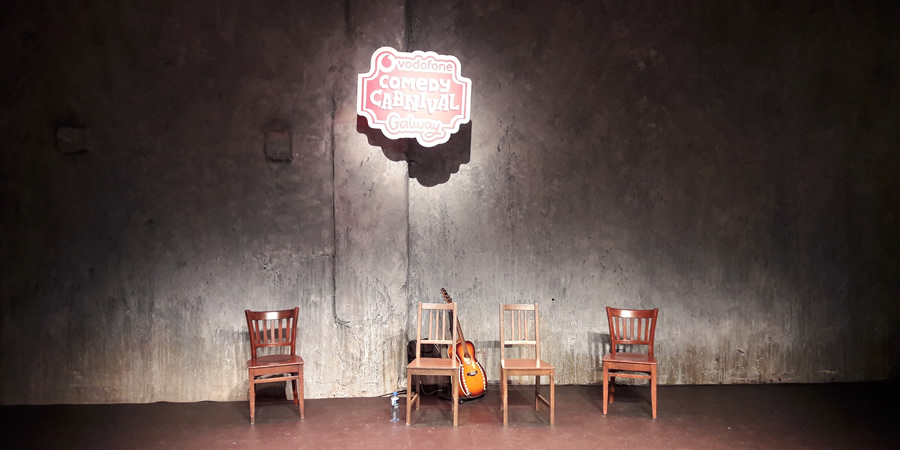 The aforementioned improv posse - Stephen Frost's All-Stars, also featuring Coppinger, Steve Steen and Andy Smart - keep the mood lively later on Friday, and even thrown in a puffins callback, five hours after the earlier show. They're appearing at the impressive Mick Lally Theatre, home of acclaimed local theatre company Druids and a new venue for the Vodafone Comedy Carnival.
This evening they're ably abetted by a priest - the dastardly Father Damo from Father Ted, aka local comic Joe Rooney. It may be 20 years on, but Rooney doesn't mind that old reference: indeed, earlier in the day he'd occupied a tent in Galway's famous Eyre Square - which the Carnival takes over for the week - for a Stars of Father Ted show with fellow comic Patrick 'Eoin McLove' McDonnell. And why not.
Rooney's in good form at Frost's improv night too, after easing his way in slowly - improv is as close as comedy gets to sport. He also adds some useful guitar accompaniment late on: they finish with a feisty folk song about the mythical apple juice famine of 1922, one of many mighty earworms we'll encounter over the weekend.