Liam Williams interview
Festivals were probably the last thing Liam Williams was looking forward to when he smashed both heels trying to jump into his own flat last December, as explained in grim detail on Stuart Goldsmith's Comedians' Comedian podcast recently. The Leeds-born wordsmith is now back on his feet and preparing for the Latitude Festival, but he's not doing stand-up. Well, would you, with two still-healing heels?
Liam is staging a couple of intriguing plays at the mighty music-and-culture fest (which also features a typically high-wattage comedy line-up, including Reggie Watts, Bill Bailey and Russell Howard). First up, it's Williams' Shakespeare, as he's co-directing and appearing in Twelfth Night, with a hefty cast of fellow comics, following a successful first outing for charity earlier this year. And the budding bard is also debuting his own first play, Travesty - but did he get a part in it?
It's an interesting juncture for Williams, an often dark and brooding comic who initially caught ears and eyes as one third of the marvellously inventive sketch group Sheeps, with Daran Johnson and Alastair Roberts. That trio are also part of the increasingly cool collective behind last year's bafflingly-not-picked-up BBC sketch pilot People Time and the pleasingly ongoing online affair, 2016: Year Friends. But now there's a production company too, a potential novel... and a panto? All will be revealed.
So you're doing lots of stuff at Latitude - would you normally have a proper wander around, too?
That was really one of my worries when I was lying in my hospital bed in December, I was casting my mind forward, wondering how my mobility was going to be, and worrying that I wouldn't be able to deal with the terrain of Latitude. But I think I'm ok. I went to a festival the other day and got through it. The booze helped.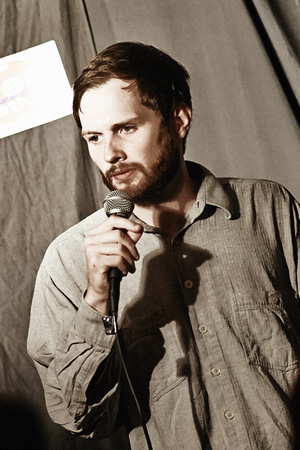 I missed you on the bill originally, because you're in the theatre bit.
We're doing Twelfth Night in the theatre arena, then my play is on in a venue called the Little House. I've been going to Latitude for five years but haven't actually encountered that venue before, so I guess that it's quite tucked away. It looks quite a sturdy tent.
Was playwriting always something you wanted to do?
I've always thought that I wanted to try writing in a variety of formats, and I realised 'what I want to write this year is this specific play.' It's about a young couple, in their late 20s, dealing with love and working out what it means to be in a committed relationship at their age at this point in time, and dealing with all the anxieties and difficulties that it throws up.
So you did Twelfth Night for charity back in January, and it went well enough that you co-founded a production company [Fight In The Dog] afterwards?
It was such a good, rewarding time... we're at the same stage in our career, looking to expand and create opportunities that the industry doesn't quite provision, just carving out our own opportunities. I like the self-control of producing your own stuff. Twelfth Night is also going to be on in London on the Monday after Latitude, so it's quite gruelling.
I notice that it's billed as '...with comedians.' Are you actively trying to make Shakespeare more accessible?
I've found that Twelfth Night as a play - and one particular production I kept watching every year, the Kenneth Branagh ITV one - helps me deal with that melancholy that I get in the period after Christmas; there's not lots to look forward to in the immediate term, it's one of those things that's kind of dealt with in Twelfth Night. It's a really beautiful play, and I think its silliness and beauty are accessible even if you aren't a massive Shakespeare fan.
And a lot of people aren't...
A big thing that puts people off Shakespeare is that it's so staid, and old fashioned and conventional, and I just thought, a lot of these characters and most of the lines in this play could easily be delivered by young, new, largely naturalistic comedians, and that would breathe a fresh life into them. I think that's the case, I've only done it the once, but it definitely felt worth doing it again.
Has the show changed much since that first performance?
It's shorter, it'll be an interesting test, all Shakespeare plays are different in length and withstand cutting to different degrees, but we're going to try to do it in 70 minutes. That will feel like we've made Shakespeare quite accessible if you can put it on late night at a fest and come in at just over an hour. It's quite exciting.
You're putting your own play on in Edinburgh too - are you doing any stand-up there, or Sheeps?
No Sheeps or stand-up this year actually. There's no wilful decision to move away from comedy but I guess you can't do everything at once. I'm at full capacity.
Are you actually in the play?
No, I'm just writing it - I get the luxury this year of having a holiday. I go to Edinburgh for the first week, just relax for the rest of August. It's only a two-person cast and I would have saved some money by casting myself, and I probably did try at some point to put myself in it, but the director and producers - because of the nature of the part - [thought] I wouldn't have been appropriate for the casting. We got two great actors, so I'm very happy.
I like performing. Sometimes. But I'm really enjoying the process of working with other people, who have to do all the hard work.
You're quite a brooding soul on stage anyway. Is serious acting a long-term goal?
There are no offers on the table but it's not something I'd rule out. I did a little bit at university, and I'm in Twelfth Night, I'm playing Toby Belch, which was Tim Key's part in January, he's gone away. So that's relatively serious I suppose, a bit more challenging.
And Sheeps is ongoing - you're all part of larger things at the moment?
Al and Jono are in Twelfth Night, so we've been doing that, and then we've been working on this web series, 2016: Year Friends, that's taking up a lot of our time, doing those every month.
And then, at Christmas time, Jono and I have written a pantomime, a take on Dick Whittington, and that's going to be on in London over Christmas, so we are still working together.
I think the last thing we were doing as Sheeps was a show called Sheeps Skewer the News which was kind of a satirical venture for us. We tried it out in Edinburgh last year and were aiming to continue with that in London, once a month, but because of my injury we had to cancel our show at Soho and we never quite got back on with it.
But the events of the last week or so have made me think I would quite like to do a satirical show with those guys again. Hopefully we'll find some times in our schedules.
I saw the 2012 Sheeps show [Dancing With Lisa], which was great, but I sensed some sniffiness from other people about you all coming from Cambridge Footlights. Did you feel that at all?
When we started off definitely, and I think that's because - rightfully - of the general fatigue around all-male white middle-class sketch groups; especially young upstarts who look like they can't even manage to do, er, the washing up [Liam does sound like he's doing the washing up while we chat] let alone put on a sketch show. And then Footlights, weirdly, is an extra layer, it makes it all the more unappealing - and that's fine.
It's a natural product of people wanting to see more variety and equality in comedy. The only way to respond to that is to try to be really good and work really hard. Now I don't know that anybody knows or cares, apart from in the industry, that we were in Footlights. You grow into your own persona a bit more and out of the style that you start off with, your reputation starts to precede you a bit more.
That show I saw, Jimmy Carr was in there...
Ah you were there that day, that was an interesting gig!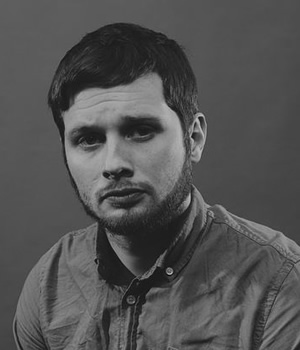 He was bizarrely stony-faced, but you won him over, and other people seemed similar. I wondered if that was the Footlights thing, people almost wanting to not like it.
I think I'm the same, I go in with my defences up and prejudices in place, especially sitting in an Edinburgh hot dark room for an hour, it's not a very fun thing to do. So it is all the nicer when you see people being won over.
What about other projects? Your stand-up style does sort of suggest someone who'd rather be writing a novel.
It is something I thought I might have done already, I think I was planning to do it last year and just sort of never really got started, then when I had my injury, even when I was lying on the ground making sense of what had happened to my ankles, looking at them all misshapen, I realised. I was supposed to be going to the Sydney festival In January, to do stand-up, and I was trying to look on the bright side and thought 'well this means I can stay in London and write my novel at last!'
And I never got round to it, I wrote the play instead. So the novel is the next big undertaking. The problem with that, you've got to write a lot, with absolutely no guarantee you're going to get paid. Mind you, the play doesn't bring any guarantee of financial reward, but somehow it seems like I know what I'm doing in terms of putting on an Edinburgh show, whereas with a novel you're just writing, and then hoping.
That's why Mark Watson did that infamous ad, because he spent ages writing a novel that was rejected.
Yeah, it's a matter of waiting until I've managed to scratch together enough money in my bank account to take a few months off to do it. Hopefully it's not too long.
Oddly enough, I heard another podcast recently where a comic broke his heel...
Was it the Sacha Baron Cohen one [of Marc Maron's WTF show]? I heard that too, and what I thought was interesting about the way he tells it, he just skips over the story. He's got so much else going on, he sort of says, 'then I fell down and broke my heels, then we resumed filming...'
'Three months later...'
And cuts it all out, which for me is bamboozling, because for me that was the most difficult three months of my life. I suppose he's got a lot more to talk about.
And he was probably lying there being fed grapes by models for three months.
Ah yeah, a bit more luxurious. Probably.
Good luck at Latitude then. There's so much stuff going on there, do performers treat it like a mini-Fringe?
They do, it's like altitude training for Edinburgh. Performing at a festival you have to work so hard to keep people's attention.
I'm surprised people don't flyer there: 'come see my show tomorrow'...
That's actually a good idea, I might be the first.
Latitude takes over Henham Park, Southwold, Suffolk, from 14th-17th July. Visit www.latitudefestival.com for details.