Five Live
BBC Radio 5 Live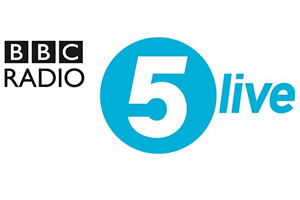 Details
Five Live is the BBC's news and sport channel. For years it was a comedy-free 'serious' station, but they now broadcast a number of sport and news related panel shows. Fighting Talk and 7 Day Sunday are long-running panel shows broadcast at the weekend. Website
BBC Radio 5 Live is part of the BBC network.
Other BBC channels: BBC Asian Network, BBC Choice, BBC Forces Programme, BBC Four, BBC General Forces Programme, BBC HD, BBC Home Service, BBC Light Programme, BBC Local Radio, BBC National Programme, BBC One, BBC One HD, BBC One Scotland, BBC One Wales, BBC Radio 1, BBC Radio 2, BBC Radio 3, BBC Radio 4, BBC Radio 4 Extra, BBC Radio 5 (Old), BBC Radio 7, BBC Radio Scotland, BBC Radio Wales, BBC Regional Programme, BBC Third Programme, BBC Three, BBC Three (Online), BBC Two, BBC Two Scotland, BBC Two Wales, BBC World Service, CBBC, CBeebies
Current BBC Radio 5 Live comedies
Latest BBC Radio 5 Live news stories
Tuesday 13th September 2016
Colin Murray has been named as the new host of Fighting Talk. He returns to the radio panel show after three years away.