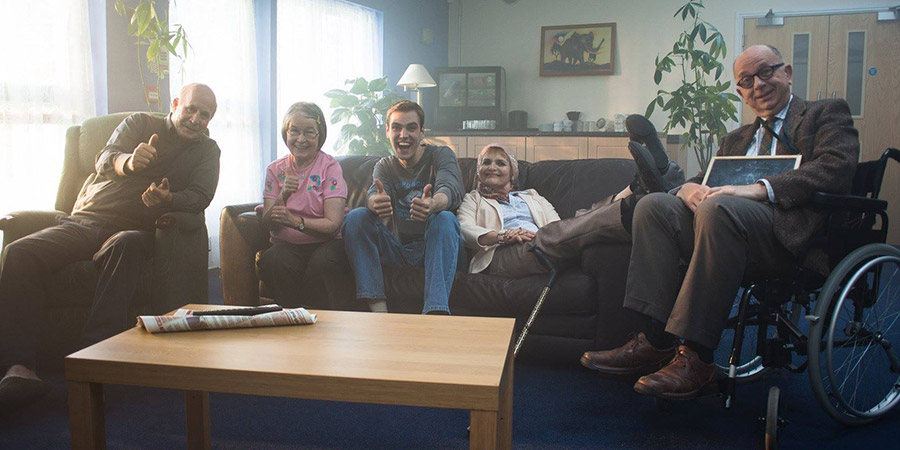 Genre

Film

Released

Starring

Tyler Collins, Lucy-Jane Quinlan, Alison Peebles, Richard Addison, Deirdre Murray, Maryam Hamidi and Jim Sweeney

Writer

Director

Producers
James and his grandfather Jim are best friends. Grandson and Grandfather, charge and guardian, little and large, but when the tables turn and Jim is forced into a care home, James finds a way to be by his side.
As the new resident Janitor, James and his grandfather are closer than ever and their little family unit blossoms into an unlikely ménage of dysfunctional oldies who unite against the iron rule of the heartless Miss Thompson.
Alas, when James' world implodes he is left broken and confused. Lost and alone, James clings to the only family that he has left and continues to stumble along working in the home, detached from the world outside.
Six months on and 178 Diagnosis: Murder's later, pretty Nurse Jen joins the antiquated staff team and James is smitten. How can he get close to this guarded beauty and stand up to the oppressive Miss Thompson? It has to be a roguish breakout road trip to scatter his grandfather's ashes, leaving no man behind!
Is this a journey of self-discovery or is there a sell by date on adventure?
Tagline

Adventure doesn't have to have a sell by date

Duration

122 minutes

Release date

2015

Production company
Website links