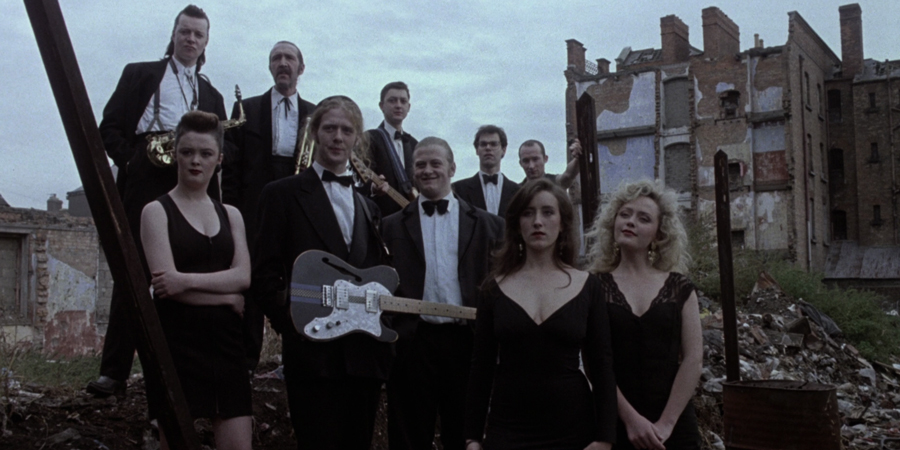 Genre

Film

Released

Creator

Starring

Robert Arkins, Michael Aherne, Angeline Ball, Maria Doyle Kennedy, Dave Finnegan, Bronagh Gallagher, Félim Gormley, Glen Hansard and others

Writers

Director

Producers
Northern Dubliner Jimmy Rabbitte dreams of being the world's foremost music impressario, managing an internationally successful band who'd make The Beatles look like also-rans. Amidst the poverty, dereliction, worklessness and deprivation of late-1980s Dublin Jimmy begins to put his dream into action, advertising in the local newspaper for people to audition to join the band he hopes to take to stardom.
After a seemingly endless stream of no-hopers and chancers pass by his parents' front door, he finally assembles a group of fellow North-Siders who he thinks he can shape into something successful. Introducing the group to the rich world of soul music, he dubs them The Commitments.
Getting to grips with their new instruments is one thing, but getting to grips with each other is quite another. Lead vocalist Deco proves particularly grating to the others, and the group's female vocal trio - nicknamed the Commitmentettes - take great exception to his brash, slobbish, uncouth manner. But that voice: when he begins to sing, the group has no doubt he's an astonishing talent.
Unemployed and struggling to find paying gigs as a band, tensions continue running high amongst Jimmy and his protégés, and between Jimmy and the local wide-boy who sourced their equipment with a promise of payment once they began earning. Trumpeter and established musician Joey 'The Lips' seems to offer his fellow band-mates hope in the form of a jam with soul legend Wilson Pickett, in the city for a series of gigs, but are his stories of past success in the States just daydreams?
UK certificate

15

Duration

118 minutes

Release date

1991

Distributor

Production company
Website links