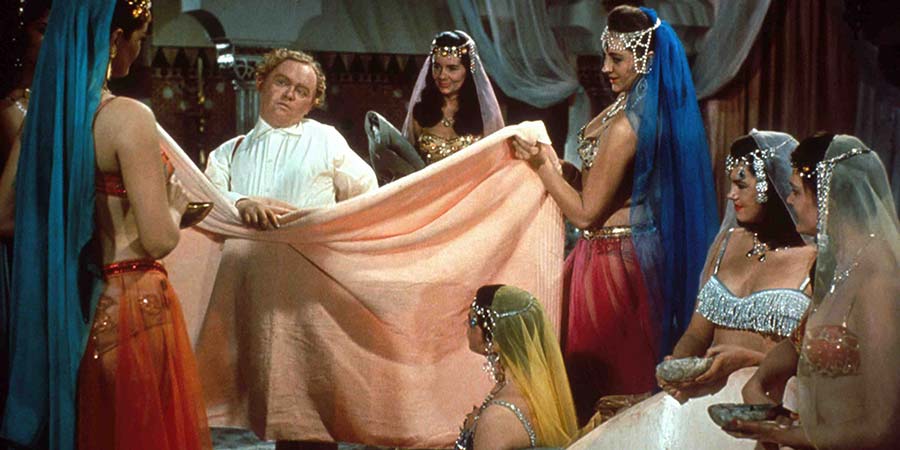 Genre

Film

Released

Creator

Starring

Charlie Drake, Peter Arne, Raymond Huntley, Peter Illing, Harold Kasket, Marne Maitland, Neil McCarthy, Paul Stassino and others

Writers

Director

Producer
Charles Sands, a meek little travel agency clerk, is constantly indulging in day dreams in which he is the hero. When his boss tells him he is to be sent to the desert to supervise the opening of the firm's new holiday camp after their previous representative was killed in a tragic accident, Charles finds he cannot measure up to his dreams.
On the plane, he meets Janet Brown, a glamorous newspaper reporter who is on a mission to the desert to interview El Jabez, a ruthless Arab chief. She has little time for the awkward Charles, who falls in love with her at first sight, and after the plane lands she is driven away in an elegant car while Charles is forced to continue his journey in a rickety two-seater aircraft, which completes its journey upside-down.
Meanwhile, El Jabez - the brain behind the "accident" at the holiday camp that befell Charles's predecessor - plans to rid himself of the new agency representative. The camp is being built on oil land; land to which he feels he has a right, and he is willing to go to any lengths to force the agency to stop building.
He orders two of his henchmen, Mamud and Mustafa, to dispose of Charles. However Charles has found himself two staunch allies in burly bodyguard Hassan and orphan girl, Nerima. Their loyalty helps him to escape the sheik's men during a street market brawl.
While staying with a friendly local desert chieftan Charles finds himself in his host's harem, surrounded by a bevy of beautiful girls who want to give him a bath in perfumed water. Shyly he gets ready, but just as he is about to climb into the tub his host arrives with Janet! Apologising profusely he asks Charles to give his room to Janet as there is nowhere else she can sleep, and Charles graciously agrees.
Unfortunately for Janet, Mamud and Mustafa are hot on Charles's tale and during the night they drug and abduct her by mistake, believing her to be Charles in the darkness.
At first El Jabez, the very man she has travelled from England to meet, is all for cutting off her head. But when she charms him by dancing more exotically and seductively than any of his trained slave girls, he quickly changes his mind!
All would have been well had Charles not reappeared on the scene, determined to defend Janet's honour: but she is none-too-keen on being rescued, having fallen in love with Jabez. The pair's love, however, does not prevent the ruthless chieftan from ordering Charles is tied up and kept under guard, to be used as a bargaining point with the travel company.
But with Janet's help Charles escapes back to the holiday camp, ready to supervise its completion, and where the company's friendly local tribal partners make an astonishing discovery that could bring peace to the region and satiate El Jabez's ruthless anger once and for all.
UK certificate

U

Duration

92 minutes

Release date

Thursday 8th September 1960

Premiere

July 1960

Distributor

Production company

Laugh track

None
Broadcast details
Last repeat

Friday 25th May 2018 at 3:15am on London Live
Website links
Supporters and subscribers get more
Additional content and tools are available across the site for Supporters and BCG Pro subscribers. On this page you can:
Already a donor or Pro user? Sign in