Benidorm movie
Benidorm movie planned
Creator Derren Litten confirmed he is meeting with movie producers to discuss the idea
The story would be based on the plot of Benidorm Live, the stage show currently touring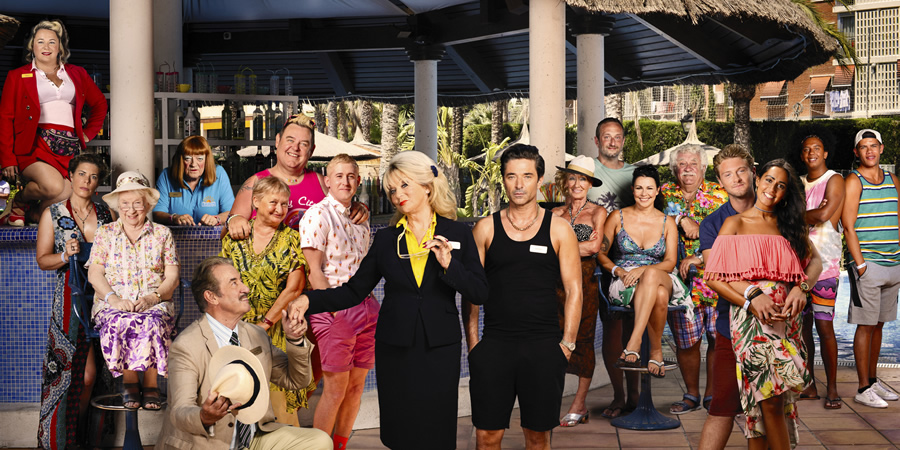 A film version of the sitcom Benidorm is being planned, creator Derren Litten has confirmed.
Sherrie Hewson, who plays Joyce Temple Savage, first revealed the news in a printed interview this weekend, saying "There may just be a film coming", adding "It will be happening, it'll just be a bit different. But it will still be fabulous. I can't wait."
Derren Litten, who created the sitcom, has now confirmed on Twitter that the plan is to create a big screen version of the show. He said: "I can confirm we are in talks about a Benidorm Movie which will be based on the Benidorm Live stage production which [sic] is currently touring."
Talking further in his podcast, with guest Jake Canuso (Mateo), Litten said: "There's been talk of a movie since Series 4. The thought has always been there, but I've always dismissed the thought." He then added: "The news is, in I think two weeks, I've got the first meeting about the possibility of Benidorm The Movie."
The writer will meet with film producers to discuss the idea of taking the story in Benidorm Live and turning that into a film script. The stage show itself is based on a number of plots from the original TV series.
Litten and Canuso's podcast discussion also confirmed that, like the stage show, the film would be somewhat of a musical, including songs.
Benidorm Live, starring Hewson, Canuso, Janine Duvitski, Adam Gillen, Tony Maudsley and Shelly Longworth, is touring until April 2019.
Talking in the podcast, Litten said he didn't want the live show to be filmed for a DVD, as the production is a "theatrical experience" that wouldn't translate well to the screen.
It was revealed earlier in the year that ITV had ended Benidorm after 10 series. A source at the broadcaster told British Comedy Guide that network executives felt Series 10 was "the best in a while" but wanted the sitcom to end whilst still at the height of its popularity rather than begin to decline.
Speaking in the new podcast, Jake Canuso commented: "I have a really bizarre feeling that they might ask the TV show to come back, in a couple of years", saying it was the "fashion in television" to revive popular formats after a break.
---
For updates, click the button below.
Share this page