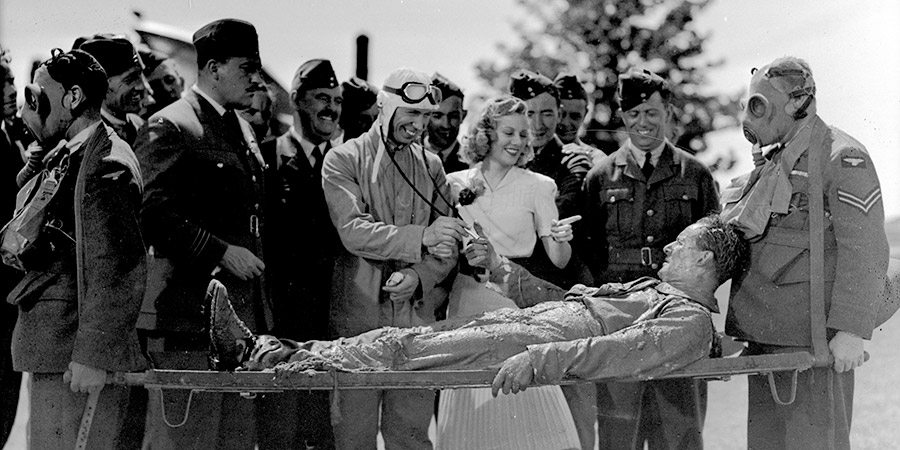 Genre

Film

Released

Starring

George Formby, Polly Ward, Garry Marsh, Julien Mitchell, Jack Hobbs, C. Denier Warren, Jack Melford, Hal Gordon and others

Writer

Director

Producer
Having failed to join the services, or even volunteer as an ARP warden, due to his clumsiness and inability to tell left from right, George Brown remains living with his dog Scruffy, sister Anne, and - when on leave from his RAF role - her fiancé, Bob.
After Bob takes a few days' break to visit his parents for the first time in almost a year, George is horrified to find an undelivered, urgent letter in his brother-in-law-to-be's pocket. There's only one thing he can do to remedy the situation, he resolves: slip on Bob's uniform, make a quick delivery, and get away again.
Unfortunately George's usual luck does not look set to change: having delivered the initial letter easily enough, its recipient tasks him with a reciprocal errand, and in turn another - and he soon finds himself stuck on a nearby air force base, very much alive with activity and actual, trained recruits!
A complete stranger to both military life and the base, George is easy pickings for the tomfoolery and pranks of one particular corporal and his friend, who believe him to be a gormless toffee-nose from HQ, often at the expense of their grumpy Sergeant-Major.
Getting in ever more trouble, George's one saving grace is his innocent, well-meaning nature, which quickly catches the eye of base worker Peggy, who also happens to the Sergeant-Major's daughter. It's not long before she's discovered the truth of his identity and resolves to help George in any way she can - and hopefully before disaster befalls them all!
UK certificate

U

Duration

87 minutes

Release date

Monday 27th February 1939

Produced

1938

Distributor

Production company

Picture

Black and white

Laugh track

None
Website links