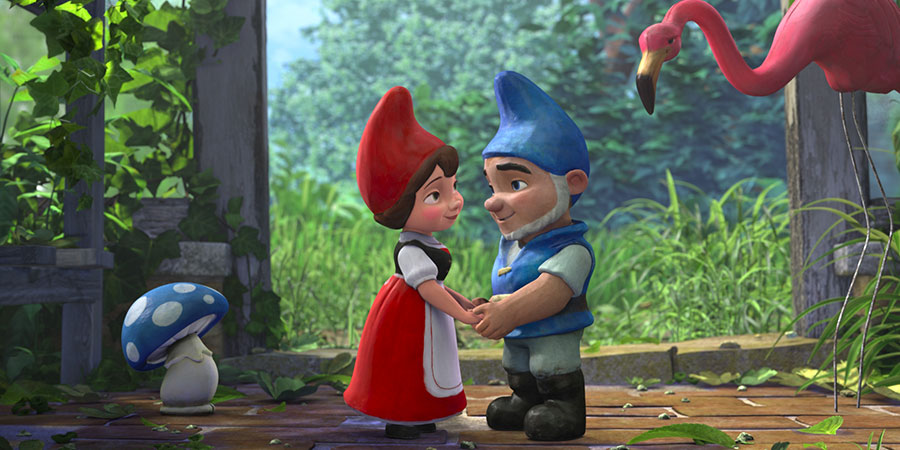 Genre

Film

Released

Starring

James McAvoy, Emily Blunt, Matt Lucas, Ashley Jensen, Michael Caine, Jim Cummings, Maggie Smith, Jason Statham and others

Writers

Mark Burton, Emily Cook, Kathy Greenberg, Rob Sprackling, John R. Smith, Andy Riley, Kevin Cecil, Kelly Asbury and Steve Hamilton Shaw

Director

Producers
On fair Verona Drive live warring next door neighbours Miss Montague and Mr. Capulet, each proud of their own garden: themed blue and red, respectively.
Each garden is home to a legion of gnomes, and much like their owners, the inhabitants of the gardens are not on friendly terms either. The blue gnomes are led by Lady Bluebury, whilst the red chief is Lord Redbrick.
Their respective children, Gnomeo and Juliet, are slightly less keen to continue the age-old feud: and even less so when a chance meeting leads to romance between the young pair. Between the high-speed lawnmower chases and stealth missions, hearts (and hats) are broken, loyalties are tested and garden boundaries drawn, but can true gnomance conquer all?
When your best friends are an over-excitable frog, a lovelorn flamingo and a loyal mushroom, there's no telling what could happen.
UK certificate

U

Duration

84 minutes

Release date

Friday 11th February 2011

Premiere

Sunday 30th January 2011

Production company

Soundtrack

Music composed by Elton John with lyrics by Bernie Taupin. Original score by James Newton Howard and Chris Bacon.

Laugh track

None
Broadcast details
Last repeat

Saturday 9th January 2021 at 1:20pm on C5
Website links