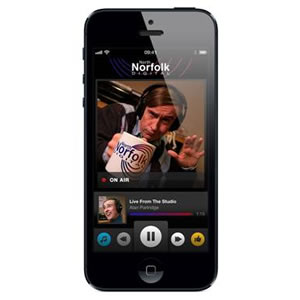 From his early appearances on Radio 4's On The Hour, through the graveyard shifts on Norfolk Nights to his most recent slot as the host of Mid Morning Matters, Alan Partridge has always been a radio man. Now it is (virtually) possible to create his radio show for yourself following the launch of the official Alan Partridge phone app - aka Radio Alan: The Alan Partridge Player.
Developed by Baby Cow Productions and BBC Worldwide (and thus official), the app is available for iPhone, iPad, and iPod touch (running iOS 6.1 or later), and can be downloaded for 99p from iTunes.
The Alan Partridge Player, released to link in with the new movie Alpha Papa, is designed to play audio clips of Alan talking 'live' on-air from Mid-Morning Matters, interspersed with songs from the user's own iTunes library, giving the impression that you're listening to Alan's radio show live on North Norfolk Digital. So, as you listen to music on your iPhone, you can also ponder Alan's talking points. For example: "You're stuck on a desert island and only allowed one condiment, what is it to be?"
The app also has a 'Rate My Tunes' option, whereby Alan rates your iTunes library. If he likes your taste in music you may get a 'Back of the Net!' rating that you can share with your friends on Facebook.
You can also (for an additional 99p) download further things to enhance the app. For example, 'A Partridge Playlist' features some of Alan's favourite artists and additional audio clips.
Published: Thursday 1st August 2013