The Goons EP
Did modern British comedy begin with The Goon Show? Hmmm. Possibly, possibly not... Were it up to me, I would say it did, but that particular hot debate is for another day. I will however stick my neck out and state plain and simple, here and now, and in print for all to see, that the modern British comedy record began with The Goon Show. Oh sure, British comedy records existed long before the collective known as The Goons arrived on the UK's radios in May 1951. But they weren't, you know, all that modern.
Some of the very earliest commercial recordings made in the UK in the first decade of the 20th Century were comedy records. Music hall stars of the day such as Florrie Forde, Gus Elen and Marie Lloyd cashed in on their massive nationwide fame and popularity with 78 rpm shellac recordings of their much-loved songs and routines. Later, from the 1920s onwards, the likes of Sandy Powell, Billy Bennett, Gracie Fields, Will Hay and George Formby regularly released silly songs, novelty numbers, sketches and skits.
By the time The Goons appeared on the scene, a lot had changed. The many limitations of brittle, scratch-prone shellac as a medium for storing and distributing recorded sound had seen record companies race to develop much more durable and better-sounding alternatives. Columbia Records were the first to demonstrate the now familiar 33 rpm long playing vinyl record at a press conference in New York's Waldorf Astoria Hotel on 18 June 1948, in both 10 and 12 inch versions. The 7 inch 45 rpm, single developed by RCA Victor, followed less than a year later, on 31 March 1949.
These new discs, made from polyvinyl chloride (a radical and thoroughly modern plastic alternative to shellac), were lighter yet more durable, and offered buyers higher-fidelity recordings of their favourite artists. The thin grooves and the longer playing speed allowed for long playing albums, and the possibility of listening to collections of songs for the first time. Hard shellac records with their fast speed and chunky stylus could hold no more than one crackly song on each side. The grand honour of recording the first British long-playing comedy album went to none other than Arnold Ridley, with a 1951 recording of his play The Ghost Train, featuring Ridley and his wife Althea Parker in the cast. By the mid-1950s, most major comedy stars, such as the aforementioned George Formby and Gracie Fields, had switched to producing seven inch singles and EPs on the new format.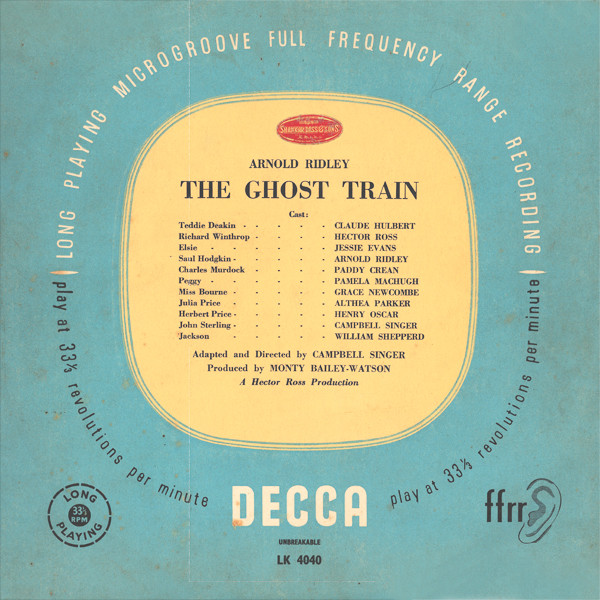 Recording technology aside, cultural changes in society were just as important in shaping the birth of the modern British comedy record. The Second World War had produced a dramatic cultural shift in British society. As the 1950s dawned, that shift was evident in showbusiness in general and comedy in particular. While serving in the armed forces, many hundreds of young men and women had been presented with the opportunity and chance to perform and entertain like never before. The need to entertain the fighting forces of the British Empire had meant the recruitment of many thousands of young people to the likes of ENSA (The Entertainments National Service Association) and other organisations.
These young people from ordinary backgrounds were suddenly presented with a previously undreamt of freedom of expression, the chance to poke fun at authority, and the exposure to the thrill of performing. In the more straight-laced days before the war, they might never have dared to defy society's expectations for them. They might never have had the nerve to venture onto a stage, to stand in front of a microphone and sing or tell jokes, or ever had the presumption to write angry anarchic comedy material. For the next fifty years and beyond, British comedy - whether on stage or screen - was dominated by those many influential writers and performers who had gained their first experience during war time. The generation that spawned The Goons and their contemporaries left a legacy that is still felt today.
Music hall and its increasingly dated style of humour was also in terminal decline by the 1950s. Cinema, radio, and the newcomer television, meant that comedy was suddenly readily available and cheap to consume. No longer was seeing a favourite performer a special night out. A comedy fan did not have to wait for an artiste to tour slowly around the country until the act reached their local venue, there to revisit a tried and trusted set of familiar routines. Entertainment was now readily available at the local cinema, or from home via the flick of a switch, and the booming industry was insatiable for originality and freshness. Performers who relied on a stock set of songs and old, reliable routines were no longer in favour. The new media demanded constant innovation, novelty and material.
Young people also became increasingly affluent during the 1950s, and could now afford to buy vinyl records by new, young performers, be they comedians or singers. Step forward into that perfect clamour for revolution, the prolific manic, tortured, irritable, comedy-producing dynamo that was Spike Milligan.
The Goons were four friends with similar tastes and prodigious individual genius. Spike Milligan and Harry Secombe had met during the war, after a Goonish escapade attempting to locate a missing artillery gun. Michael Bentine and Peter Sellers became friends with the pair after the war, as each of them honed their acts on the thriving entertainment circuit. With landlord and pal Jimmy Grafton's London pub as their base, they developed their act and worked out characters and routines. It was an odd blend of talent but it worked: Peter Sellers with his remarkable ability for mimicry; Harry Secombe with his overabundance of ebullience, prodigious raspberry blowing skills and grand operatic singing voice; Michael Bentine with his inventiveness and imagination; and of course Spike with his writing skills and his fantastic, bizarre, hyperactive sense of humour. It was a blend of talents that produced magic.
The Goons' humour was profoundly anarchic and surreal, in a way that no other comedy had been before. The radio show scripts were chaotic, bristling with indignation and contempt for authority. It was all new and dangerous; very much a young person's comedy. As hugely popular as previous radio shows like ITMA and all those stars of music hall had been, they were reverential and deferential, and most definitely not designed to appeal to young people. The ability to listen to the shows in private, coupled with the clique-generating ability of The Goon Show's many incomprehensible catchphrases and running jokes, all combined to create a powerful and bond-making cult.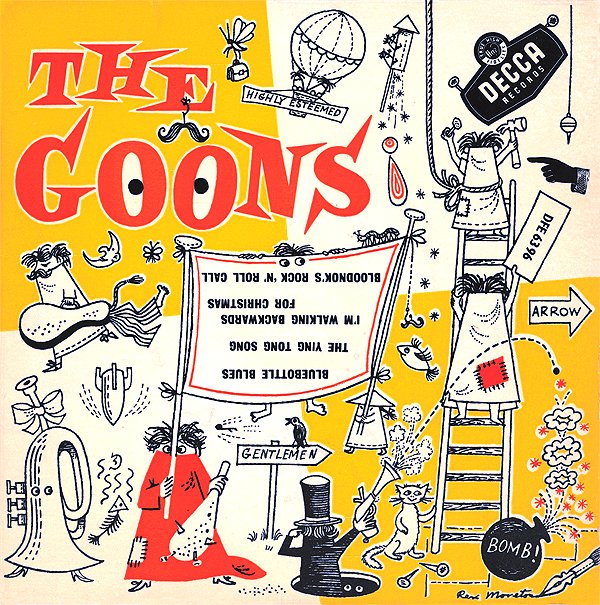 The records The Goons released were every bit as bizarre and riotous as the radio series scripts. Their eponymously titled 1956 EP gathered together the first two Goon singles, both of which had been significant chart hits. With wonderful colourful cover illustrations by Rex Moreton that were every bit equal to Spike Milligan's fevered comic doodlings, it was a marvellous artefact to own. The first track, I'm Walking Backwards For Christmas, was released in July 1956 on both 78 rpm shellac and on the new-fangled 45 rpm vinyl format. The track is as odd today as it was back in the 1950s. Reaching number 4 in a world of Perry Como, Pat Boone and Elvis Presley, the sheer unconventional silliness of Spike Milligan must have stood out like an extraordinarily sore thumb, smashed flat by an oversized comedy hammer. Written and sung (after a fashion) by Milligan with crashing piano accompaniment and the slightest bit of vocal interference by Sellers, it is an odd chart hit that eschewed all normal conventions. With lyrics that rejoice in bold surreal nonsense, no tune, no attempt at musicality or singing, it is a marvellous piece of indulgent mad whimsy. Just the sort of thing that Spike Milligan specialised in.
The B-side of that first single is no less mad but is more recognisably The Goons in action. Bluebottle Blues sees Sellers in the titular role of Bluebottle sparring with his regular nemesis Neddie Seagoon, played by Secombe. Catchphrases abound in the track, which sees Bluebottle being 'deaded' with explosives and 'drownded' in water. With a scenario readily recognisable to listeners of the radio series, it would have made a much more sensible choice as an A-side, but the making of sensible decisions is not something normally associated with the work of The Goons. Such as the decision to release a Christmas-themed single in the height of summer for instance!
The second single was released in September of the same year and went one better in the charts, reaching number 3. The A-side, Bloodnok's Rock'n'Roll Call, is the most musical of the four tracks on the EP. Full of army in-jokes from the ex-servicemen Goons, for the most part it is a genuine period rock and roll number, interrupted only by the machinations of the scheming Major Bloodnok, and his attempts to seduce and rob the warbling, quivering Minnie Bannister, played here as on the wireless by Peter Sellers and Spike Milligan respectively.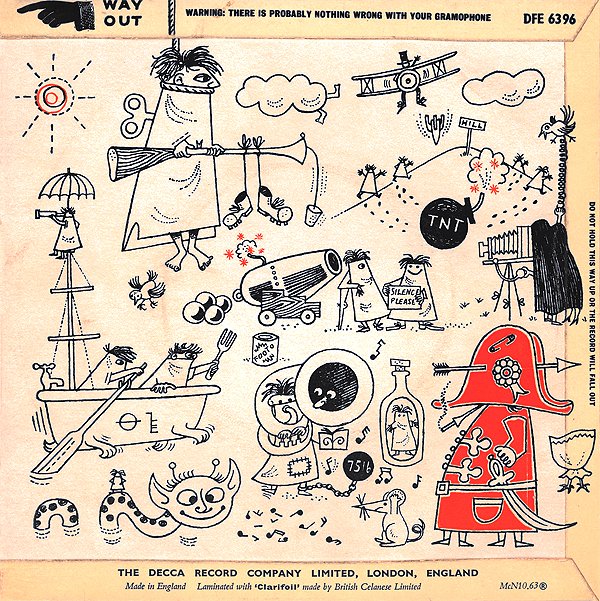 The B-side of that second single remains the most famous musical effort by the Goons, and is now forever associated with them. Beloved by fans of The Goons, and lovers of daft incomprehensible catchphrases the world over, the celebrated madness of The Ying Tong Song even managed to chart for a second time in 1973, after the success of The Goons' final farewell reunion appearance. The lyrics are more nonsensical than ever. Amid sound effects, operatic arias, energetic raspberries and general lunacy, the song is essentially three grown men repeating the phrase 'ying tong ying tong' over and over again. (In case you were wondering, the phrase was invented by Spike as a contraction of the name of his war-time friend, jazz musician Harry Edgington, to 'Edge-Ying-Tong'.) And so a legend was born.
All four of The Goons would go on to much greater things, appearing in and creating a multitude of memorable films, TV and radio series, musicals, plays, and, of course comedy records. They inspired and collaborated with many generations of comedians and their achievements are rightly celebrated. It is hard though to beat the sheer naïve exuberance and joy that exist on these four tracks. Much of the humour and comedy that followed on from their successes owe The Goons a massive debt.
In the world of British comedy records The Goons proved that recorded silliness could be commercially successful and thrive in the charts. With this one EP and its four comedy tracks, a whole new industry was born. All hail The Goons, and here's to the birth of the British comedy record!