Clever Peter - Surviving Christmas
Sketch group Clever Peter have come up with 10 ways we can all survive the festive period...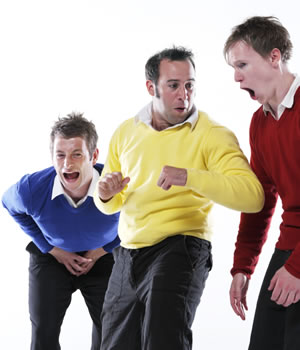 1) Watch Home Alone 1 & 2... but not 3. Three is the film orphan of 1 & 2, abandoned by some bins down a alley.
2) When playing Pictionary, if it was wrong the first time don't repeat it but louder, for example "Batman, it's Batman... the man-bat, Batman! Is it BATMAN!"
3) Recycle all that excess wrapping paper by using it to make a papier-mâché family to take out your frustrations without fear of prison.
4) A Christmas Jumper isn't suitable unless it makes you feel socially awkward and uncomfortably hot.
5) Get plenty of Vitamin C to combat the alcohol... we recommend Orange Juice, 'cause it goes so well with Gin, Vodka and Champagne!
6) Pornography films are unsuitable for charades if Gran is around... unless they're classic ones starring Bing Crosby.
7) Watch Back to the Future 1 & 2... but not 3. Three was the sick puppy 1 & 2, compassionately drowned in a cold canal.
8) The Christmas tree is not edible... unless you're a moose and then it's fair game.
9) When receiving a present, have a generic response ready in case it's terrible. We suggest "Oh thanks BLANK, I really love BLANK... even though you've got me BLANKs three years running, it can't be that BLANKing hard to BLANKing remember you BLANKing BLANKer..."
10) Remember - its only one day, so enjoy it! You can spend the other 364 days listening to Elbow, replacing the English language with infuriating abbreviations and smashing your way into Foot Locker, LOL - but take on board points 1-9 and survive it.
Yours with love,
Clever Peter
Clever Peter are performing at the New Diorama Theatre (Warren Street, London) on Monday 17th December, and Clever Peter's New Material Night is at the Pleasance (Islington, London) on Sunday 13th January 2013. Details