Chicken racing with Rob Rouse
Tackling the world of sport, with the champions of comedy.
Remember back in the spring when regular sport suddenly stopped, the big tournaments were scuppered and all seemed bleak? One man pointed a way forward, from the darkness. That man was Rob Rouse, and he raced chickens.
He still does, too. Rouse - a perennially popular figure on the UK stand-up scene - was arguably best known for doing gigs with a real duck (following some high-profile telly stuff). So him starting a chicken chase wasn't entirely surprising; but then TalkSport started broadcasting it, every weekend, which genuinely filled a gap for those who missed the muck and feathers of live competition.
The Premier League followed his lead and also bounced back, but they've now narked everyone by charging £15 for West Brom v Burnley, whereas Rouse's patrons pay what they like for peak, beak-based action (and the more the merrier, with so few gigs nowadays). He's streaming live racing every day this week, while the Rouse house also hosts chicken rugby, parkour and ballet, of all things.
That's hentertainment.
Could you give us a big TV-style introduction to chicken racing?
It's simple. It's pure. It's the very essence of sport. It can't be bought by corporations. It's chickens sprinting and leaping over obstacles, i.e. a double decker bus.
For a while it was the only live sport on the radio - how did it come about?
At the start of lockdown we forgot to buy loo roll and bananas and hair clippers, but we panic-bought six chickens. They would chase me round the garden seemingly for fun. Then I realised they were simply trying to communicate with me - that they needed to race.
So we started racing, just for the hell of it, putting the races on Twitter and soon they were being watched around the globe when people realised it was much better than football, and these girls didn't roll around on the floor clutching their knees screaming because someone had nudged them on the elbow.
Chickens have self-respect. They race hard, they lay hard (eggs), and they just get on with it. And I think people respect that.
It seemed to get great responses from people - did it do you good, too?
What was genuinely lovely was me and the girls were doing it anyway and people seemed to enjoy it. It was good for me, it got me outside every day, gave me something creative to work on and has inspired me to put comedy stuff online every day, Monday-Friday, for the past five months.
It's virtually impossible to do stand-up at the moment and who knows when it'll be there again properly. But in the meantime I found out that making things keeps me happy and I've just found a different way to do that online.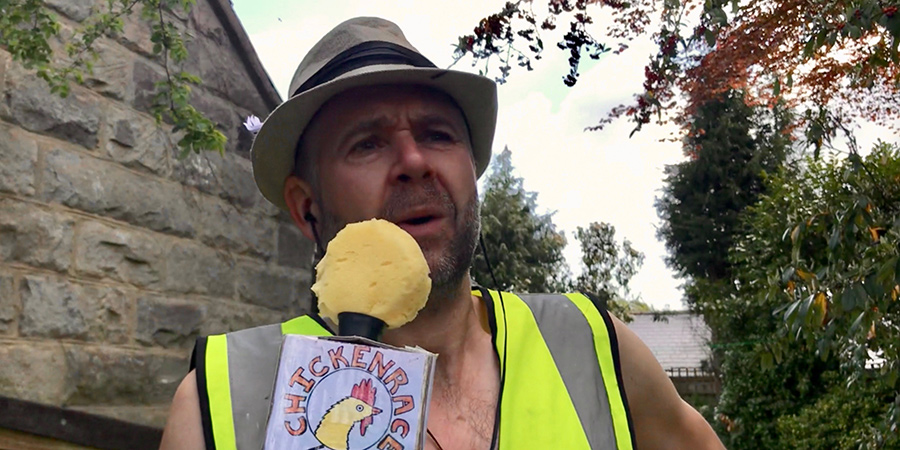 I recall there were some controversial results too - did it get a bit too hot for commercial radio to handle?
Look, at the end of the day we had a great run on TalkSport, Max [Rushden] and Charlie [Baker; the Saturday morning presenters] were so supportive of what we were doing. But I think the suits at the Premiership got the shits about it and put the frighteners on them when they saw chicken racing starting to eclipse football.
It's going strong on your Patreon account though - who are the big stars? Which chicken is the G.O.A.T?
Well Goldie is pound for pound the finest chicken athlete in the history of the sport. She's won 92% of the races she's competed in and sustained a level of form throughout, the like of which have never been seen before and I doubt ever will again. A real once in a lifetime athlete.
Janet McFeathers had a woeful racing season, but showed great power and tenacity in chicken rugby. Twinkle Twinkle holds the record for chicken parkour and Bob is, as far as I am aware, the only non-binary chicken athlete in competition.
Bob has been an inspiration for the true spirit of chicken racing and has worked tirelessly to spread the message of love and understanding around the world.