Russell Howard's Good News - Series 2
Win 'Russell Howard's Good News - Series 2' on DVD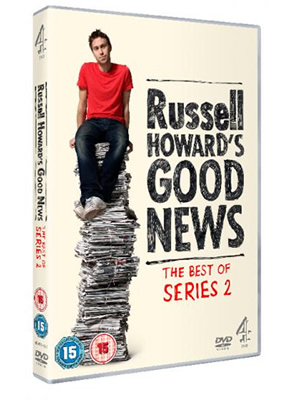 Highlights from Series 2 of Russell Howard's Good News, BBC Three's most successful ever entertainment series, are due to be released on DVD on Monday 24th September 2012 by 4DVD.
This feature length collection brings together the best bits of the series with previously unseen extras. Russell Howard puts his spin on the big and bizarre news stories that have got the media in a frenzy, as well as the more weird and wonderful tales that may have passed under the radar.
Russell's forensic trawl through news provides a unique and entertaining combination of stand-up, clips and sketches for the comic to apply his own uniquely upbeat angle to, and the new DVD will give Good News fans the chance to revisit all the funniest moments from the critically acclaimed second series.
Russell brought us a light-hearted look at the run-up to the general election and gave his pithy take on the TV debate between Cameron, Clegg and Brown, turning 'Long Legged Cleggy Weggy' into a national talking point (with over thirty thousand likes on Facebook). He also hit on some of the quirkier items on the news agenda; who could forget the grim-reaper cat with a talent for predicting death at the US care-home where he resided? In addition to footage from the show, the DVD extras include previously unseen sketches and a brand new 'mystery guest'.