Alan Partridge: Alpha Papa: Script (and Scrapped)
Win a signed Alan Partridge Alpha Papa script book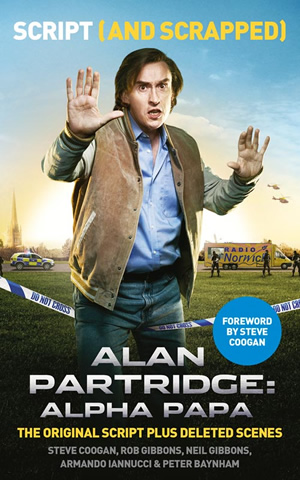 We've got a signed book to give away...
Alan Partridge: Alpha Papa - Script (And Scrapped) is the official script for the box-office smash movie, featuring "every ruddy word (and stage direction)" of Alan's seamless transformation from natural-born broadcaster into fully fledged and occasionally fully dressed hostage negotiator.
Alan Partridge: Alpha Papa sees Alan face his biggest challenge since he spent six months in a Travel Tavern, and is almost certainly the first time he has handled a loaded gun since he was a prime-time BBC presenter.
When his beloved income-source North Norfolk Digital is taken over by a faceless media conglomerate, Alan's inimitable instinct for self-preservation leads to a violent and bloody siege on the radio station by an unhinged, nay mentalist, DJ, and a hostage crisis for which there can be only one man with the chat to diffuse it.
The book - which also contains deleted scenes and an exclusive foreword by star Steve Coogan - is the perfect gift for Partridge fans this Christmas (a partridge in a pear tree being key to that song of course).