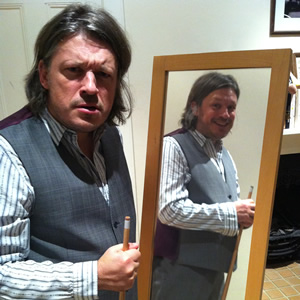 Me1 vs Me2 Snooker with Richard Herring

A series of exhibition snooker matches in which Richard Herring recreates his lonely childhood by playing himself at snooker and commentating as he plays. Who will win Me 1 or Me 2 and is there any real difference between these closely matched players? Will their different personalities shine through? And how much of this can you listen to before you become as unhinged as Me1, Me2 and the commentator Mes? This really is just a grown man playing snooker against himself on a wonky 6ft by 3ft snooker table in a room which is not quite big enough. WARNING: This is an incredibly self-indulgent and boring podcast. You only have yourself to blame if you listen and then become hooked and begin to favour one of the two Mes over the other.

Frame 33 - UKIP UWIN. The Mes are back, all a bit tired out and confused after a long trip home from Belfast. No one seems to remember Frame 32 happening at all and maybe it was a dream or just something scribbled down by one of the Mes to make it look like they could win a frame. But in response to Ronnie O'Sullivan attempting to steal our shtick by assuming two contrasting personalities (one who loves snooker and one who hates it and just wants the money) the Mes are back at the board to finally try and resolve which of them is best than the other one. Does Me2 have dozens of secret children that he needs to support with his snooker playing? And if so how does he intend to make money from his snooker playing? Is Me1 a supporter of the UK's freshest and most disgusting political party? Does it matter when and should we just let the snooker do the talking? It doesn't seem to be ending does it?
To download this podcast to your computer, click on the link above.
Date: 8th May Length: 30 mins Size: 27.56mb Page
You can subscribe to this podcast series via iTunes software.
This is the geeky option. You can subscribe via the RSS feed:
http://feeds.feedburner.com/RichardHerringSnooker
Previous Episodes
Date: 17th April Length: 28 mins Size: 25.32mb

Frame 32 - Thatcher vs the IRA. There's an odd atmosphere at the Shepherd's Bush (insert name of shape or dinosaur here) with half the team delighted at the demise of Mrs Thatcher ...... Listen
Date: 3rd April Length: 40 mins Size: 37.04mb

Frame 31 - The Snooker Does The Talking - The whole team have got another virus and they're confused and a bit angry. Me2 wants his snooker to do the talking, but what does he mean...... Listen
Date: 19th March Length: 32 mins Size: 30.20mb

Frame 30 - Starting From Scratch. It's been a while, but we've dusted off the snooker board for a record breaking 30th podcast of a man playing himself at snooker and commentating ...... Listen
Date: 22nd February Length: 28 mins Size: 26.11mb

Frame 29 - What happened next? You thought it was over? You fools. This will never be over. Not til every last one of you has given up. And even then it will continue, unobserved, ...... Listen
Date: 30th January Length: 30 mins Size: 28.11mb

Frame 28 - Shit in a Box - We're back. With cats. That's right. It's a whole new direction for snooker. The televised game is so far behind that it still has two actual players, bu...... Listen
Date: 31st December 2012 Length: 33 mins Size: 30.25mb

Frame 27: Wherever I Lay My Cue - It's New Year's Eve and even by the low standards of Me1 vs Me2 snooker this is a tired and rambling affair: the players too knackered to line up ...... Listen
Date: 23rd December 2012 Length: 30 mins Size: 28.16mb

Frame 26: Red and Green Baubles - It's Chriiiiiissssstmasssss at the Shepherd's Bush Tridecahedron and the world has not ended - how could it when the result of Me 1 vs Me 2 snooke...... Listen
Date: 11th December 2012 Length: 31 mins Size: 28.80mb

Frame 25: Disease - A mystery illness has infected everyone involved in the snooker podcast but foolishly they all decide to proceed with the match. And it's a dull, snot-splattere...... Listen
Date: 1st December 2012 Length: 35 mins Size: 33.19mb

Frame 24 - Crime and Punishment. After last week's despicable outburst from a player who should perhaps know better the Me vs Me Snooker association president is here to hand down ...... Listen
Date: 23rd November 2012 Length: 27 mins Size: 25.39mb

Frame 23: Homophobia. There's an unpleasant atmosphere hanging over the Shepherd's Bush Rhomboid today and a lacklustre podcast reveals the reactionary and unpleasant attitudes tha...... Listen
Date: 9th November 2012 Length: 34 mins Size: 31.15mb

Frame 22: The Breath of Fresh Air - Without giving too much away it's all change at the Shepherd's Bush Isosceles. Desperate times call for desperate measures and it's time to broa...... Listen
Date: 1st November 2012 Length: 32 mins Size: 29.79mb

Frame 21: After last week's debacle all the Mes are hoping that there will be no recording malfunctions, but if you were disappointed to miss the most exciting frame ever - Frame 2...... Listen
Date: 22nd October 2012 Length: 10 mins Size: 9.52mb

Frame 20: Tascam disaster - Me2 is playing against the force of love? Can he destroy it and win? In one of the most exciting and unbelievable frames of Me snooker ever you might ha...... Listen
Date: 15th October 2012 Length: 32 mins Size: 30.41mb

Frame 19: Clunk Click - Both players are a bit tired out after a late night drive home from Sheffield (home of the boring, old-fashioned, corrupt person vs person world snooker cha...... Listen
Date: 7th October 2012 Length: 30 mins Size: 27.82mb

Frame 18: Shattered dreams, shattered glass. It's all kicking off at the Shepherd's Bush Trapezoid, broken glass litters the floor after this scintillating contest of sporting gian...... Listen
Date: 28th September 2012 Length: 32 mins Size: 29.39mb

Frame 17: A Tuna Fish's Green Jaws - Emotions are running high at the Shepherd's Bush Dodecahedron. Has marriage destroyed the dynamic, even the friendship of the two competitors? ...... Listen
Date: 19th September 2012 Length: 35 mins Size: 32.86mb

Frame 16: The Postman Only Rings Once - Richard has a lot of proper work to do, so of course he retreats to his basement to talk to himself for half an hour. And there's a chance i...... Listen
Date: 14th September 2012 Length: 25 mins Size: 23.60mb

Frame 15: The Shepherd's Bush Rhomboid has been renovated and it now open for business and in a tribute to Prince Harry's naked pool antics and Princess Katie's bap papping everyon...... Listen
Date: 10th June 2012 Length: 18 mins Size: 16.56mb

Me1 vs Me 2 Snooker Frame 14 - Due to marriage and house renovation we haven't heard anything for months from the Mes, some might have assumed that they were dead. But if so they h...... Listen
Date: 5th March 2012 Length: 22 mins Size: 20.45mb

Frame 13: Unlucky for Mes-o. The basement is being dismantled around their ears and, as the walls disappear, the Mes themselves begin to look as frail as gossamer. Both The Normal ...... Listen
Date: 27th February 2012 Length: 30 mins Size: 27.05mb

Frame 12: For the aid of insomniacs. A soporific frame of snooker recorded late at night after a long drive when Me1's fiancee was out longer than expected. It's actually a very ex...... Listen
Date: 20th February 2012 Length: 25 mins Size: 23.31mb

Frame 11: Time for Ref-erendum on the Ref-erratum? If only Richard Herring could actually split himself into 6 different people then perhaps he'd have time to do all the things he ...... Listen
Date: 13th February 2012 Length: 39 mins Size: 35.6mb

Frame 10: A twist in Mes' Sobriety - After last week's debacle and drunkenness and revelations, it's a much more sober affair this time. No one seems to be missing Referee 1, but m...... Listen
Date: 7th February 2012 Length: 45 mins Size: 41.88mb

Frame 9: Apocalypse - Recorded around midnight on Feb 2-Feb 3 there are some startling revelations and twists and turns in the soup opera that is Me vs Me snooker. One of the major...... Listen
Date: 30th January 2012 Length: 45 mins Size: 41.48mb

Frame 8: Muffs and guffs. Something rotten is hanging over today's contest and it's not just the persistent accusations of match-fixing. There is a very actual and real odour perv...... Listen
Date: 23rd January 2012 Length: 36 mins Size: 33.12mb

Frame 7: An anonymous benefactor has sent Me1 and Me2 enough chalk to keep them podcasting for the next two decades and it seems to be having an affect on their play. Also the copi...... Listen
Date: 16th January 2012 Length: 40 mins Size: 37.01mb

Frame 6: After last week's shambolic performance everyone involved in this podcast is determined to show the world what they can achieve when they're at the height of their powers....... Listen
Date: 11th January 2012 Length: 39 mins Size: 36.31mb

Frame 5: Both players have scores to settle and bad reputations to shake off in this crucial 5th frame of man versus himself snooker. Commentator 2 has some harsh truths to speak a...... Listen
Date: 4th January 2012 Length: 36 mins Size: 33mb

Frame 4: Me1 and Me2 have just been out for a gruelling six and three quarter mile run (they ran it in exactly the same time to the microsecond) and are now fit enough to tussle on...... Listen
Date: 29th December 2011 Length: 31 mins Size: 28.75mb

Frame 3: With the competition delicately balanced at one frame apiece, Me1 and Me2 are battling to see who will enter the new year in the ascendancy. And though both are suffering ...... Listen
Date: 18th December 2011 Length: 43 mins Size: 40mb

Frame 2: Me 1 and Me 2 are fresh back from a holiday together in Thailand and it's hard to be sure exactly what went on in that non-snooker environment, but the dynamic has certain...... Listen
Date: 2nd December 2011 Length: 26 mins Size: 23.61mb

Frame 1: Me 1 and Me 2 return to the baize for almost the first time in a quarter of a century, but time has not dampened their bitter rivalry. Who will triumph is this battle of t...... Listen
Web Links