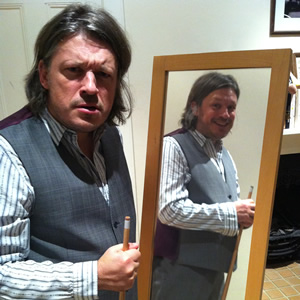 Me1 vs Me2 Snooker with Richard Herring

A series of exhibition snooker matches in which Richard Herring recreates his lonely childhood by playing himself at snooker and commentating as he plays. Who will win Me 1 or Me 2 and is there any real difference between these closely matched players? Will their different personalities shine through? And how much of this can you listen to before you become as unhinged as Me1, Me2 and the commentator Mes? This really is just a grown man playing snooker against himself on a wonky 6ft by 3ft snooker table in a room which is not quite big enough. WARNING: This is an incredibly self-indulgent and boring podcast. You only have yourself to blame if you listen and then become hooked and begin to favour one of the two Mes over the other.

Frame 54 - For the Sake of old Lang Died. Me Vs Me snooker is still in crisis and there are more sure to be unpopular decisions from Me79, the dictatorial head of the Self-Playing Snooker Federation or Board. But audiophiles will get some perverse delight from this frame as it is recorded with a new omni-directional microphone which seems to work OK. Who will be taking to the green board today? Will any of them draw any cartoons of fictional deities? Will he who has been shunned be allowed to return? What of the petition set up by furious fans? Is the word of the President of the Self Playing Snooker Federation or Board really final? We've lost our last Victorian, but what else have we lost?

To subscribe to the monthly donations and be in with a chance of winning this T shirt go to gofasterstripe.com/badges and donate at least a pound a month. Check out Richard's non-sporting comedy tour dates at www.richardherring.com.
To download this podcast to your computer, click on the link above.
Date: 24th January Length: 30 mins Size: 14.2mb Page
You can subscribe to this podcast series via iTunes software.
This is the geeky option. You can subscribe via the RSS feed:
http://feeds.feedburner.com/RichardHerringSnooker
Previous Episodes
Date: 19th December 2014 Length: 33 mins Size: 23mb

Frame 53 - A New Dawn/Low - The Self-Playing Snooker Federation are in a flap about recent comments made by one of the Mes and it seems disciplinary action may be required. But no one ...... Listen
Date: 8th December 2014 Length: 27 mins Size: 25.6mb

Frame 52 - Could Ronnie O'Sullivan Beat Himself? An odd atmosphere in the Question Mark Arena this week as Richard seems genuinely annoyed by Me2 persisting in his controversial...... Listen
Date: 1st December 2014 Length: 17 mins Size: 15.9mb

Frame 51 - Tascam Sabotage? After the excitement of Frame 50, both players are keen to get back to the green board, if only to publicise Richard's upcoming Leicester Square Theatre tou...... Listen
Date: 21st November 2014 Length: 33 mins Size: 30.4mb

Frame 50 - Wang Kun RIP. No one would have believed this when this mad adventure begun, but the Me vs Me snooker juggernaut has reached its 50th frame and shows no signs of slowing dow...... Listen
Date: 9th November 2014 Length: 32 mins Size: 29.8mb

Frame 49 - 9/11. On Remembrance Sunday the players make their own poorly judged tributes to those who have fallen in combat and those who died in the tragedy of the 9th of November. Bu...... Listen
Date: 11th October 2014 Length: 18 mins Size: 16.6mb

Frame 48 - This is What I Do When You're in the Park. The Mes make a snap decision to play a frame on the old green board while the house is empty, but little do they know who is going...... Listen
Date: 26th September 2014 Length: 30 mins Size: 27.5mb

Frame 47 - Almonds. In the brave new world of the (spoiler alert) Independent Scotland, self-playing snooker continues in England (though it is not yet clear whether there will ever be...... Listen
Date: 16th September 2014 Length: 33 mins Size: 30.7mb

Frame 46 - Union Break? - Finally they're back. Me1 and Me2 have been concentrating on their running (sponsor them here - al...... Listen
Date: 10th May 2014 Length: 31 mins Size: 28.51mb

Frame 45 - So Fair and Foul a Day. The random nature of events is demonstrated by this frame. Had it not rained in York tonight Richard would have been watching the Division 2 play off...... Listen
Date: 4th May 2014 Length: 29 mins Size: 26.84mb

Frame 44 - MCJE Arena. After almost three months on hiatus the world's best audio only self-playing snooker podcast is back with a controversial sponsor, in an attempt to divert focus ...... Listen
Date: 8th February 2014 Length: 24 mins Size: 22.47mb

Frame 43 - I Paid A Pound. Did you ever think that there might come a time when Me1 Vs Me2 Snooker was pay-to-view/listen? Well it still isn't, but if you enjoy any of the Mes free pod...... Listen
Date: 1st January 2014 Length: 34 mins Size: 31.73mb

Frame 42 - Massive Janus. It's the bank holiday fixture that everyone has been anticipating, a new year and a new frame. Some people fear that the sport is all about the sponsorship no...... Listen
Date: 20th December 2013 Length: 33 mins Size: 30.36mb

Frame 41 - Peter O' Tooletide. It's Christmas at the venue formerly known as Nelson Mandela Hall and there's some fun and high-jinks to start things off, but then we're down to the dea...... Listen
Date: 11th December 2013 Length: 30 mins Size: 27.29mb

Frame 40 - A Tribute To Nelson Mandela. The Mes play tribute to the greatest human being to ever have lived in the only way they know how: they play themselves at snooker. They also re...... Listen
Date: 21st November 2013 Length: 30 mins Size: 27.76mb

Frame 39 - Back to Black. Three months have passed since the controversial Scotch frame, but Me1 and Me2 and the Self-Playing Snooker Board have completed their enquiry and we will fin...... Listen
Date: 13th August 2013 Length: 43 mins Size: 39.58mb

Frame 38 - Scotch - Me1 and Me2 and the team have headed north for the fledgling Edinburgh Festival of Sport and are playing for the Scotch Cup (the result also counts in their ongoing...... Listen
Date: 24th July 2013 Length: 32 mins Size: 29.02mb

Frame 37 - Roundhead versus Cavalier - In the rush to commercially exploit the Royal Baby Fever that is sweeping the country the Mes get together to bring out this special and collecti...... Listen
Date: 10th July 2013 Length: 27 mins Size: 25mb

Frame 36 - More Rich Lavalier - It's exciting times for audiophiles (you disgust me) as Richard has dug out his old lavalier radio mic and so all the Mes and the commentators are prope...... Listen
Date: 22nd June 2013 Length: 35 mins Size: 32.17mb

Frame 35 - Breaking The Laws of Physics - It's been three weeks, but the Mes are back at the Shepherd's Bush Jeroboam, one of them furious at Rich neglecting them for his movie star pa...... Listen
Date: 30th May 2013 Length: 27 mins Size: 24.64mb

Frame 34 - The Pink is on the Brown Spot - Me1's wife is at the Saatchi Gallery with another man and it's not Me2, so both players are in an odd mood. They're not really up to much wit...... Listen
Date: 8th May 2013 Length: 30 mins Size: 27.56mb

Frame 33 - UKIP UWIN - The Mes are back, all a bit tired out and confused after a long trip home from Belfast. No one seems to remember Frame 32 happening at all and maybe it was a dre...... Listen
Date: 17th April 2013 Length: 28 mins Size: 25.32mb

Frame 32 - Thatcher vs the IRA. There's an odd atmosphere at the Shepherd's Bush (insert name of shape or dinosaur here) with half the team delighted at the demise of Mrs Thatcher and ...... Listen
Date: 3rd April 2013 Length: 40 mins Size: 37.04mb

Frame 31 - The Snooker Does The Talking - The whole team have got another virus and they're confused and a bit angry. Me2 wants his snooker to do the talking, but what does he mean by ...... Listen
Date: 19th March 2013 Length: 32 mins Size: 30.20mb

Frame 30 - Starting From Scratch. It's been a while, but we've dusted off the snooker board for a record breaking 30th podcast of a man playing himself at snooker and commentating on i...... Listen
Date: 22nd February 2013 Length: 28 mins Size: 26.11mb

Frame 29 - What happened next? You thought it was over? You fools. This will never be over. Not til every last one of you has given up. And even then it will continue, unobserved, unli...... Listen
Date: 30th January 2013 Length: 30 mins Size: 28.11mb

Frame 28 - Shit in a Box - We're back. With cats. That's right. It's a whole new direction for snooker. The televised game is so far behind that it still has two actual players, but th...... Listen
Date: 31st December 2012 Length: 33 mins Size: 30.25mb

Frame 27: Wherever I Lay My Cue - It's New Year's Eve and even by the low standards of Me1 vs Me2 snooker this is a tired and rambling affair: the players too knackered to line up thei...... Listen
Date: 23rd December 2012 Length: 30 mins Size: 28.16mb

Frame 26: Red and Green Baubles - It's Chriiiiiissssstmasssss at the Shepherd's Bush Tridecahedron and the world has not ended - how could it when the result of Me 1 vs Me 2 snooker is...... Listen
Date: 11th December 2012 Length: 31 mins Size: 28.80mb

Frame 25: Disease - A mystery illness has infected everyone involved in the snooker podcast but foolishly they all decide to proceed with the match. And it's a dull, snot-splattered, c...... Listen
Date: 1st December 2012 Length: 35 mins Size: 33.19mb

Frame 24 - Crime and Punishment. After last week's despicable outburst from a player who should perhaps know better the Me vs Me Snooker association president is here to hand down retr...... Listen
Date: 23rd November 2012 Length: 27 mins Size: 25.39mb

Frame 23: Homophobia. There's an unpleasant atmosphere hanging over the Shepherd's Bush Rhomboid today and a lacklustre podcast reveals the reactionary and unpleasant attitudes that ar...... Listen
Date: 9th November 2012 Length: 34 mins Size: 31.15mb

Frame 22: The Breath of Fresh Air - Without giving too much away it's all change at the Shepherd's Bush Isosceles. Desperate times call for desperate measures and it's time to broaden ...... Listen
Date: 1st November 2012 Length: 32 mins Size: 29.79mb

Frame 21: After last week's debacle all the Mes are hoping that there will be no recording malfunctions, but if you were disappointed to miss the most exciting frame ever - Frame 20 - ...... Listen
Date: 22nd October 2012 Length: 10 mins Size: 9.52mb

Frame 20: Tascam disaster - Me2 is playing against the force of love? Can he destroy it and win? In one of the most exciting and unbelievable frames of Me snooker ever you might have f...... Listen
Date: 15th October 2012 Length: 32 mins Size: 30.41mb

Frame 19: Clunk Click - Both players are a bit tired out after a late night drive home from Sheffield (home of the boring, old-fashioned, corrupt person vs person world snooker champio...... Listen
Date: 7th October 2012 Length: 30 mins Size: 27.82mb

Frame 18: Shattered dreams, shattered glass. It's all kicking off at the Shepherd's Bush Trapezoid, broken glass litters the floor after this scintillating contest of sporting giants. ...... Listen
Date: 28th September 2012 Length: 32 mins Size: 29.39mb

Frame 17: A Tuna Fish's Green Jaws - Emotions are running high at the Shepherd's Bush Dodecahedron. Has marriage destroyed the dynamic, even the friendship of the two competitors? Has ...... Listen
Date: 19th September 2012 Length: 35 mins Size: 32.86mb

Frame 16: The Postman Only Rings Once - Richard has a lot of proper work to do, so of course he retreats to his basement to talk to himself for half an hour. And there's a chance it is...... Listen
Date: 14th September 2012 Length: 25 mins Size: 23.60mb

Frame 15: The Shepherd's Bush Rhomboid has been renovated and it now open for business and in a tribute to Prince Harry's naked pool antics and Princess Katie's bap papping everyone is...... Listen
Date: 10th June 2012 Length: 18 mins Size: 16.56mb

Me1 vs Me 2 Snooker Frame 14 - Due to marriage and house renovation we haven't heard anything for months from the Mes, some might have assumed that they were dead. But if so they have ...... Listen
Date: 5th March 2012 Length: 22 mins Size: 20.45mb

Frame 13: Unlucky for Mes-o. The basement is being dismantled around their ears and, as the walls disappear, the Mes themselves begin to look as frail as gossamer. Both The Normal Man ...... Listen
Date: 27th February 2012 Length: 30 mins Size: 27.05mb

Frame 12: For the aid of insomniacs. A soporific frame of snooker recorded late at night after a long drive when Me1's fiancee was out longer than expected. It's actually a very exciti...... Listen
Date: 20th February 2012 Length: 25 mins Size: 23.31mb

Frame 11: Time for Ref-erendum on the Ref-erratum? If only Richard Herring could actually split himself into 6 different people then perhaps he'd have time to do all the things he need...... Listen
Date: 13th February 2012 Length: 39 mins Size: 35.6mb

Frame 10: A twist in Mes' Sobriety - After last week's debacle and drunkenness and revelations, it's a much more sober affair this time. No one seems to be missing Referee 1, but maybe...... Listen
Date: 7th February 2012 Length: 45 mins Size: 41.88mb

Frame 9: Apocalypse - Recorded around midnight on Feb 2-Feb 3 there are some startling revelations and twists and turns in the soup opera that is Me vs Me snooker. One of the major fig...... Listen
Date: 30th January 2012 Length: 45 mins Size: 41.48mb

Frame 8: Muffs and guffs. Something rotten is hanging over today's contest and it's not just the persistent accusations of match-fixing. There is a very actual and real odour pervadin...... Listen
Date: 23rd January 2012 Length: 36 mins Size: 33.12mb

Frame 7: An anonymous benefactor has sent Me1 and Me2 enough chalk to keep them podcasting for the next two decades and it seems to be having an affect on their play. Also the copies o...... Listen
Date: 16th January 2012 Length: 40 mins Size: 37.01mb

Frame 6: After last week's shambolic performance everyone involved in this podcast is determined to show the world what they can achieve when they're at the height of their powers. And...... Listen
Date: 11th January 2012 Length: 39 mins Size: 36.31mb

Frame 5: Both players have scores to settle and bad reputations to shake off in this crucial 5th frame of man versus himself snooker. Commentator 2 has some harsh truths to speak about...... Listen
Date: 4th January 2012 Length: 36 mins Size: 33mb

Frame 4: Me1 and Me2 have just been out for a gruelling six and three quarter mile run (they ran it in exactly the same time to the microsecond) and are now fit enough to tussle once a...... Listen
Date: 29th December 2011 Length: 31 mins Size: 28.75mb

Frame 3: With the competition delicately balanced at one frame apiece, Me1 and Me2 are battling to see who will enter the new year in the ascendancy. And though both are suffering post...... Listen
Date: 18th December 2011 Length: 43 mins Size: 40mb

Frame 2: Me 1 and Me 2 are fresh back from a holiday together in Thailand and it's hard to be sure exactly what went on in that non-snooker environment, but the dynamic has certainly c...... Listen
Date: 2nd December 2011 Length: 26 mins Size: 23.61mb

Frame 1: Me 1 and Me 2 return to the baize for almost the first time in a quarter of a century, but time has not dampened their bitter rivalry. Who will triumph is this battle of the s...... Listen
Web Links