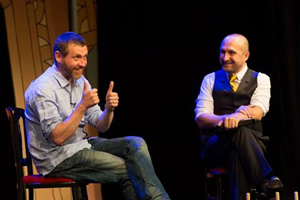 Every month, juggler and comedian Mat Ricardo hosted a variety show live from the Leicester Square Theatre in London (Series 1 was at the Bethnal Green Working Men's Club), where the best of the best from the worlds of cabaret, variety, comedy and circus did their thing. In the second half of the show, Mat sat down with a master of their craft to chat to them about their life, career and influences. This format has now finished, but you can still enjoy all the episodes here...

Dave Gorman: The last episode of Mat Ricardo's London Varieties - recorded live at the Leicester Square Theatre - features all the usual low-grade shenanigans, plus an interview with delightful comedy bloke Dave Gorman, who reveals himself to be - spoiler alert - smart, funny and charming. We also juggled sink plungers together. Let's see another comedy interview podcast do THAT!
To download this podcast to your computer, right click on the link and choose 'save as'.
Date: 30th October Length: 48 mins Size: 43.87mb Page
You can subscribe to this podcast series via iTunes software.
This is the geeky option. You can subscribe via the RSS feed:
http://feeds.feedburner.com/MatRicardosLondonVarieties
Follow @MatRicardo on Twitter for updates.
'Like' Mat Ricardo's London Varieties on the official Facebook group.
Previous Episodes
Date: 13th June 2013 Length: 49 mins Size: 44.93mb

This month's London Varieties podcast is a bit of a special one - we have some snippets from one of the great comedy acts that we featured on the live Leicester Square Theatre show, bu...... Listen
Date: 28th May 2013 Length: 44 mins Size: 40.46mb

May's London Varieties saw Mat Ricardo hosting a bill of the best cabaret and variety performers in the country, headlined by his interview with TV legend Paul Daniels...... Listen
Date: 16th April 2013 Length: 46 mins Size: 42.28mb

On this month's Mat Ricardo's London Varieties, live at the Leicester Square Theatre, you'll get a little taste of what goes on at the monthly live show, and my full interview with [pb...... Listen
Date: 5th September 2012 Length: 39 mins Size: 36.09mb

This episode of the Varieties devotes itself to just one interview. Live at the Edinburgh Fringe, Mat sat down and talked to legendary professional wrestler and New York Times bestsell...... Listen
Date: 22nd August 2012 Length: 55 mins Size: 50.99mb

This episode of the Varieties focuses on people who have started out as street performers, but who have then gone on to other things. First, we chat to Stuart Goldsmith, one o...... Listen
Date: 16th August 2012 Length: 32 mins Size: 29.69mb

Mat Ricardo's London Varieties has moved to the Edinburgh Fringe and become The Voodoo Varieties. We're at the Voodoo Rooms Ballroom every day except Monday, with a diffe...... Listen
Date: 27th July 2012 Length: 50 mins Size: 57.58mb

The last London show of 2012 was the biggest of the year, with a packed bill of magic, stunts, dance music and comedy. Headlined by the mighty Mr B The Gentleman Rhymer, and in ...... Listen
Date: 29th June 2012 Length: 41 mins Size: 57.58mb

This month The Varieties played host to Irish dance sensations The Lords of Strut, the amazing sleight of hand of Richard McDougall and the hilarious Noel Britten,...... Listen
Date: 21st May 2012 Length: 44 mins Size: 60.15mb

This episode of the London Varieties featured - live on stage - fringe stars Eastend Cabaret, the infamous Up & Over It, the legendary Peter John, Circularity T...... Listen
Date: 23rd April 2012 Length: 80 mins Size: 110.71mb

In a packed show this month the king of light entertainment Lenny Beige talks about his life as a cabaret superstar, and you'll hear his version of an Eminem classic. Also I s...... Listen
Date: 19th March 2012 Length: 45 mins Size: 61.97mb

Mat Ricardo hosts another night of variety Live from the Bethnal Green Workingmen's Club in London. This month he sat down for a chat about comedy, writing, naked women and peng...... Listen
Date: 24th February 2012 Length: 46 mins Size: 42.30mb

Live from the Bethnal Green Workingmen's Club, Mat Ricardo hosted Craig the Incredible Hula Boy, Mandy Muden and Big Howard & Little Howard, and then sat down for a chat ...... Listen
Date: 17th January 2012 Length: 5 mins Size: 7.43mb

Every month, juggler and comedian Mat Ricardo will be hosting a variety show live from the Bethnal Green Working Men's Club in East London, where the best of the best from the w...... Listen
Web Links & Credits
Mat Ricardo's Website

Podcast produced by SoundsWilde

Live photography by Claire Haigh