Channel 4 Television Corporation
Channel 4 was born in 1982 and has broadcast a number of excellent cult sitcoms.

Channel 4 is known for being cutting edge and has helped to create some of the best of the darker, off-the-wall, and adult rated sitcoms in the UK.

Some of their comedy output includes Father Ted, Spaced and The Big Fat Quiz Of The Year.

Most Channel 4 output is sourced through independent production companies.
Contact Details
Channel 4 Television Corporation - British Comedy Productions
Note: this list might not be fully complete yet. We are still building up guides to archive shows.
Brassed Off
Festival
My New Best Friend
Porterhouse Blue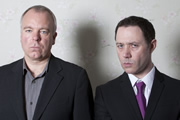 Casting has been revealed for Inside No. 9 Series 3, including Felicity Kendal and Morgana Robinson. Read