Danny Kirrane talks to BCG about acting alongside Sean Bean in Wasted...
How would you describe the premise of Wasted?
It's a show about these four friends who have been friends since school, who live in this boring really small town in the middle of nowhere in the West Country. It's kind of about what they get up to when they've got nothing to do, if that makes sense?
Where did you grow up Danny?
I'm from Yorkshire originally - from a big town - so I've never really lived anywhere like a village, but I have experienced those places. I did a play ages ago that was set in a small village in the West Country, so I've spent a lot of time there. Everybody there is sort of like on a different plain; everyone is a bit mystic or cosmic.
Did you film Wasted on location?
It was all location, but we shot a lot of it in and around London actually. Some of the main exteriors were down in Frome.
Your character is in love with Alison. Was it awkward playing the scenes where you aim your passion at Gwyneth Keyworth?
No, not really. I think you just go for it as an actor. We know each other so well. We did a drama together earlier in the year for ITV, Doctor Thorne, so it kind of helped that we knew each other.
We've all been in that situation where, when you're younger, there's unrequited love; and we've all been a virgin at some point, and been in love with someone we know but not been able to tell them... it was kind of quite truthful because of that. It never felt hard to do.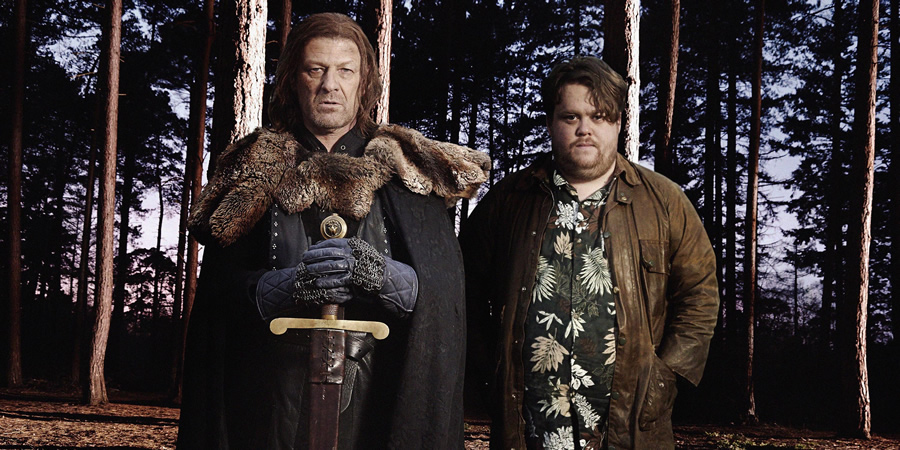 Sean Bean plays your spirit guide. Were the other cast members jealous?
They were actually, yeah. When it went around that he was going to be in it - and this was before we got the scripts - I think we all thought he was just going to be sat in a pub with us. So they were a bit annoyed [that he wasn't]... but it really works.
I've seen a couple of the episodes and he is so brilliant. He was so fun to work with. He told me he read the scripts in the bath and loved them, and that's why he did it. I found that a really funny image: Ned Stark in the bath!
He looks like he is a serious chap?
Oh, not at all. He was up for a laugh. He was really funny improvising around it. He's quite chilled, and a joy to work with. Such a lovely guy.
So you'd be up for filming a second series?
I definitely think there's more mileage in the show, yeah. It's one of those things with a second series... as an actor you say "oh I'd love another go", but it depends what the reaction is and if people watch it.
I really enjoyed watching the bits I've seen, and I'd watch it, so yeah I'd love to do it again.
What is next for you Danny? More comedy, or a drama?
I don't know. It depends what comes in, and what the character is really. I enjoy both [genres], I think they're both really hard to do. It's nice to have the variety.
That variety is what I enjoy and the more variety I can have the more I enjoy it really - to go from something as ridiculous as Wasted and then doing something as straight as [medical drama] Critical... and I'm really lucky to have that choice and enjoy both things.
You're going to be in the next Pirates Of The Caribbean film?
Yeah, I'm doing the next Pirates film! I filmed that last year for six months in Australia. It was an amazing gig.
We had such fun on it. It was like being a six year-old... you know when you're six, and you've got your fantasy life and you want to be a pirate? We were actually doing it! They were real ghosts I was fighting! I had a sword in one hand and gun the other!
Wasted is on E4 on Tuesdays at 10pm.