Stand-up comedian Jamali Maddix is the mastermind behind Brexit Stage Left, a new show for TV channel VICELAND which observes a group of comedians on a tour around Europe. It's a really enjoyable watch. We'll let Jamali explain more himself...
How would you describe Brexit Stage Left?
For me personally, I think the show is a sort of love letter to the freedom of movement being in the EU allows us.
Basically, the show is a group of comedians travelling around different places; Amsterdam, Dublin, Copenhagen and Berlin. Each of us has a specific location, and we do a stand-up set in that city.
During the tour we performed at various comedy nights to a mix of locals and ex-pats. The comedy wasn't heavily influenced by Brexit or anything... it was just my love letter to Europe.
I definitely wanted to do Amsterdam and Copenhagen, and I asked the other guys what countries they'd like to go to as well. We then sort of worked out what was available, in terms of the logistics of working out availability of venues and travel.
The other comedians travelling with you are Fern Brady, Alfie Brown and Sean McLoughlin. Who compiled the group?
The channel were pretty cool in that they asked me who I wanted to go with. I know Alfie, Sean and Fern pretty well and knew they'd be good people to go with, and that they all like each other.
We're all kind of different and funny in our own ways, but we always have a good time away together... so I thought who better to go travel around Europe with, you know?
You spent a lot of time with each other. Did you fall out at any point?
Nah, we all got along. I'm used to travelling with people. There was no issues that I saw.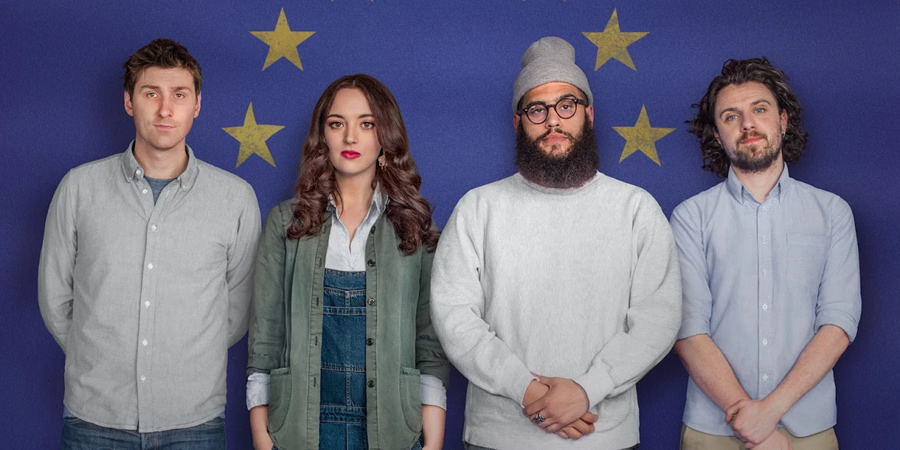 As viewers will see, you're performing in English but in foreign clubs. It seems there were no language barriers. The audiences were fluent in English?
Yeah. I've been working Europe for maybe about three years now, and there are comedians who have been doing it long before me. These are countries that speak perfect English.
The internet has opened comedy up. There can be fans in Estonia watching Louis CK. I've done shows in Slovakia, Lithuania and such like and they understand what's going on. Europe has been really good to go to.
Do you have to think about making sure your references translate?
You've got to be kind of conscious about it. They understand concepts and ideas the same we do, but if I started doing a routine about Bruce Forsyth they probably wouldn't understand, you know? That's obviously understandable. But the majority of references do translate.
I've worked Europe enough now I'm already in the mindset of not trying to do too much UK-specific references.
We see more than just the gig... you also experience the local nightlife of each place. Did having cameras present ever change how the locals reacted to you?
Yeah. That's human nature you know. When you feel like you're being watched you'll change your actions. But nothing too bad, the camera wasn't invasive to people, so I think it was fine.
We filmed for like quite a long time so we could edit it down, but also we did have time off of the camera.
So, now you've filmed the episodes, do you have any conclusions?
No, not really! Ha ha.
The show is what it is. It's just a funny show, man. You know? It's just a couple of friends going around Europe, smoking some weed, drinking some beer, having a good time, and trying to make people laugh.
Do you think you'll get to film another tour?
We'll have to see how this one goes. I know you at British Comedy Guide like it, but we'll have to see what others think too before we start thinking about a second season.
Would you invite different comedians next time?
Er... Nah, they're my crew, man. I love them, I'd happily go with them again.
Lots of people say it: You're a very cool person Jamali. Do you have any thoughts on the concept of cool?
Not really. I dunno, I think if you reference yourself as cool then you're not being cool mate. There are different ideas of what cool is. I'm just a normal guy, I don't see myself as cool or hip or jazzy... er, is that a word we use now? Ha ha.
What's next for you?
I'm filming some other stuff, I'm working on a new stand-up show - hopefully I'll do another tour next year - Europe and the UK again, try and do America, go to Australia. No Edinburgh for me this year, but I've got a couple of projects coming up that you'll hear about soon [Since our chat, it has been confirmed Jamali will film another series of his documentary show Hate Thy Neighbour].
It's interesting you mention America there. Do you have plans to 'make it' in that country?
I've been over before... not necessarily to do stand-up comedy, but I've been there. I've filmed my other TV show for Vice there. I like it there. But I'm happy here too.
I just want to make good work, and I think the idea of going somewhere else to give it a crack has never really been a goal of mine. I'd like to work in as many places as I can... I like travelling, I like playing to different crowds, and seeing the world.
The idea of 'making it'... I don't really have the same concept of that as some people. My idea of 'making it' is just being able to pay the bills and making work I'm happy with.