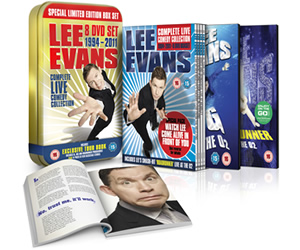 Known for his energetic stage presence, uncanny observations and slapstick humour, Lee Evans has been king of the comedy circuit for over two decades.
For the first time ever, his entire collection of live show DVDs have been brought together in the Lee Evans Special Limited Edition Box Set 1994-2011 (pictured) - which is out today in the shops and available to buy online.
To celebrate this release, we look back at some of Lee Evans' greatest observations, via the medium of video clips...
Lee Evans on... airports
Lee's ability to express his obvious frustration through movement only serves to embellish his brilliant insights. In this clip Lee comments on the exasperating toils of airports by bringing up the apparent absence of Gate 1, the double standards of luggage weight and how to get around the system.
Lee Evans on... football
Lee is often the first to point out ridiculous aspects of society, so "the beautiful game" is an obvious target for the funny man. In this clip, he highlights the sheer amount of advertising that goes on around football and suggests the only logical next step to product promotion.
Lee Evans on... the Olympics
Never one to consider a normal reaction to a global affair, Lee Evans looks to the often overlooked members of society for a comedic response. Ahead of this year's Olympic games, he pointed out potential issues that may have come up due to the decision to hold the international sporting event in the East End.
Lee Evans on... 999
Evans has the innate ability to point out stupidity wherever he sees it, leaving nowhere safe from his observational comedy. In this clip, Lee reminisces about old style telephones and why it wasn't particularly wise of the emergency services to choose 999 as their crisis number.
'Lee Evans - Complete Live Comedy Collection 1994 - 2011' is available to own now for a bargainous price. Packaged in a shiny tin, it features 8 DVDs plus an exclusive tour book with previously untold backstage stories: Details & Order
A slightly cheaper set, without the limited edition tin and booklet, is also available to buy