Steve Best is a comedian and photographer who has managed to combine his two passions into a fascinating career.
Being a stand-up himself, he's welcome in any green room (camera and all) and knows how to get shots from the stage without throwing off the performers. And, of course, he knows a lot of the acts personally from years on the circuit.
Steve's released two books with photographs of famous comedy faces over the years, and is working on his third book, Comedians Back to Front, pictures of comedians backstage and front of stage. He is currently in the process of crowdfunding this book
We caught up with Steve to find out more his start in comedy, and how the books came about.
How did you get started in comedy?
I've never done any job except being a stand-up. I was fantastic at school: all A-grades at O-Level and went on to A-Levels. But then I got into magic and comedy and messing around, and started doing kids shows. I kind of mucked up my A-Levels. In fact, I managed to get another O-Level at French A-Level, due to the A-Level exam result being so poor.
From magic and kid shows I went on to do a summer season in Devon and Cornwall performing adult comedy and then on to the 'alternative' (mainly London) stand-up circuit... and that was it. I was hooked.
As for the photography, I've always done it on the side. Not for money; just because I was really into it. I happened to have a camera with me about eight or nine years ago in a dressing room of a comedy show, so I took some shots. Originally it was just for fun, but I put a few online and some people suggested I put them together as a kind of record of the circuit at that time. And that's where the first book came from, Comedy Snapshot, 428 of my pictures of comedians with their one-liners and their weird and wonderful facts.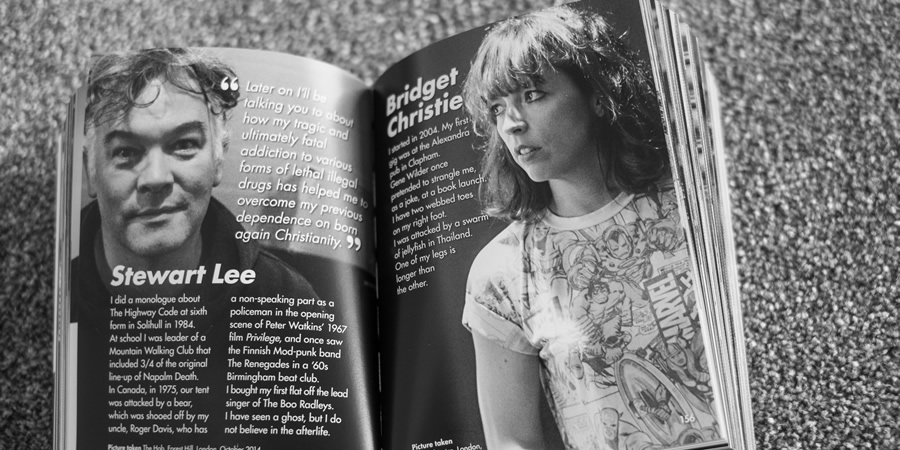 What's it like being a comedian photographer?
Coming at it as a performer first, rather than a photographer, really helped. A lot of the more famous people I know, I'd never have the kind of access to them I do if I were a photographer who happened to dabble in stand-up. That means that in Joker Face (my sequel to Comedy Snapshot with 528 comedians) I've got some really lovely candid shots that I just couldn't have got otherwise.
In fact, it's quite odd when I'm at a night just photographing and not going on stage and meet a newer act who doesn't know me, and they then treat me as a photographer.
There are a few other people who do comedy photography, and even a few books. They get, say, 50 comedians, all posed and properly art directed. But what I try to do is a little different. It's still got the quality, but I'm trying to be a little more candid.
I took a picture a while back of Frankie Boyle on-stage, with me spying out from behind the curtain so you've got this big crowd, the lights shining down, and Frankie. And the spotlight shines through his glasses and you can see a star of light shine through them. They're the shots I want... especially for the Comedians Back to Front book.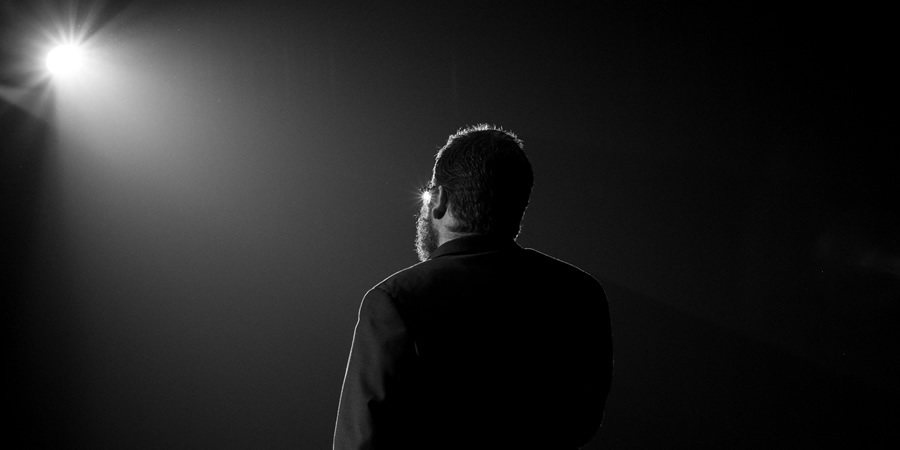 Joker Face, which was originally crowdfunded by Unbound and taken on by Penguin Random House, has only just come out and the one I want to 'get out there' at the moment. It's very much like my first book, Comedy Snapshot, although the photos are rather better, all taken on a tip top Fujifilm cameras.
Fujifilm started loaning me their top of the range kit as they really liked what I was doing. And, like Comedy Snapshot, it is full of the comedians' one-liner jokes and loads of great, weird and wonderful facts. I specifically asked for facts that no one else could find out, so these aren't the kind of things you'll find on Wikipedia.
These books are never going to be a massive money-spinner, books rarely ever are. In fact, with the first one I made a slight mistake by saying everyone who was in it would get a free copy. That was 428 people.
But it's fun to do, and I'm hugely proud of the work. It's not been done before and it really is a great record of the circuit.
Who would be on dream list of people to photograph?
Rowan Atkinson, Ben Elton, Eddie Izzard, Tim Minchin would be big ones. Steve Martin, definitely, as I was such a fan of his stand-up - although generally speaking I only do British acts, but if people are over and I get the chance I'd love to get people like him; Woody Allen, Jackie Mason; you know, the icons.
When I decided to do the sequel, Joker Face, I sat down and made a wish-list of people I wanted to get - your John Bishops, Jimmy Carrs, Stewart Lees and so on. It's an interesting thing really, there is an issue of trust around it. I rely on the fact that I know these people, and that they trust me.
When I wanted to get John Bishop I went through his management, and they said that they didn't really want me making money out of other comedians. I'm trying to explain over email what exactly it is that I do, and the fact that the projects have yet to breakeven... and, in fact, how much time and money I have put into them... It was back and forth for about a month, we had a contract all prepared and everything, but then his management came back and said he was too busy...
Then I saw he was doing a night with an act I knew, so I went along, sat down over a beer and explained to John directly what the book was. I explained that the whole project was really a labour of love, and he said "let's do it".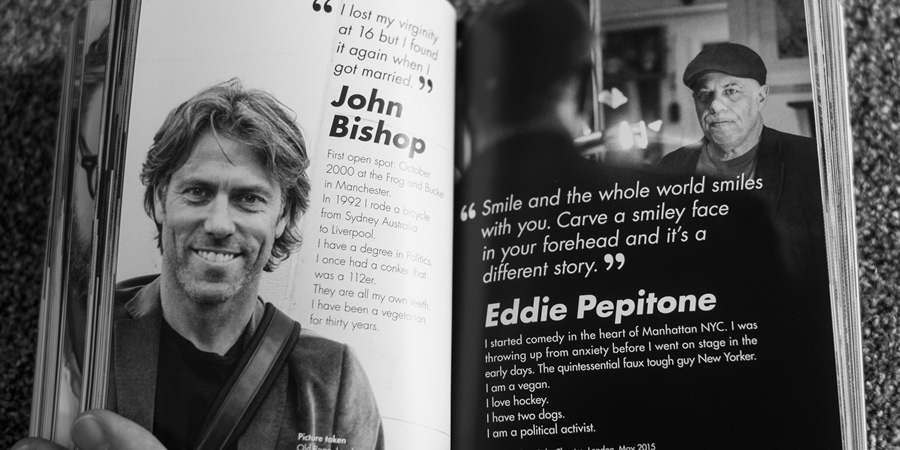 But if, later down the line, I go back and say "Look, I'm going to use that picture to make myself lots of money", then it starts to get a bit muddy and I would certainly go back and get permission.
On the other side, I took a picture of David Baddiel, and he asked to use it in his brochure for his West End hit show, My Family: Not the Sitcom. The same with a picture I took of Tim Key which he used for his Soho Theatre show.
What are your views on the current stand-up circuit?
I was making a good living out of comedy, I was headlining clubs and making a really good living out of it, but the middle's fallen out. You've got the top bit where people will pay to go see them, and the bottom bit where open spots are just doing their stuff and getting stage time, but that middle bit is getting harder and harder.
To start as a stand-up [now], you have to have a day job. You have to work the 9-5, then go and do the open spots for 2 or 3 years, but the progression to those middle paying gigs are vanishing.
Some might go into it straight out of uni with a business plan and an ambition to do it, but it's incredibly hard. And there are people doing the reverse journey now, so people who were full time stand-ups are trying to find other bits to make some money, or getting an "actual" job.
It's very hard to learn certain bits of stand-up. I think you can learn how to write jokes, and how to perform. But sometimes that funny bones, or something extra, that's just natural. I'm actually a visiting lecturer now at Middlesex University - on the drama course they do a comedy module for two months. It's great, I really enjoy it. You forget how much you know!
It's impossible to generalise, but you can often see straight away who's got the funniness. Some people can work really hard at it, but there's a few who you can just see there's something there. But most of them won't carry it on.
Actually, there was one person on the course who carried it on. And I got a picture of him for the book.