Milton Jones is set to take on one of the lead roles in Be Lucky, a new radio sitcom. The show, which also stars Elis James and Jo Joyner, will be on BBC Radio Wales (and BBC iPlayer) in October. First it has to be made though... here, ahead of the recordings in London, we have a brief chat with Milton...
Hi Milton. How is life? Have you been having a busy summer?
For a number of reasons, I have deliberately pulled the hand-brake on my life and have had an almost empty August.
I bought a car with an open top roof and went round and round the local area seeing if I could see anyone I knew. I have less friends now.
I'm ready for action in September now! A new Hawaiian shirt too - with real ham and pineapple... mmm. Well, there was.
You're about to record Be Lucky. How does your character Gabriel fit in?
It's about some people who live in rural Wales. Gabriel is the slightly oblivious but ubiquitous postman. He says lots of funny things.
Playing a bit of an idiot is going to be a bit of stretch for me obviously.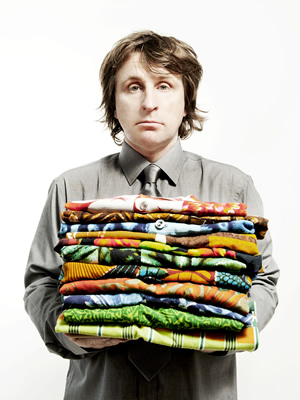 You've previously worked with writer James Cary on your own radio shows... are we right in thinking you particularly enjoy working in radio?
I like radio because you can travel anywhere and do almost anything (as long as it makes a noise) and, best of all, you don't have to learn your lines. This does not mean I don't want to do television though. One day someone will let me, and then everyone's going to be very sorry.
James is a prolific writer and comes up with lots of stuff I wish I'd thought of. I can pass them off as my own in my own radio show but this is going to be lot harder, what with him having written all of this.
Be Lucky is for BBC Radio Wales. Do you need to put on a Welsh accent for the part?
Apparently not. Nor dress up in a traditional Welsh woman's costume, it turns out.
Talking of clothing, do you only wear your trademark colourful shirts when on TV and stage, or do you dress up for radio too?
When I do my own radio show I wear one of 'the' shirts. But with Be Lucky I will be incognito. Like a humble actor. A black polo-neck perhaps. And some Shakespearean tights. On my head.
Mock The Week is back next Friday [9th September]... have you got some Brexit gags lined up?
We held a referendum and, surprisingly, decided to leave the Brexit jokes. By next week the Health Service will have collapsed, the Labour Party will have divided in three, and Russia will have invaded somewhere else - so, relax, there'll be plenty to laugh about.
You can see Milton, Elis James and Jo Joyner recording 'Be Lucky' at the Pleasance Theatre (Islington, London) on Wednesday 7th and Friday 9th September. Tickets are free! More info & get tickets