Russell Howard talks about appearing on The Great Celebrity Bake Off for Stand Up To Cancer...
Can you bake? Rate yourself out of 10.
Zero! I cannot bake! I've never baked before, I've never seen the show, I didn't know that the aim was to get a handshake from Paul.
So nobody has ever taught you how to bake?
Nobody. I lived on my own from the age of 20. I started on Pot Noodles, substituted that with pasta, now I can make decent fajitas. Neither me or my wife are any good at cooking. My wife's a doctor, and I'm a comedian, and by the time we both get home we are frazzled, and Deliveroo is our friend!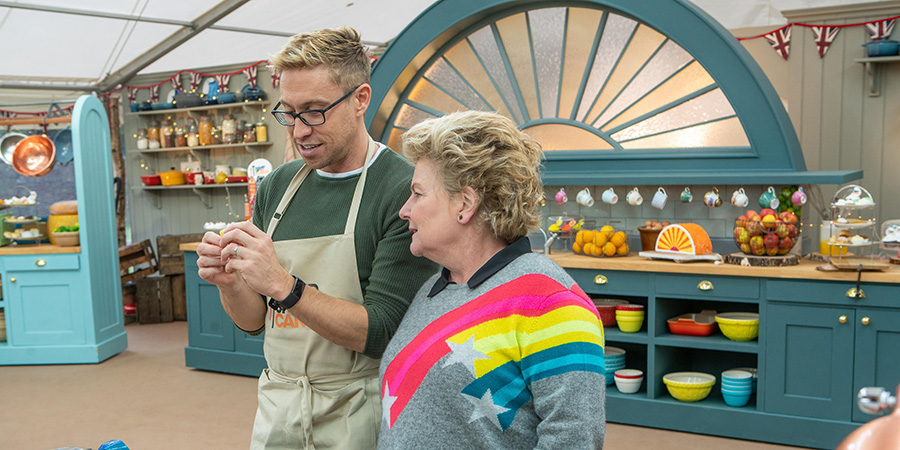 So you've never seen the show before, you had no idea what you were getting into?
No! I've seen people speak of it, obviously. And I've caught glimpses of it, but I've never watched a whole episode. I'm not really a cake man. I'm more a savoury guy.
Were you nervous about appearing on the show?
Nope! I fully anticipated making a fool of myself, and I have absolutely no problem with that.
Who do you see as your biggest competition?
They're all good. Jenny is genuinely great, Louis is methodical, like a competent serial killer, he's got that vibe. He plans it, he chops everything up with precision. At the beginning, I thought me and Ovie would be point last, but he's actually looking really good. Theirs looks like food, mine looks like children making food out of Lego.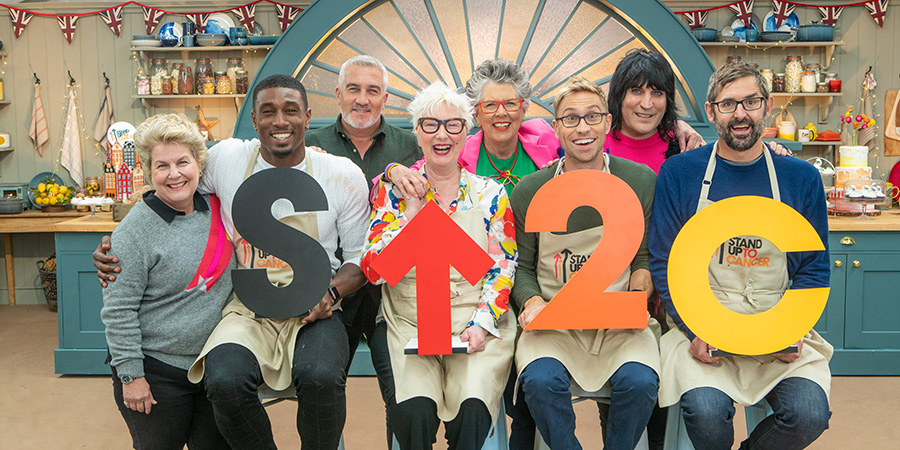 What do you think strength in your baking might be? Are you cool under pressure?
Oddly, I am really cool under pressure. I find it more stressful trying to make vanilla slices in a tent than trying to make 15,000 people laugh in the O2. There have been moments when I've contemplated drinking the hand sanitiser gel, just to ease the pain.
Why are you supporting Stand Up to Cancer?
Everyone's been affected by cancer, either directly or indirectly. Anything that raises money towards trying to win that battle is a good thing to do. So if you flip out for an hour-and-a-half making a vanilla slice, and it makes people laugh, then great.
Did you get any advice when you were preparing for this show?
No. I don't have any bakers in my circle of friends. I really wish I was a distant relative to one of the Kiplings, and I could have got in touch. I kind of had this naïve arrogance that I thought I'd be fine, and I'm not sure that's going to be the case.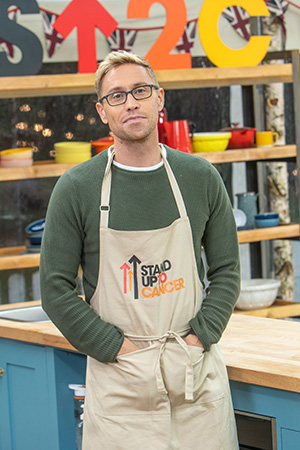 Are you competitive? Do you want to be star baker?
I'd love to do well. I don't like doing things badly, that just feels like a waste of a day.
I once had a dream that I was choosing between Tesco's own batteries and Duracell batteries for eight hours, and I just couldn't decide which was better value. I couldn't wake myself up out of this dream, and that's what it felt like making vanilla slices. I was stuck in this creamy inertia. I was so deeply frustrated. Whatever the opposite to a happy place is, that's where I was.
If you were a baked good, what would you be?
I would be a vanilla slice, because I'm more complex than I look.
You spend so much of your life on tour, do you exist on biscuits and cakes and pies?
We've got catering on tour, which is amazing. They prepare you healthy food, so if you must rig up the arenas, there's a big crew to feed. The food is amazing. It's a bunch of guys who are really into their heavy metal music, so you hear this proper fat metal coming out of the kitchen, and then this dainty food! It's beautiful. So the days of pies and crisps are gone.
When you first start doing stand-up, everyone puts on a stone-and-a-half, because you're driving back on your own, eating pasties and chips and crisps, late night food. And then, if you're doing longer shows, you end up having to take a breather. Oddly enough, you have to be quite fit to do stand-up.
Published: Tuesday 10th March 2020