Frankie Boyle novel
Frankie Boyle writes debut novel
Frankie Boyle has revealed he has written his first novel - a crime story set in Glasgow
The comedian is due to finish Meantime in the next few weeks, and is set to look for a publisher
He says: "It's a kind of multicultural, postcolonial idea of Glasgow", adding "It's really good, I'm really proud of it"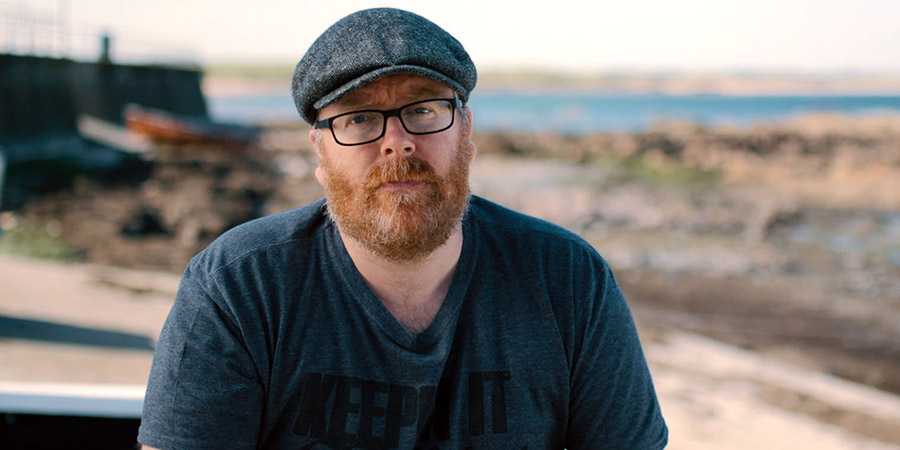 Frankie Boyle has written his first novel.
Set in Glasgow in 2015, Meantime is a "multicultural, postcolonial" crime story about his home city.
Taking on Instagram, the comic revealed that he would finish the book in the "next two or three weeks" and was now seeking a publisher.
Boyle had originally planned to release the novel, the title of which has yet to be revealed, as an audiobook. But he abandoned that idea when he realised he couldn't do the accents of all the characters in the story.
"I'm quite impressed with myself for persevering with something novel length" he said on Instagram. "I'm not really a persevering sort of guy, I'm more like if I ask someone directions to a place and the directions are too long I just won't go there.
"The original idea for the novel was that it would be a spoken word piece but it got longer and a lot of the joy of it is in the dialogue.
"It's a kind of multicultural, postcolonial idea of Glasgow. There's a character who's a London woman with a Zambian background, there's a middle-aged guy from Edinburgh, there's an Indian lassie, there's a Scottish Chinese guy, all this kind of stuff."
Boyle has published five books so far, including his 2009 autobiography My Shit Life So Far and a 2018 collection of his Rex Royd graphic novel, co-written with Mike Dowling. He has just released an audio version of his 2020 book The Future of British Politics as part of his latest album, Prometheus IV.
"It's really good, I'm really proud of it" he said of the novel. "But as it got longer I realised I can't do all those voices or really sell it in any way.
"It's got to the stage where I could get a Scottish actor, because the main voice is Scottish, who could do this. Somebody said to me James McAvoy, if you have seen Split he could do it brilliantly but anyone else would detract from it.
"So I guess I'll have to find a publisher, I've never really done that before so let's see what happens."
The comic had previously been writing a crime thriller about a Valium addict who tries to solve a murder, which he revealed to fellow comic Bruce Morton as part of Previously..., Scotland's History Festival in 2014.
Offering an insight into his sometime writing process, he told Morton that "I can't really remember much about my autobiography because I was on ecstasy. I holed up in a hotel room for like a month on ecstasy and just wrote it".
---
For updates, click the button below.
Share this page