Vic Reeves & Natasia Demetriou
Vic Reeves and Natasia Demetriou are presenting florist challenge show The Big Flower Fight on Netflix. Here's some thoughts from them...
Vic Reeves interview
Can you sell the show to us?
There are some very, very keen people who produce these magnificent structures almost out of nothing, and very quickly. It always astonishes me. On the first day, you go in and there's nothing, and by the end of that day there's something quite incredible happening.
They're so passionate about it and it's great to see anyone with that amount of passion producing anything. If they've got passion, you're with them.
Is it competitive?
It's quite tense because they haven't got much time. And there are other people - mentioning no names - who go and steal off other people. There have been moments of theft. Which has been noted by the judges. There's a high level of competitiveness now.
Why did you sign up to this?
This is a dream job for me because I only live half an hour away! It's perfect. And it sounded like a great idea, so there was nothing to think about it.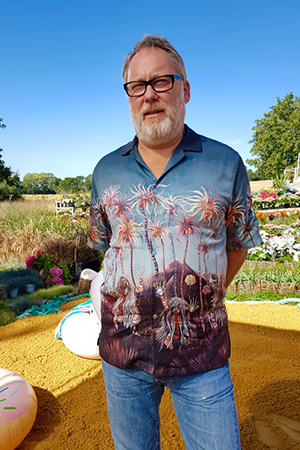 Are you into gardening?
Well, I'm into everything. I do try and garden, with a degree of success. I've got a raised herb garden and that fails regularly so this year I stuck some tomatoes, courgettes and beetroot in, and it all happened. It bloomed. But other than that, I get a
gardener in.
But I think that works quite well for this show. My position in this is to be a viewer. If I do get a plant's name right, I get quite excited. Other than that I just try and say something witty now and again.
It's really good fun because there's a lot going on. I'm an art school boy so it's quite exciting to me that there's a lot of crafts going on; it's not just plants.
What are the contestants like?
There's a good amount of gardeners who know all the flowers, but there's quite a lot who are as naive as me! But they know how to make things look good from a sculptural point of view.
And there's some great characters there. I don't think I've ever seen a show with this amount of big characters in one place.
It's not Gardeners' World. It's punk rock gardening. I was looking around yesterday and thinking, a lot of the people here could be in bands. It looks like a documentary about some rock and rollers instead of gardeners. It's really good.
Seeing the end product is really quite exciting. The scale is incredible. They really put blood, sweat and soil into this. They must have headaches at the end of the day because they don't stop.
What's your role within the dome?
I go around chatting with them, have a look at what they're doing, ask them questions. Then I'll stand with the judges and comment on them, and kind of liaise with them. I'm really the conduit between the contestants and the audience. I'm kind of on their side. If the judges are giving them a hard time, I'll try and alleviate that a little bit.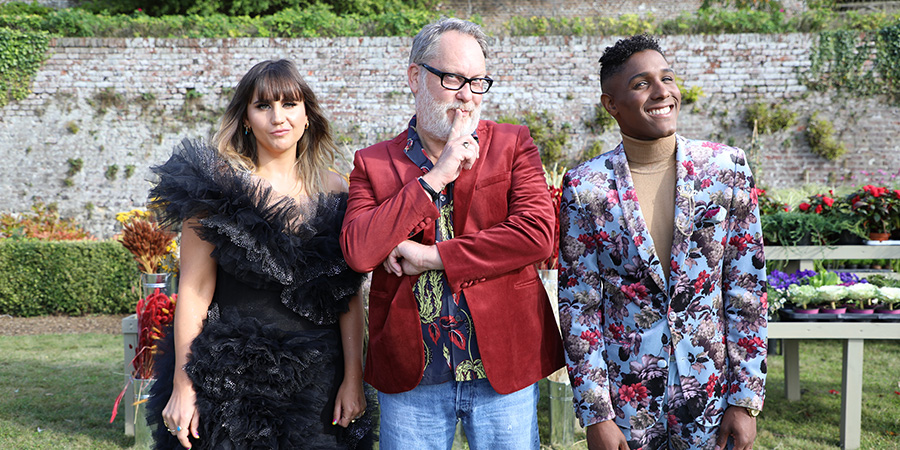 How would you describe the judges?
Kristen [chief judge Kristen Griffith-VanderYacht] is hilarious. He's very good at what he does and he's great at verbalising what he's thinking and what they should be doing. So he's a master at his craft, and you have to believe him. He's a very warm and funny person. He's not a Simon Cowell by any means. He actually has got a skill, for a start! So when he says something, he's being critical but he's being kind at the same time because he really wants them to succeed.
The guest judges are all highly skilled. They are really from the top echelons of that world. They've all been really interesting characters too, and highly skilled, and excellent at explaining themselves.
How do you get on with Natasia?
We hit it off straight away. We hadn't met each other before so you do wonder, 'Is it going to work?', and if it doesn't happen straight away then it's not going to happen at all. You can't fake camaraderie. We get on really well.
Are you quite an empathetic person?
You've got to be because you can see them getting worried and you root for the ones who weren't doing as well the week before. You feel for them because you're human.
Is the show inspiring your creative side?
Every day I've got nothing to do for four hours in between the opening bit and the wandering around with the judge bit. So I've moved half my studio over here and I'm painting all the time. That's another reason why this is the perfect job for me! It really is a dream job, honestly.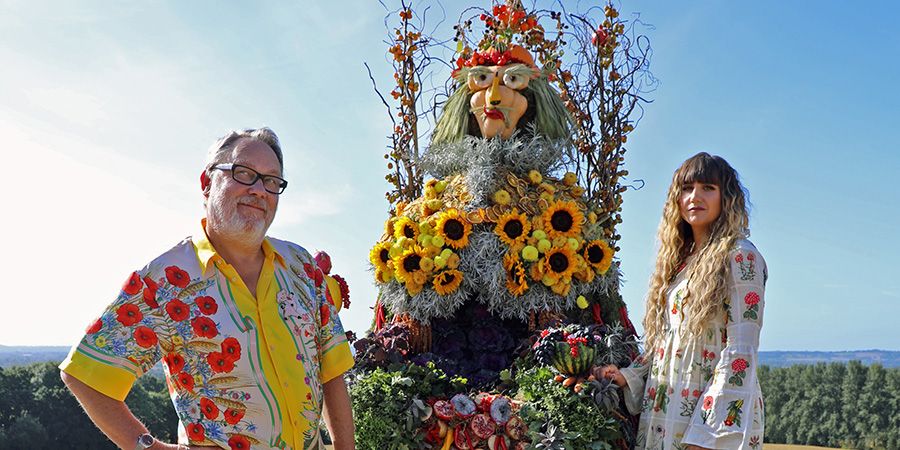 What are your thoughts on the environmental message?
There are always elements to each challenge they have to stick to which is environmental. There was one which was the most, which was using plastic to highlight the amount of rubbish in the sea.
I always have been interested in conservation. In fact, when I was at school, in 1976, I did a project about the amount of rubbish in rivers, and I put my heart and soul into it. I failed! I don't know why. I was gutted because I was passionate about it.
I've spent most of my life in rivers and seas. I was in Surfers Against Sewage in the 1980s. I loved bird watching as a kid and I could probably tell you what any bird was, to this day. I'm a big wildlife fan. It's really important. Highlighting anything is worthwhile.
Natasia Demetriou
Why did you sign up to The Big Flower Fight?
I just really loved the idea of it. I've got a little tiny balcony and I've recently gone insane with flowers out there. Although since I've been away filming this show, it has turned into a morgue, which is sad.
I was nervous because I've only done acting and to be myself was a bit 'ooh'. The big clincher for me was Vic being the co-host. To dance around a field with him was just too exciting. I'm such a fan and I'm always getting him to do the voices of characters I loved.
I just thought it would be a really fun job. It's a subject matter that I really love, and I really believe in the healing powers of plants. I wrote a whole sketch about cacti once. I love a cactus. The sustainability element was really appealing to me. It's not wasteful. It's not like, 'Best Plastic Toy Maker'.
What are your credentials?
Oh, none, I'm just an enthusiastic Saturday garden centre shopper. I'm just the one that walks around going, 'Oh, these are pretty', and then you get to the till and go, 'Would this be good on a balcony?', and they go, 'No'.
I do like being outside. My family has dogs and so we go out walking a lot. We all love gardens, though, don't we? Pruning our rose bush and chatting to the neighbours. It's very British.
I used to be a nanny and a lot of the parents had quite high-powered jobs, and they would always be in the garden at the weekend to chill out. It's like our sanctuary. Houseplants have become a gigantic business too haven't they, recently? I think
we're all so achingly aware of the climate and sustainability and the ability to grow your own stuff is soothing for your soul when you're so unbelievably anxious about everything else.
The conservation message of The Flower Fight is important to you?
Yes. Of course. I think it should be the most important thing to everybody. Enough is enough. We've had our fun. We have to start reversing what is happening now. I think nature is real-life magic. When you look at a bee going up to a beautiful flower and taking pollen you're like, 'how is that happening?' It blows your mind.
We're filming this in a beautiful area of Kent and we've seen so many birds and insects and it's incredible. It would be nice if we could be more excited about birds than man-made stuff.
I think from working with children so much and reading so many picture books, you realise they are all about animals. And you look at these elephants in the book and think, 'Is this only going to exist in drawings one day?'
What do you think of the contestants?
I don't want to sound fake, but I genuinely love them. You get to know them so well. They're all amazing, and lovely, and funny, and different, and weird. They're an amazing bunch of humans.
Even when I'm not on camera I peer in to see how they're doing. I want to get involved SO much. I'd like to get stuck in more, but I'm always wearing a nice dress so I can't! I've asked for a side table so I can do my own little project but they were like, 'Um, we've got enough on our plate'.
I do find it so soothing, doing something creative, especially in this world of phones and laptops. It sends me into a trance of relaxation.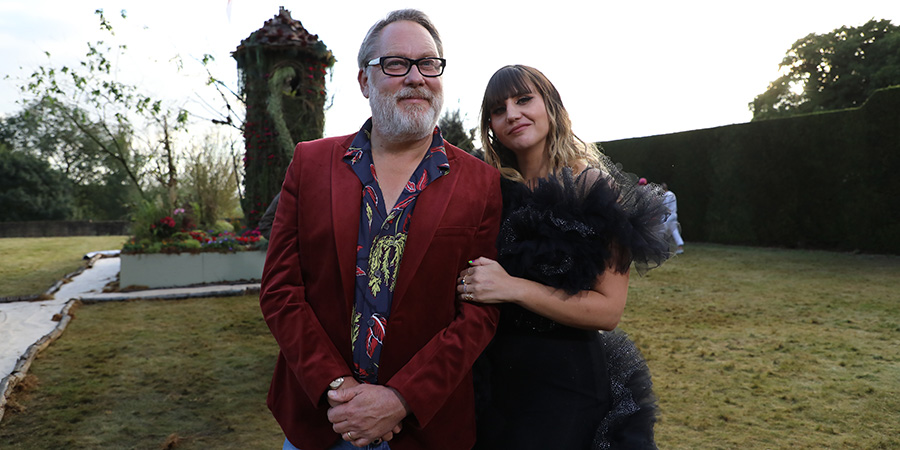 Is it your role to be funny, or empathetic?
I really just wanted to come into this as myself. There's no plan. Sometimes I feel sad, sometimes we mess about. I just react honestly, how I would feel if there was no camera.
Have there been any dramatic moments?
There have been some wobbles. One of the teams felt really out of their depth one week. There was a lot of thieving for a couple of weeks! It's legit a competition. You'd go in sometimes and there'd be real tension in the room. A couple of structures have fallen apart. That's hard after 14 hours of working on something.
They're not fake people that Netflix made. They're not robots. They're real people who put blood, sweat and tears into their work, and they want this. There's genuine jeopardy, and I feel it.
How do you enjoy working with Vic?
It's a dream come true. Within a second of meeting him, he was making me laugh. He's the kindest, most chilled, funny man. A lot of the stuff we joke about will never be shown because it's too stupid and too puerile. I could work with him forever.
I told him I love his artwork and he made me a painting and left it in my dressing room. It was a picture of my shoes. He's an amazing artist. Whenever he's got some downtime he's in his room painting. He's a lovely, wonderful, generous man.
How do the two of you work: is it mainly scripted or off-the-cuff?
Very off-the-cuff. You do have to script some stuff because you do have to tell the audience a lot of information, as I am learning! But we are given a lot of freedom. When we chat to the contestants, we just chat. It feels very natural. We just roam
around the dome picking up whatever we can find and turning into a comedy prop or a wig. I've used too many flowers as pretend microphones.