Amelia Gething captured people's attention via the videos she uploaded to the internet. Now's she's made a series for the BBC...
Hi Amelia. You started out online?
Yes, I started by making mini sketches and videos on my phone and posting them on an app, called Musical.ly. About a year later, I'd saved up enough money and bought myself my very first camera which I used to make short form comedy content and share it on YouTube.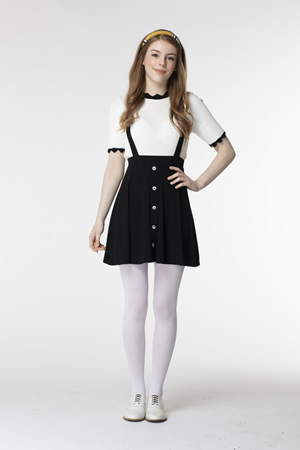 I honestly have no clue how people found my content, I just posted what I liked and people seemed to enjoy it to the point where I had a fan base. It's very cool but also really weird when you think about it.
So many people think that you need a big budget to make good content but that's definitely not the case; when I first started out I had about £2.50 to my name and filmed everything in my bedroom. I didn't use sets or big fancy lights, just the light from my window if it was a sunny day, and I let my imagination do all the work!
What is the biggest challenge in terms of making online content, and curating an online presence?
The biggest challenge for me, I think, is having to frequently come up with new and fresh ideas for sketches that people will enjoy and find funny.
It's great when I have an idea I'm passionate about, but that's not always the case since creativity comes and goes when it likes. When I run out of ideas I usually just ask my friends and family for help.
Which platforms are most important to you?
I'd say the platforms most important to me would be my Instagram and my YouTube channel as they are what I use most often and where I share the majority of my content.
For those that haven't seen your online content, which video would be a good introduction?
One of the videos I'm most proud of is called True or False, which is a sketch about some people who always tell the truth, some who always lie and a detective who is trying to figure out who's who.
It's one of my favourite scripts I've written, as it's so complex and difficult to figure out.
It's also a good starting point for someone who is new to my channel as it demonstrates the sort of weird theme I have running through all my sketches: me playing all the characters, all the characters being really strange and everything is always set in some weird reality or dimension that makes absolutely no sense! So good luck trying to figure it all out, haha.
For anyone looking to make content for the internet, what tips would you give them?
There's no manual for the job I do so I'm not the best at advice, but I'd say to just make and create whatever it is you enjoy doing, and to always just be yourself and embrace your individual talents!
You've made a series for the BBC. How did that come about?
The BBC had seen some of my sketches I'd been making and approached me about creating a comedy series which I was, of course, over the moon about! The very first conversation was about a year and a half ago, in late May 2018, so I'm super excited for it to be finally coming out!!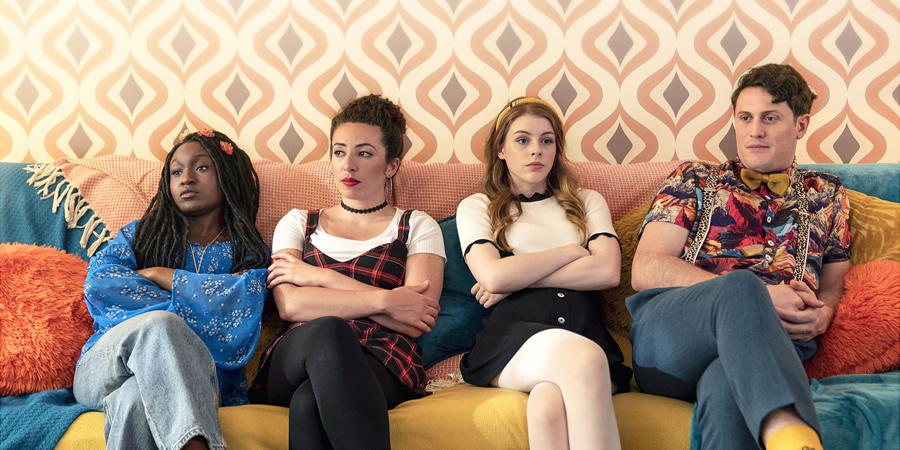 What can people expect from the show?
It's hard to explain what the show is about because it's so random. But in a nutshell, it's about three flatmates and their neighbour who live in an alternate reality where wizards, wormholes, dinosaurs, time travel and much more exist. It's like a sketch show but it has a loose storyline to link all the sketches up. And it's very, very, weird.
At the start of the first episode we see you rip up the rulebook for how TV shows are supposed to be made. Your show is multi-layered, isn't it?
Yeah, the show is very unique for many different reasons, such as breaking fourth wall... a lot - and it's got a very individual type of comedy and editing techniques.
I think it's also really cool that the four main cast play all of the characters because it just makes the whole show a lot more fun! And we definitely don't stick to the rules for how TV shoes should be made, hence why the show is so completely wacky and crazy!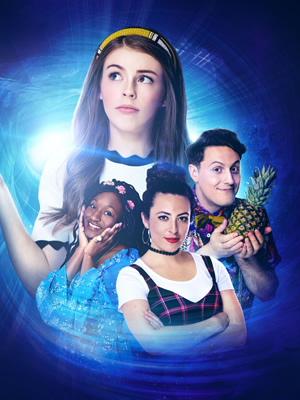 Having been used to making sketches on your own terms, what was it like being in a big production machine?
Working in TV is a lot slower, but it was honestly so great and easy compared to making sketches on my own terms, because having a whole team of people means I don't have to worry about everything, which is what I'm used to with my own content.
I was blessed with a brilliant team of people, everyone from every department is just so good at what they do. I would ask for lessons on how to do everyone's jobs and they'd let me help with the lights and explain to me how the camera operates; it was great!
We all would get along so well behind the scenes as well, so it's also a lot more sociable to what I'm used to which was one of my favourite things about working on the show.
Your fans are waiting keenly to see the show. Any message for them?
You gon' love it kiddos!
What's next for you?
Now I'm gonna be diving a lot more into the traditional acting world, as this is what I've always wanted to do... but, as of right now, I'm about to eat a donut.
---
The full series of The Amelia Gething Complex is available on BBC iPlayer from October 5th. Also on BBC Two later in the year.