Online sitcom Meet The Adebanjos gets second series
Online sitcom Meet The Adebanjos gets second series
---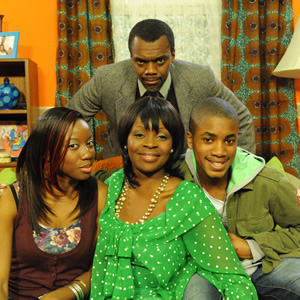 Meet The Adebanjos, a studio-style British sitcom series which was launched online rather than via television, is to return for a second series.
Earlier this year producers Andrew Osayemi and Debra Odutuyo created an 8-part series of the new family comedy, which focuses on larger-than-life dad Bayo Adebanjo as he struggles to impose his old-fashioned African values on his offspring.
The series pioneered a new business model whereby some episodes were shown online for free, with fans then encouraged to buy the full series on DVD. Additionally, by launching the sitcom online, the show bypassed the traditional slow moving and tight broadcast media commissioning process. Three episodes from Series 1 of Meet The Adebanjos have since been shown on UK Sky channels including BenTV, OHTV and VoxAfrica; and the series is soon to be sold to foreign broadcasters, including TV stations in Nigeria and South Africa.
Following the success of Series 1, investment has now been secured to produce a second run. Filming is expected to start in July 2012 in a south London studio, and the series will be extended to between 10 and 13 episodes to make the show more attractive to foreign broadcasters (satellite and cable stations abroad often follow the American model of running programming in long quarter-year blocks). The second series will benefit from a larger production budget and increased time and focus spent during scripting.
Osayemi told British Comedy Guide: "We're thrilled Series 1 picked up a fanbase and pleased we have been able to demonstrate that it is possible to make a proper studio sitcom without needing to go through the red tape of trying to get a commission via one of the TV networks. We are very excited about making more episodes of Meet The Adebanjos next year."
Here is the trailer for the first series:
You can find out more about the show via the official website
Share this page