The Delightful Sausage
One random comedian, eight random questions: it's the ultimate test of funny person and fate. Actually make that funny people this week: it's Amy Gledhill and Chris Cantrill, aka saucy sketch duo The Delightful Sausage. Who, it seems, are on a roll.
"We're trotting out our Edinburgh show Regeneration Game on a small UK tour this February," the Sausage explain. "It's a bonkers show which on the surface is about community and culture but subtextually was only ever about bumholes."
That tour consists of an extremely manageable five shows, "including a return to the Soho Theatre, a night at The Lowry in Salford and finishing up at the Leicester Comedy Festival," they explain. "Work has officially begun on our third hour of nonsense destined to confuse middle-aged people in anoraks at the Edinburgh Festival. We think it's going to be about big business, petty arguments and a 2000 year-old demon-worshipping death cult."
"Aside from that we're doing what we do best, lobbing Deep Space Nine VHS tapes into the River Irwell."
Ah well, Irwell that ends well. Delightful Sausage, your Random 8 await.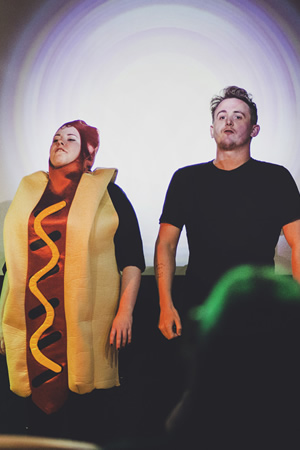 What was your favourite kids TV show?
We spent most of our childhood obsessed with Mister Thornberry's Haunted Closet for Grotesque Children. Never watched any telly though, sorry.
Do you have a good hangover cure?
All we know for certain is that a pint of vanilla-infused hot egg won't help anyone. It's just fuel on a bonfire.
What's your favourite bit of furniture, ever?
Amy has a beanbag she watches Red Dragon on. At this stage, it's posing a risk to public health but we can't bring ourselves to burn it. It was a gift from a man who no longer returns our pokes.
Ever met a disappointing celebrity?
We met big Hollywood superstar Tom Cruise last year when we toured the lurid music halls of the North West. He really didn't want to talk to fans and we were surprised to see him working in a bakery in Filey. Eventually he agreed to pose for a photograph on the strict condition we stop telling his customers the sausage rolls were "full of rat".
What's the best thing you ever bought a ticket for?
The Insane Clown Posse, live on Ilkley Moor. We suspect an admin Juggalo made a very serious booking error. They mainly just look confused but did say 'hello' to some ramblers.
Which reality show would you do, if you had to?
We'd love to be on I'm a Celebrity. Not that we care for the show, it would just give all the grub eating some context.
What's the weirdest thing in your wardrobe?
Another, much smaller wardrobe and it's what's inside that will blow your mind! Brace yourself and click here!
Do you have a signature dance move?
Chris always has his show-stopper backflip ready to go at any moment. While he's screaming in agony in a heap on the floor, Amy empties the till and we both flee the scene in the ambulance.