Steve Bugeja
One random comedian, eight random questions; it's the ultimate test of funny person and fate. This week we welcome the Hertfordshire heartthrob Steve Bugeja, a darn good stand-up who's been busier lately with a TV project, which you may know about already.
"Buffering is a brand-new sitcom that I have co-created with Iain Stirling, with the brilliant Eleanor Tiernan and Christine Robertson also co-writing some episodes," Steve explains. "It's an ensemble sitcom following a group of friends in their late 20s who are trapped in that delayed adulthood stage, waiting for their 'proper' lives to fully load."
Proper lives? Blame social media "telling us that our lives need to be perfect: we need the perfect career, the perfect partner and the perfect night out with the perfect outfit. These unrealistic expectations leave our characters feeling unfulfilled - the show is about learning that it's ok to fail."
Speaking of which, has the show turned out how they envisioned it, originally?
"When we started to write Buffering, Iain's character was the sole protagonist, but we quickly realised that in order to tell the variety of stories we wanted to tell we needed to expand the cast and make it an ensemble. We're so proud of it, I think we've included some issues that might surprise audiences, but we were keen for our characters to have real struggles, that we all go through in our late 20s."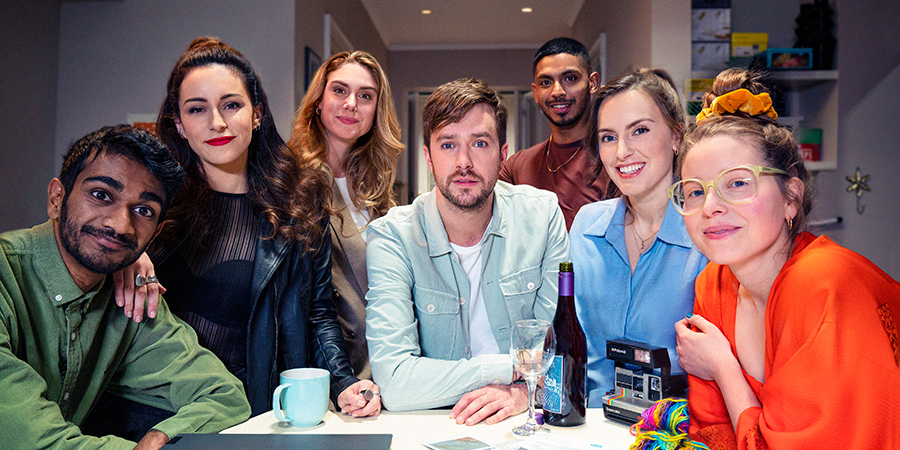 For Bugeja, watching the "incredible" cast bring their words to life "was a buzz like no other. We were so lucky to work with an amazing director Martin Stirling and producer Jane Bell, who really helped us shape the show into what it is, without them it would be very different (and probably bad)."
No such suffering for Buffering, thankfully, which starts on Thursday. And how were his lockdowns?
"Well lockdown delayed the show by one year, so I spent most of it sat on a Zoom staring at Iain trying to figure out plot holes. It was great to be honest, I find it weird being in a room with him now. But I missed live gigs so much, I had to start actual therapy to fill the void of talking to a stranger about my problems."
And on that note: Steve Bugeja, your Random 8 await.
What was your childhood career dream?
To be the minister for transport. I didn't have the self confidence to aim for a Secretary of State position or Prime Minister, and I loved trains so I just thought it would be good to be in charge of them. Couldn't care less about buses or cars, so if I had succeeded they would have really struggled, but the trains would have been incredible.
Which film or TV show would you love to have been in (and which part)?
Well, I'd like to say Friday Night Lights, I'd love to be a handsome, cool, complicated football player, just trying his hardest to impress Coach Taylor. Sadly at school everyone called me McLovin, so I feel like I would have slotted into Superbad more easily.
What's the best thing you ever bought a ticket for?
Six the Musical sing-a-long special. It was full of all the ultra Six fans, and we could all just unashamedly sing our hearts out. I was the oldest person in the crowd who wasn't a parent.
Ever met a surprisingly great/disappointing celebrity?
Iain Stirling, very difficult man to work with.
Which town (in Hertfordshire) should be abolished?
Stevenage. I went on my first date there aged 14 and my date brought another guy with her. You might think that this would make me realise that it wasn't actually a date, but I wasn't great at picking up on social cues, so I continued thinking it was a date.
We went and hung out at the park, but there were only two swings so we had to take turns to swap out. Really awful. But still not the worst date I've been on.
What's the best non-comedy room you've ever been in?
Any Wagamama's. Love the place. I love that they just stick you on benches next to random strangers to eat ramen. Every time I go I hope that I'm going to meet my soulmate; imagine at the wedding being able to tell people that you met each other when your knees grazed one another's while eating a donburi in Guildford Wagamama's.
Ever gatecrashed anything interesting?
No, I get social anxiety turning up to things I am invited to.
What's your favourite phrase or expression?
"Buffering is a smash hit, let's commission four more series."