Mandy Muden
One random comedian, eight random questions: it's the ultimate test of funny person and fate. This week that humorous human is Mandy Muden, the comedic magician who terrestrial telly fans may well remember as a semi-finalist in last year's Britain's Got Talent. And this week - Wednesday 24th, in Manchester - she's involved in another semi, if not actually competing.
"I am hosting the Funny Women Awards," announces Muden. "And I'm really looking forward to it."
It might be tougher going for the acts though: does she have any advice, on coping with important competitions?
"Having seen how good the semi-finalists were in the previous Funny Women Awards I don't think I can give them any tips," she says, "they were all so good."
"But from my own experience, when the pressure is on, just don't forget to enjoy it. I am sure there will be a great audience at the Frog And Bucket in Manchester and it would be a shame not to get the most out of the evening. Also - and this applies to myself too - don't let nerves get the better of you. I've been crippled by nerves in my career, and it is such a waste."
Thankfully her own career has progressed nicely, and a week after that semi Muden will be kicking off her Edinburgh Fringe run, with the show Mandy Muden: Is Not the Invisible Woman.
"So, talking of nerves my Edinburgh show will have a little tease about women of a certain age becoming invisible, and will be full of comedy, magic, illusion, mind-reading and some audience participation. Really I just want everyone to have a right good laugh and see some good magic too."
Magic. Mandy Muden, your Random 8 await.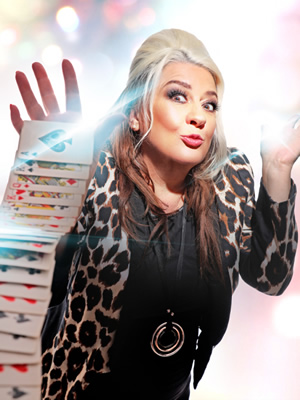 What was your childhood career dream?
I wanted to be a ballerina, but I was kicked out of ballet school for being too naughty. I knew deep down it was never going to happen. Looking at my figure now it really was never going to happen.
Which historical figure should get more attention?
All of the Suffragettes. It is still not an equal world but thanks to those women, women's lives today are a lot better than they would have been without them.
What's the best performance you ever gave?
It was with some Italian bloke years ago... lots of wine involved. Oh sorry, on stage... I'm hoping that's yet to come. There have been a few great moments - once I was working on a cruise ship and the whole audience walked out, there was only the deaf and disabled left. Somehow I managed to carry on going, just to make sure I got paid.
Who is - or was - your most interesting relative?
They're all interesting. Or, as the doctors would call it, mental.
Ever had a really disastrous holiday?
Yes, many, but I once booked into a hotel that hadn't been built. I spent five hours driving round Cape Verde and even ended up driving across a beach to eventually find the hotel was a building site.
Which low-key law would you introduce, to make life better?
Free Prosecco for all passengers when a train is delayed longer than 10 minutes.
What's the best thing in your wardrobe?
A 1950s Dior dress that will never fit me. Someone gave it to me and I love it too much to part with it.
Which British town should be abolished?
I wouldn't abolish any but they're all becoming a bit grim with the same large chain shops, charity shops and estate agents. I think business rates should be cut in towns for small independent traders... but if I was to pick one, Milton Keynes.